« Been A Weather Kind Of Weekend... (tmi3rd)
|
Main
|
The Bacon Thread: Bacon∞ »
April 15, 2012
George Washington Named "Most Worthy Opponent" by some English History Geeks UPDATED WITH MORE HISTORY
The dickishness in me says "well, duh."
But anyway, in a contest sponsored by the British National Army Museum (I love military museums and my favorite one is at Wright-Patterson AFB in Dayton Ohio), George "Mofo" Washington topped the Zulus and the Nazis in a poll which asked the question "who was the baddest sonofabitch we ever fought with?"
Runners up included some guy from the IRA in the early part of the 20th century, the Zulus who wiped two regiments out in an hour or so at Islandwana (where does Zulu time from from you ask? Respect. That's where), Erwin Rommel and Napoleon.
Little known factoid, the Brits were engaged in several major conflicts around the globe during the American Revolution.
As Clint Eastwood once said, "a man's got to know his limitations."
George Washington, an educational and historical perspective video below the fold.
I heard, that, motherfucker had like, 30 goddamn dicks.
UPDATE: from Andy, also I remember this from Mrs. Peel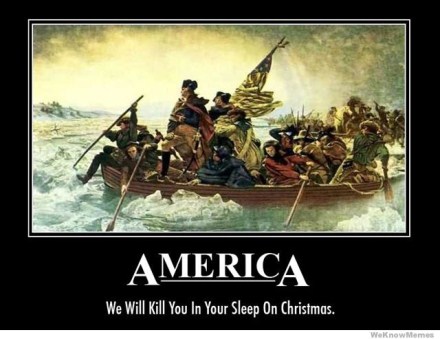 posted by Dave In Texas at
02:32 PM
|
Access Comments