« Open Gaming Thread
|
Main
|
George Washington Named "Most Worthy Opponent" by some English History Geeks UPDATED WITH MORE HISTORY »
April 15, 2012
Been A Weather Kind Of Weekend... (tmi3rd)
Hi, folks. Given the big storm system that kicked off all the tornadoes yesterday, I figured it might be worth an update today, as we've still got some volatility left to worry about.

Before that, though, a monstrous shout-out to RD Brewer, who did yeoman's work yesterday keeping people informed. Thanks, bro- I appreciate you doing that, as most folks across Kansas and Oklahoma were hunkered down.

NWS map and synopsis below the fold...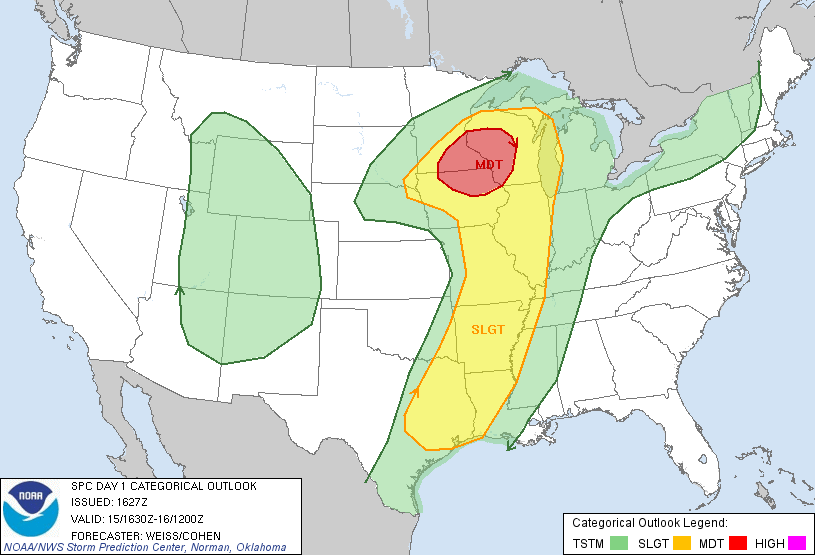 Image via the NWS Storm Prediction Center,spc.noaa.gov
So we've got a moderate risk of severe storms where the red dot is- that being northeastern Iowa, southeastern Minnesota, and western Wisconsin. That means any variety of severe weather (tornadoes, hail, high winds) has a decent shot of getting going.

As of this posting (about 2 PM EDT), we've got a tornado watch until 6 PM CDT for southwestern Missouri and northwestern Arkansas. There's already been a line of severe thunderstorms in that neighborhood this morning.

Generally today, we're looking at mainly lines of storms affecting the upper Mississippi Valley, east Texas, and northwest Louisiana. As the front stalls out, a pretty impressive rain event is predicted for coastal southwest Louisiana.

With lines of storms, you don't typically get the big tornadoes, unless the storms split off from the line (like RD Brewer noted yesterday). Nonetheless, the conditions are right for bow echoes to set up (squall lines that bow outward as they move; usually means pretty high winds).

Anyway, if you're in the Mississippi Valley or points just to the east, just keep an eye out today... hopefully, it won't be as ugly today as it was across Kansas and Oklahoma yesterday.

Happy Sunday to everyone!


posted by Open Blogger at
02:08 PM
|
Access Comments