« Baltimore Chief of Police: It Would Be "Race-Baiting" To Note a Hate Crime Against A White Man Is In Fact A Hate Crime
|
Main
|
Top Headline Comments 4-12-12 »
April 11, 2012
Overnight Open Thread
Maet's on a trip. This is my lame attempt at the magic he brings.
I'm trying to think of fun things.
You know what's fun? Purple Pandas. Or they're fun, in theory.
You know who doesn't find them fun? These kids.
Are bears fun? Bears are fun.
This guy is walking along reading his cellphone when Whoa Nelly! He gets a face full of loose bear.
Bear On Street
by stefanelonikitelo
You know what's even MOAR FUN?
An alleged trend of men getting Brazilians. No, I don't mean like getting Brazilian people, I mean getting waxed in what scientists refer to as the Proximal Boner Region (also known as the Plateau of C**k).
So they call this a "Brozilian." A Brazilian for Bros.
Left To Right: A guy pretending this isn't weird,
another guy pretending this isn't weird
The below-the-belt treatment — which, just like the women's version, removes either some or all pubic hair — is becoming increasingly popular, and not just among competitive swimmers or underwear models. "What we're finding is, it's everybody," said Mike Indursky, the president of the Bliss chain of spas, which offers a men's Brazilian called the Ultimate He-Wax for $125. "It's the gay community, it's the straight community, it's very conservative guys, it's very liberal guys. All different age groups are coming in. It's much, much bigger than we ever thought."
Uh huh.
I know I often wish to discuss my political leanings with the guy who's pulling hot wax off my junk.
It gets better, though. You might also want your penis adorned with sparkly bits.
The salon offers a full Brazilian called South of the Border for $70, along with partial treatments. Also on its menu is something called "pejazzling," in which crystals in patterns like stars and dolphins are affixed on newly defuzzed skin.
Stars and dolphins?
This was the straight, conservative clientele again, right?
But as popularity of the body adornment trend has grown, it has become clear that it is not only women interested in the service.

According to salon owners, 40 per cent of customers requesting the body bling are men.
You should always take the word of business owners interested in expanding their client base about how their client base is expanding.
But can a man really be taken seriously while decorated with Swarovski crystals - especially 'down there', as Mark calls it?

Mark is adamant they can. 'Men wear diamond watches and bling earrings - this is no different,' he says.
I'm pretty sure it's somewhat different than wearing a watch.
This post brought to you by nanoquadrotors, and also, CONTENT WARNING FOR LANGUAGE Al Pacino starring as HAL 2000.
Thanks to @rdbrewer4 and @starchambermaid, and also, Klytus from Flash Gordon.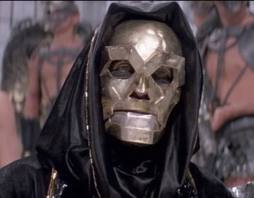 Klytus sent the the "Pejazzle" stuff. He says his joint looks like one of Dorothy's red slippers. I don't even know what that means.

posted by Ace at
09:42 PM
|
Access Comments