ę For You, Dear Readers
|
Main
|
'The Potato Revolution': A Little Freedom Breaks Out in Greece Ľ
March 15, 2012
Meghan McCain Poses (Clothed, On Bed) In Playboy; Announces Her Sexual Orientation as "Strictly Dickly"
Here's the weird thing: Dan Riehl gets name-checked.
First, the picture, so you don't feel you have to click on Playboy.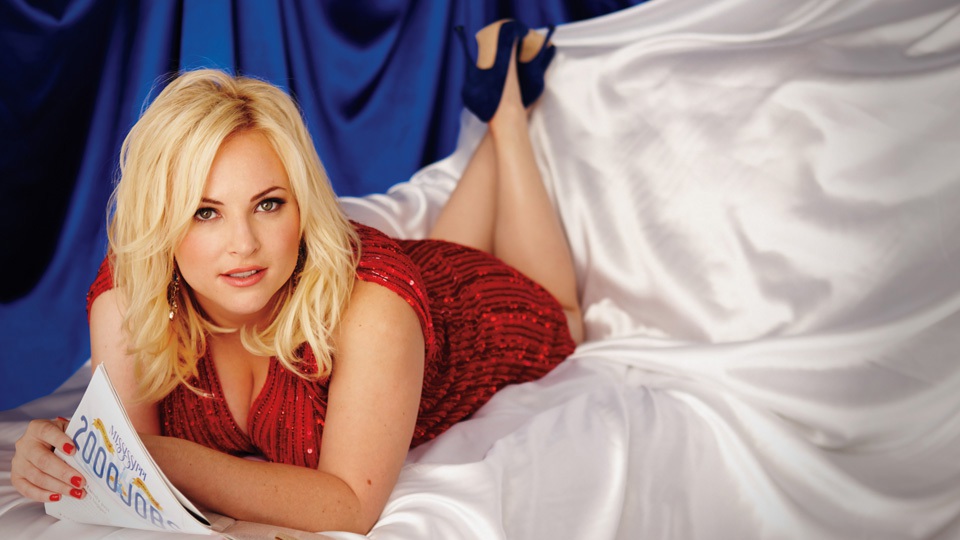 I guess I will be nice and say she looks like Tiffany Amber-Thiessen there. But if anyone knows what I'm talking about, that's... backhanded.
Anyway, here's some of her profundities.
PLAYBOY: Conservatives are as hard on you as liberals. Right-wing blogger Dan Riehl sniped that ďthis self-indulgent set of mega-breasts doesnít belong anywhere near a TV studio commenting on anything.Ē

MCCAIN: Who says stuff like that? Some guys out there just canít handle a woman with a strong opinion. And the quickest way to cut down a woman is to talk about her appearance. Do I care? No. Every guy Iíve ever dated and every boyfriend Iíve ever hadónobody ever complained about my body. And there are way more important things for me to do than obsess about my weight. We have an election going on, people!
Yeah, let's not talk about Meghan McCain's sex life or body any more. She's a serious commentator; she's above that.
PLAYBOY: Say a little more about the hanging-out-in-bed-with-girlfriends part.

MCCAIN: Watch it, mister. My friends from home came over to support me, and we got in my parentsí big bed. They have this huge California king and we just stayed up eating ice cream. Iím not a lesbian, if thatís what youíre asking. Iíd be the first person to tell the world I was gay. Iím not private about anything. I think you should live how you should live. But Iím strictly dickly. I canít help it. I love sex and I love men.
Oh. Maybe she's not above that.
You know, for a girl who feigns outrage when it's suggested she's just boobs and a wig, she sure does natter on forever about her boobs.
PLAYBOY: Do you ever think twice about partying in public for fear it will show up on Gawker the next morning?

MCCAIN: Oh, I canít live like that. I do get paranoid when Iím wearing low-cut dresses that somebodyís going to take a picture and put it on the internet and be like, ďMeghan was showing off her breasts again.Ē But you know, showing a little cleavage can make a girl feel sexy too. Like Jessica Simpson says, if you got it, you should flaunt it once in a while. Iíve been pretty open about the fact that I like to go out and have a good time with friends. Iíve never done drugs, and I never would. So thereís that. But what am I supposed to do, stay in and read a book?
Uchh! A book?!! Heaven forfend. You get knowledge-cooties from books.
Now, that aside, I'm serious, Meghan McCain is a serious commentator, a strong woman with a strong opinion. Stop sexualizing her immediately.
PLAYBOY: You once wrote, ďNothing kills my libido quite like discussing politics.Ē

MCCAIN: Oh my gosh. Itís so true. I went on a date, like, a week ago, and the guy just wanted to talk policy and strategy the entire time. Talk about a mood killer. Iím obsessed with this stuff, but it doesnít put me in the mood. When Iím dating, I want to hear what music a guy likes, what he does for fun, and I want him to make me laugh. If he can make me laugh, I donít care if he looks like Zach Galifianakis; itís an instant turn-on.
Whoops. Meghan McCain's alleged aversion to sexualization seems a bit overstated. She just doesn't like it when you sexualize her in a bad way.
If you want to chat her up like You Like What You See, she's game.
Okay, here comes the part where she claims she loves being single as she cries into a pint of Haagen Dasz.
PLAYBOY: And youíre still single?

MCCAIN: Oh my God, I love being single. I can do whatever the hell I want all the time. I have no one to check in with. When youíre in a serious relationship, you kind of have to check in before you go out with your friends or do whatever. I think Iím a bit of a commitment-phobe. Or maybe itís just that I havenít met the right guy. Datingís okay, but guys can be weird. They think if they Google you and talk about stuff youíve said, they get to make out with you at the end of the first date.
Please stop sexualizing Meghan McCain. She's a strong woman with a strong opinion.
Well she's about to be asked about an alleged intellectual hero, Hunter S. Thompson. Since this is about her current "job" as some kind of pundit, I'm sure she'll leave sex out of this and just talk about Serious Things. Because she's a strong woman with a strong opinion.
PLAYBOY: Whatís up with your Hunter S. Thompson obsession? Wouldnít he have hated your conservative views?

MCCAIN: I love, love, love Hunter. I read Fear and Loathing: On the Campaign Trail in high school and loved his take on politics. I love the way he wrote with such disregard for authority and the status quo. Iíve been considering getting his quote ďBuy the ticket, take the rideĒ tattooed on my body, but I havenít decided. I told my friend, and she said it sounds really sexual, so weíll see.
Whoops, there we go again.
I like how she needs a friend to inform her that a tattoo ("on my body" -- but where else could it go, Meghan? Why say "on my body," except to talk about just that again?) which reads "Buy the ticket, take the ride" might scan as a little sexual.
To some people. To others, not so much. But some people might take that as sexual.
And... of course it would be on her back. Where else would it go?
So. Some people might find that sexual.
Thank God Meghan McCain's friend was far-sighted enough to make that odd connection for her.
But trust me, Hunter and I would have been fast friends. He was on Late Night With Conan OíBrien once and he was drinking whiskey and shooting guns. I appreciate both those things. We would have understood each other.
Your dumb internet editors don't understand you, but a drunk writer would have?
Oh, and that's not even the end of the day's Meghan McCain news. She's seen a therapist over her body-shaming.
"Now Iím very sensitive to any pictures taken of myself at photoshoots and whatever because the internet has this very weird óespecially people in politics ó this very weird reaction to my body, because Iím not super skinny. I have large breasts. I know! Theyíre real, I canít do anything about it and the internet just has this really weird reaction to my body Ö Iíve seen a therapist about it, if that means anything. Thereís like this obsession (with my body). I think people donít understand why I havenít lost a bunch of weight right now, because [sarcastic] Ďall women in the media should lose a bunch of weight if they want to go on television to talk about anything.íĒ
I know this is a defensive reaction, and people don't talk about what actually upsets them, preferring to speak in euphemisms, but no one's complaining about the boobs, you know.
Eh.
Here's me being nice: I'm sure she means well, and she does love her father.
Someone has to.
Bonus: Someone posted an unpublished shot from Playboy, in which you can see most of one nipple.

posted by Ace at
04:04 PM
|
Access Comments