« Romney Campaign Swag! AOSHQ **EXCLUSIVE!!**
|
Main
|
Overnight Open Thread »
March 10, 2012
Old and Busted: This is the Summer of Obama
The New Hotness: Obama's Incomplete Greatness
[ArthurK]
Last year, Steven Marche of Esquire wrote a mash note to Pres. Obama that was so over the top it was ripped three times just on this blog.
You remember! this one...
Before the policy choices have to be weighed and the hard decisions have to be made, can we just take a month or two to contemplate him the way we might contemplate a painting by Vermeer or a guitar lick by the early-seventies Rolling Stones or a Peyton Manning pass or any other astounding, ecstatic human achievement? Because twenty years from now, we're going to look back on this time as a glorious idyll in American politics, with a confident, intelligent, fascinating president riding the surge of his prodigious talents from triumph to triumph. Whatever happens this fall or next, the summer of 2011 is the summer of Obama.
That was fun. But we're fully in election mode now and it's time for another MBMer to step up and announce his devotion to our beloved God-King.
Paul Glastris...
Come On Down
!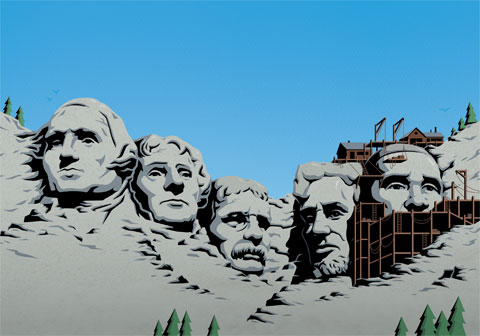 Measured in sheer legislative tonnage, what Obama got done in his first two years is stunning. Health care reform. The takeover and turnaround of the auto industry. The biggest economic stimulus in history. Sweeping new regulations of Wall Street. A tough new set of consumer protections on the credit card industry. A vast expansion of national service. Net neutrality. The greatest increase in wilderness protection in fifteen years. A revolutionary reform to student aid. Signing the New START treaty with Russia. The ending of "don't ask, don't tell."
Many of these should be counts on a bill of impeachment...
Even over the past year, when he was bogged down in budget fights with the Tea Party-controlled GOP House, Obama still managed to squeeze out a few domestic policy victories, including a $1.2 trillion deficit reduction deal and the most sweeping overhaul of food safety laws in more than seventy years. More impressively, on the foreign policy front he ended the war in Iraq, began the drawdown in Afghanistan, helped to oust Gaddafi in Libya and usher out Mubarak in Egypt, orchestrated new military and commercial alliances as a hedge against China, and tightened sanctions against Iran over its nukes.Oh, and he shifted counterterrorism strategies to target Osama bin Laden and then ordered the risky raid that killed him.
Glastris is distressed that this greatness is unappreciated by the miserable louts who inhabit Obama's world.
(referring to a recent poll) more than half the respondents -52 percent- said the president has accomplished "not very much" or "little or nothing."It is often said that there are no right or wrong answers in opinion polling, but in this case, there is an empirically right answer - one chosen by only 12 percent of the poll's respondents. The answer is that Obama has accomplished "a great deal."
I can't beat James Taranto's opinion...
By Paul @glastris's standard, Stalin also "accomplished a great deal."
I like this bit near the end....
I had conversations recently with six presidential scholars. Three of them - Robert Dallek, Matthew Dallek, and Alan Lichtman - said that, based on what Obama has gotten done in his first term, he has a good shot at ranking in or just below the top ten presidents of history, but with the proviso that he almost certainly needs to get reelected to secure that position. The other three - Alan Brinkley, David Greenberg, and Allen Guelzo - took a more jaundiced view. While conceding that Obama has put a lot of points on the board in terms of legislation, they felt that the highly compromised nature of that legislation ...
Excellent selection. 3 say Obama is awesome. The other 3 say he could have been awesome if he had only been more leftwing.
This is quite a long essay. It's hard to find a single statement about Obama that doesn't make we want to stand up and yell, "You Lie!". It'd take a
week
to properly fisk this but I really don't have to. If you've been reading this blog you already know why this guy is full of beans. So just read his essay and realize that this is an early salvo in the barrage of bullshit we're going to be hearing from now until November.
Also, I tweet at @ComradeArthur

posted by Open Blogger at
04:32 PM
|
Access Comments