« Liveblogging the GOP Debate
|
Main
|
Top Headline Comments 2-23-12 »
February 22, 2012
Overnight Open Thread (2-22-2012)
If You Make Less Than $60,000 and Have Kids, Quit Your Job!
Because you'll actually live better on the dole:
You can do as well working one week a month at minimum wage as you can working $60,000-a-year, full-time, high-stress job.

My chart tells the story. It is pretty much self-explanatory.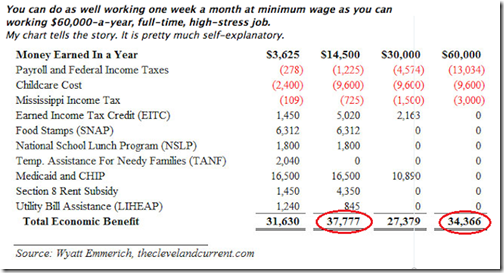 This is in Mississippi but I'm guessing the numbers are similar in other states. The really depressing part is that if you work hard and double your income from $14K to $30K, you actually get poorer.
Update: Dead Parrot points out that this chart has been critiqued for using inflated numbers. I haven't calculated with the new numbers but I suspect that there's still going to be little incentive (maybe $600 more a month?) to work 4x the hours.
Newt: The Most Unpopular Man in Politics?
There is, I think, a cautionary tale here, although it probably comes too late. It was obvious to everyone who remembered the history of the 1990s that Gingrich would be a disaster as a presidential candidate, however much we may enjoy his repartee and respect him as a thinker whose ideas are often good. Yet millions of Republican activists, heedless of the past and ignoring Newt's obvious weaknesses, enthused over him as a candidate and made him the man of the hour. Or the man of two or three weeks, maybe.
Well I did try to warn people about Newt but was mostly ignored. But hey what do I know - I've only been following him since the mid-80's and politics since the late 70's.
Scandis in the Wild Part XXIII
Note carefully the variation in their markings as well as the curious glare they use to hold their prey immobilized.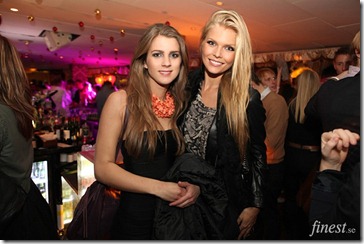 The most interesting man in the world?
At 9, he settled a dispute with a pistol.

At 13, he lit out for the Amazon jungle.

At 20, he attempted suicide-by-jaguar. Afterward he was apprenticed to a pirate. To please his mother, who did not take kindly to his being a pirate, he briefly managed a mink farm, one of the few truly dull entries on his otherwise crackling résumé, which lately included a career as a professional gambler.
And that doesn't even cover his rowing across the Atlantic and the Pacific nor his truly epic whore-mongering.
John Fairfax, RIP at age 74.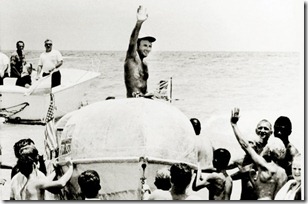 11 Niche Dating Sites You Didn't Know You Needed
Not only is there someone for everyone, but there's even a dating site that caters to your ilk. Into Italian sea captains with a lot of recent downtime? Yep, there's a site for you.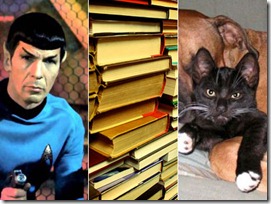 There's Airline Food and Then There's North Korean Airline Food
And when you fly DPRK-owned Air Koryo you get treated like Kim Jong Un's  party elite. This is a hamburger I think.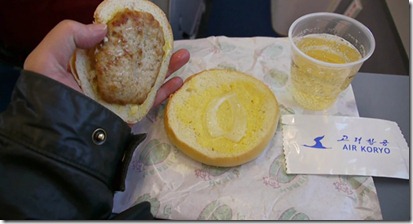 5 Great Love Stories That Weren't Really All That Great
The fantasy version: Edward gave up the British throne to be with the women he loved.
The reality:
Wallis Simpson didn't really want to marry Edward. Sure, she might have given in if there were a crown involved, but she did not want her boyfriend to abdicate. By then she was sick of him, but knew she was pretty much trapped. ...The newly dubbed Duke and Duchess of Windsor stayed together until Edward's death. They indulged in their hobbies of throwing house parties where they screamed at each other in front of guests, having affairs, and talking about how great Hitler was, an opinion the Duke aired in public until at least the late 1960s.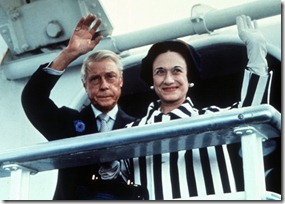 Teh Tweet!
Tonight's post brought to you by Christie, Deneuve, and Andress: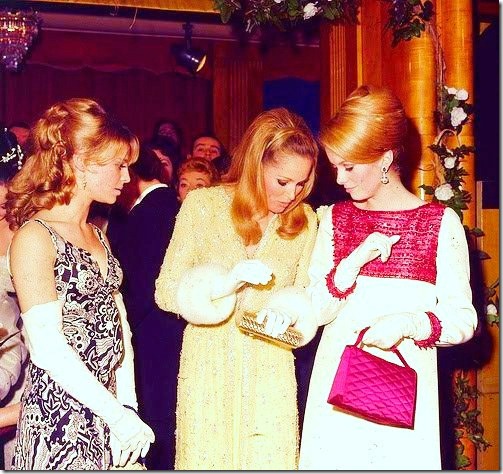 Notice: Posted by permission of AceCorp LLC. Please e-mail overnight open thread tips to maetenloch at gmail. Otherwise send tips to Ace.

posted by Maetenloch at
09:32 PM
|
Access Comments