« CBO: Federal Workers Overcompensated By 16%, As Compared to Private Sector Equivalents
|
Main
|
Top Headline Comments 1-31-12 »
January 30, 2012
Overnight Open Thread
How Presidential Elections Really Get Decided
We're all political geeks here which means we're OCD on the news and ups and downs of every little minor political skirmish. Mostly because we have no lives enjoy it and find it interesting.
And so it's natural to just assume that all these details that are so very fascinating to us must also be the decisive factors that will determine how the 2012 presidential contest turns out. But this is almost certainly wrong.
In fact it turns out that the results of presidential elections (okay actually the percentage of the two-party vote that the incumbent gets) can be pretty much forecast by the 'Bread and Peace index', a model developed by Douglas Hibbs that only looks at per capita real personal disposable income (RPDI) growth and military fatalities. That's it.
And when you plot his predictions versus the actual election results you get one of the tighter fits you're ever likely to see of human behavior in the real world: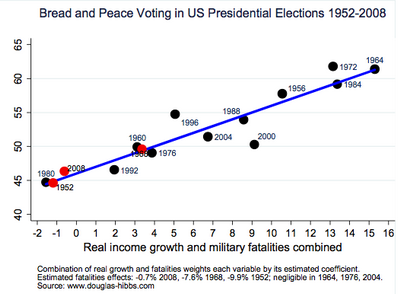 Now this happens to match my gut feeling that most presidential elections already have their basic handicap built in regardless of who the candidates are and what they do. Personalities, policies, campaign strategies, and events have an effect but they're likely at best second or third order factors.
And it's interesting to note that the two most recent 'ideological' elections - 1964 and 1980 - actually fall perfectly onto the Bread and Peace trend line. Which implies that the Goldwater trouncing and the Reagan revolution were less about the American public rejecting and then later accepting conservatism than the vagaries where the elections happened to fall in the economic cycle and the ongoing rate of military casualties. There's an awful lot of luck in life and it rarely gets its full due.
So assuming the model holds true for 2012 what does it say about the prospects of Obama getting re-elected? Well based on the third quarter of 2011 it looks pretty grim for Barack: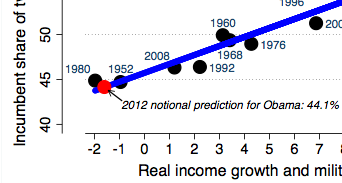 Of course Nov. 6th 2012 is almost four quarters away and a lot could happen in between then. But unless RPDI hits 4% by the election Obama is going to stay the under-dog at least by a few percentage points. This isn't grounds for complacency but to me at least it's a sign that panicky mood swings and fatalism over every little development are unjustified. The field is likely to be against Obama and we need to hold steady and play it to our advantage.
Plus we should all have a little humility and accept the very likely possibility that all the things we obsess on and go hammer and tongs against each other over during elections - ideology, policy differences, debate performances, etc - probably matter far, far, far, far less than we like to believe. And may not matter at all.
But that doesn't mean we have to stop fighting over them.
Ron Paul Gets the Coveted Muslim Pothead Endorsement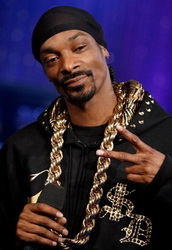 So How Hard Is It To Open a Swiss Bank Account?
Much has been made of the fact that Mitt Romney had some money sitting in a Swiss bank account before closing it in 2010. So how hard is it to open your own Swiss account?
Short answer: Not easy at all.

Swiss banks have a history of dismissing applications originating in countries that have unusual tax regulations or a history of criminal economic activity. Such blacklists now tend to include the United States, on account of a federal law passed in 2010 called the Foreign Account Tax Compliance Act, which requires that Swiss banks submit sensitive information about their clients to the IRS, potentially violating Swiss privacy laws and imposing heavy costs of compliance.
And even in the old days it was pretty difficult to open one without knowing someone:
Even in the old days, an American citizen might have needed a special invitation or a referral from a current client before he or she could set up a private account at a Swiss bank, and the minimum initial deposit might have been in the hundreds of thousands of dollars.
These days the place to stash your money is in the Caymans.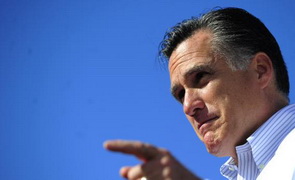 6 Painful Things Nobody Tells You About Fighting
Fists against a skull are a bad combination and unless you're JCVD, kicks are pretty much useless:

For the average person with no practical training under their belt, kicks (especially high ones) are slow, cumbersome, easily avoidable things that lack power, take a lot of energy and leave you in an extremely vulnerable position for a counterattack (the recipient of which is usually your dick, because that's what happens when you attempt a move that leaves your groin area open in a real fight).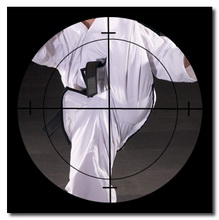 In 1982, an obscure Austrian engineer named Gaston Glock, who worked in a radiator plant and had a side business with his wife making curtain rods, knives and belt buckles, invented a type of pistol that changed the worlds of law enforcement and firearms and powerfully influenced politics and popular culture.... In designing the gun, Glock started with no preconceived notions—just a clean sheet of paper, a practical idea, good advice, sound engineering and no investment in any particular manufacturing method. When he received the contract, his workspace was the garage where he made his knives.
Read the rest to find out how the pistol Glock came up with went on to become the handgun of American law enforcement - now used by two thirds of all police officers as well as FBI agents.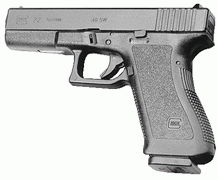 Useful YouTube Trick
The problem with most videos is that the intro is way too long so I've long auto-skipped my way through my own Wadsworth constant:

If you are an Internet regular you have probably heard about the Wadsworth Constant, an Internet meme that has come to some fame at the end of last year. A user named Wadsworth mentioned that he skipped 30% ahead of every YouTube he was viewing on the Internet.
And here's an easy way of doing it:
There is however a much easier solution that that all YouTube users can make use of to skip ahead a certain percentage of the video. All that needs to be done is to press a number between 1 and 9 on the YouTube video page after you have clicked on the video. Nothing happens if you try to press the numbers once the video starts playing on the side. You need to click on the video, which pauses it, to use the functionality.
Just press 3 and it'll take you to right where it starts getting interesting.
The Muppets and Italian Soft Porn
[This appeared in the sidebar a while ago but just in case you missed it, here it is again]
The tune, Mah Na Mah Na, that most of us know from Sesame Street and the Muppets was actually from the soundtrack of an 1968 Italian softcore movie, 'Sweden: Heaven and Hell'.

The Yahoo AoSHQ group. Bla bla bla. And don't forget about the Job Bank.
Tonight's post brought to you by MAD: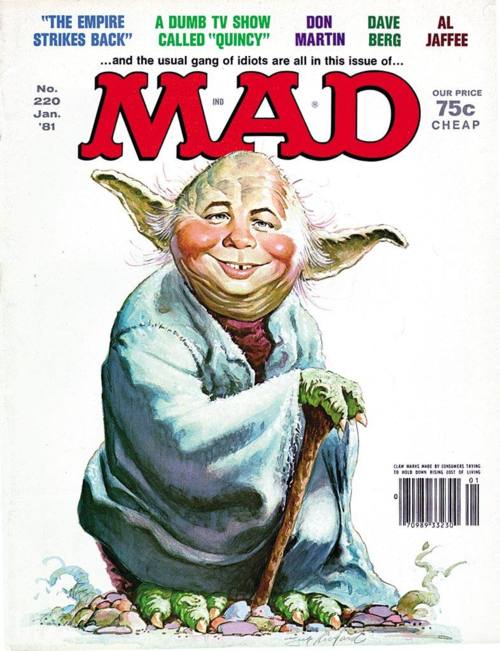 Notice: Posted by permission of AceCorp LLC. Please e-mail overnight open thread tips to maetenloch at gmail. Otherwise send tips to Ace.

posted by Maetenloch at
10:24 PM
|
Access Comments