« Jay Cost: Obama Is a Rolodex Socialist
|
Main
|
Overnight Open Thread »
January 27, 2012
Shipdriving, It's Hard or Something
After the Costa Concordia accident I joked (badly, I know), "did Joseph Hazelwood get another job with a cruise line?"
State officials were scrambling Friday to determine when — or if — they would repair an 80-year-old bridge over Kentucky Lake that was ripped through by a huge ocean-going cargo ship on Thursday night.

Two sections of the Eggner Ferry Bridge, which carries U.S. 68 and Ky. 80 over the lake, were destroyed by the northbound Delta Mariner, a 312-foot ship carrying rocket components from Decatur, Ala., to Cape Canaveral in Florida.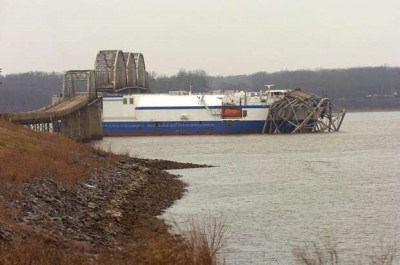 I realize this isn't a NASA mission per se, but, dude. Did you not see that bridge thingy up ahead?
Fortunately no injuries, other than wounded pride, were reported.
Bridge stories always make me miss a former cob-logger, Dr. Reo Symes. He had a thing about bridges.
via Mare over at the H2. The happening place for news of the day and big boobs on Friday. It's this, I don't know, this thing they do. Too much trouble to explain.

posted by Dave In Texas at
08:51 PM
|
Access Comments