« Shipdriving, It's Hard or Something
|
Main
|
Saturday Morning Open Thread »
January 27, 2012
Overnight Open Thread
As Americans, we are used to achieving success in truly tough and demanding times or while attempting to strive for some unachievable feat. It started with the Revolutionary War and continues to this day with our battlefield achievements and technological advancements. But what if something went wrong and things didn't go as planned or hoped for? Doomsday Speeches: If D-Day Or The Moon Landing Had Failed.

On June 5, 1944, General Dwight Eisenhower wrote down a message, carefully folded it, and placed it in his wallet. It contained a public statement in case the D-Day invasion failed. Twenty-five years later, in 1969, Richard Nixon's White House drafted a speech to use if the moon landing was unsuccessful and the astronauts were trapped on the lunar surface. This is not alternate history. This is very real history, about leaders preparing for a contingency that never transpired. More than anything, the messages reveal the fine line between triumph and disaster.
Zombie Stuff
Yes. That's a real AK-47 With A Working Electric Chainsaw On The End. After watching the video, I'm not sure that chainsaw is gonna be powerful enough and to be honest, I'm not sure a chainsaw is the weapon you want going against zombies anyway. You gotta get too close and you'll get messy with infected blood. Now if you are a lumberjack in a forest that has some save the tree occupiers? Yes, this could be very useful!
Oh my. This would've been an AWESOME way to open Season 2 of the Walking Dead. Frank Darabont's Epic Rejected Plan For Season 2 Opener.

The opener allegedly flashbacks to the early days of the zombie apocalypse. The entire episode would have tracked a squad of Army Rangers dropping into Atlanta. They get trapped in a zombie outbreak. "All they have to do is travel maybe a dozen blocks, a simple journey, but what starts as a no-brainer scenario goes from 'the city is being secured' to 'holy shit, we've lost control, the world is ending,'" Darabont describes in a letter to AICN. So, yeah — Black Hawk Down with zombies.

Along the way, the soldiers encounter some familiar faces from the show. "Picture our squad arriving at a manned barricade where some civilians are being held back from leaving the city on shoot-to-kill orders to stop the spread of contagion, it's a panicked high-intensity scene, and in this crowd of desperate people we find Andrea and Amy. The barricade gunners panic, the civilians start to get mowed down by machine-gun fire, and in this melee the girls get pulled to safety by some old guy they don't even know. It's Dale. He's nobody to them, just some guy who saw the opportunity to do the right thing and reacted in the moment."

The end of the episode concludes with the last surviving member of the squad, now infected and dying, hiding in a tank. A very familiar tank…
Hey, a little mash up with Growing Pains music and The Walking Dead.
And one last Walking Dead tidbit. It would seem that there Will Be A Season 3.

Movie Character Advice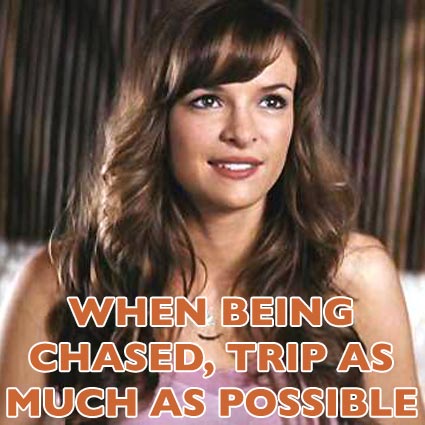 Heh. Movie character advice on What Not To Do In Regard To Serial Killers.
$6 Sex Act?
$6 Sex Act Leads To Prostitution Charge. That's gotta suck gettin' busted for prostitutin' and it was only for $6. Now what sex act costs only $6???? Well, they just happen to post the photo of the "hooker" in question and you know what? I know longer wonder why it was $6. Be thankful I didn't post the pic. You'd need some brain bleach.
Ginger With a Bow (and Arrow)
I have to say that Iza is better lookin' than Legolas. She's pretty good with a bow too.
2012 Dog Movies
The 2012 Best Picture Nominees Recast With Dogs.
School Daze
Pic Of Sleeping Substitute Teacher Nets Student A Suspension. Really? It's one thing to suspend someone for violating the rules for their own pleasure but to document the fact that their teacher was full on napping in class? I guess payback is a bitch from the teachers union.
Tsk, tsk. Another teacher nailin' one of her students.

Doggeh Video
Tonight's ONT brought to you by:
Notice: Posted by permission of AceCorp LLC. Please e-mail overnight open thread tips to maet or CDR M. Otherwise send tips to Ace.
PUT TEXT YOU WISH TO USE AS VISIBLE LINKING-LANGUAGE HERE
&topic=world_news">

posted by CDR M at
10:00 PM
|
Access Comments