« Fake Menstrual Blood Simple: Tarranto Rips Exciteable Andy Over Menses-Monomania
|
Main
|
"Sheboygan, We've Got a Problem" »
October 23, 2005
Bridges Of The Past
That's right, the blasphemy continues. (Suck it, bridge Nazis.)
Last week we covered Bridges of the Future, ranking the modernistic spans without regard to what they think you should think.
This week, more in-their-face criticism and bridge-lovin, but on a different tip. Yes, this week we're kickin it old school with 'Bridges of the Past.' Hitting you with the best of those old timey, ornate, fancy-pants spans that deserve respek. Gothicy or Victorian. Statues. Curliques. Often made of stone. Detail we can't afford today.
Here we go:
Tower Bridge. London, England. The Grande Dame of the category. You can't do a list on old timey bridges and not include this lady. Fine, I'm bowing to convention right off. Screw you. The problem is, she's so well known, she's become boring. Still though, a classy old broad that you can't properly leave off.
I also like this night shot. Has the very modern Swiss Re tower in the background as contrast (the Swiss Re is the one people say looks like a Conehead, though all twinkly like that, it really reminds me more of Lucifer from the original Battlestar).
Kintai Bridge. Iwakuni, Japan. One of the '3 bridges of Japan.' Gorgeous and simple. Wood and old (1673). Yes, okay, another pedestrian bridge, and fine, not terribly ornate. But very pretty. (Five arches baby, five!)
A little more info on it here. A nice gallery here.
Pont Alexandre III. Paris, France. This thing always gets mentioned as among the "Most beautiful."
Meh. I guess I like the lamp posts. The gold eagle whatnots atop the pillars are a little "The Donald" for my tastes, but hey, not here to bag on Frenchies. They still put up the Millau.
Ponte Vecchio. Florence, Italy. Italian for "Old Bridge" goes back to Roman times, but, after a flood, got rebuilt and widened in 1345.
Yeah, another pedestrian, but it's still cool. Good lookin, but the reason I really dig it is I like the notion of a bridge on which people live and sell stuff. Bridge-as-city = cool concept. Sci-fi-ish to me. Or maybe 'Fantasy.' For some reason, makes me think of some city ancient bridge-city-in-the-clouds (which people get to by riding dragons!) (thought one would wonder why they would need bridges then.) (Okay, ignore the dragons thing.)
Trivia. The word 'bankrupt' arises from ancient trade practices on the bridge. Wikipedia:
[W]hen a merchant could not pay his debts, the table on which he sold his wares (the "banco") was physically broken ("rotto") by soldiers, and this practice was called "bancorotto" (broken table; possibly it can come from "banca rotta" which means "broken bank").
Ponte De Rialto. Venice, Italy. Another one of the "Most Beautiful" usual suspects. It's nice, and certainly ornate, but not much happenin for me. I guess the best I can say is that it's very much 'of' Venice (much like the Bridge of Sighs ) That is, it looks exactly like the sort of thing gondolas and crooning Italians were we made to float under.
John A Roebling Suspension Bridge. Cincinnati, USA. Okay, maybe not as fancy as the others, but I like. Maybe it's the shade of blue that does it for me. (Also, old/ornate as a category is fairly sissified and needed a suspenion to butch things up a bit.) Overall: an underrated American classic that deserves more love.
But the winner, Dr. Reo Symes' champeen 'old timey, ornate':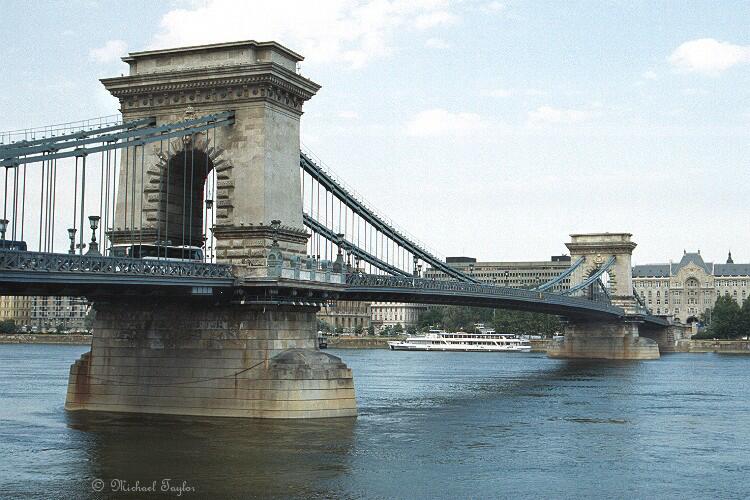 The Széchenyi lånchíd (Chain bridge)
Budapest, Hungary. Built in 1849, the first to unite Buda with Pest. Bombed in WWII, rebuilt according to original plans.
Pretty much what I think an old bridge should look like. Solid rock and chain. Substantial looking. Those fat babies draping down from those mini Arc de Triumphs look so right.
Not crazy ornate, but you feel like you're getting a lotta bridge for your dollar
 not getting up from the table still hungry. (She looks good in a little black dress too.)

Next Sunday: long, flattish-on-top bridges (shut up. these are my categories, remember?)

posted by Dr. Reo Symes at
02:58 PM
|
Access Comments