« It Never Gets "Old"
|
Main
|
Farrakhan: UFO's Beamed Me Up, Prophesized US Strike On Libya, Offered Me Some Tranya »
October 15, 2005
Bridges of the Future
Earlier this week, Italy got the ball rolling on the world's longest suspension bridge, picking the contractor for their double six-lane-highwayed, four-railway-tracked goliath that will finally connect Sicily to the mainland.
I didn't even know they were building the thing. Yet again, no one tells me anything. And I sort of thought they already had a bridge there. Guess not. (They probably held off for as long as they could, but the Sicialians' complaints that the ferry ride made their donkeys seasick got to be too much.)
Anyway, I was going to use the occasion to do a little post-up on maybe the world's longest suspension bridges - who this jumbo is knocking down the list, maybe links to nice pictures. Who doesn't like bridges, huh?
But then I noticed that the way they rank the things is screwed up. The longest isn't necessarily the longest. Your Mackinac suspension bridge, connecting Michigan's LP to UP, is over five miles long, but the Sicilian one, supposedly the world's longest, is only two and half.
So what's the deal? Apparently, the anal retentive bridge-nazis rank the things by "Span"
[T]he general rule in judging record-breaking bridges seems to be to consider the longest span, or the longest point-to-point connection without a pier or arch underneath.
That got me pretty steamed at the bridge crowd, of course. Who is this shadowy cabal that they should tell me how to rank the things? Piers? What's that? When you're traveling across water, if you ain't on a boat, you're on 'bridge' my friend. No two ways about it.
(I'd like to get one of those schmucks in the car with me, get out a mile on the Mackinac, hundreds off feet up in the air and have them explain how we're not on the "Bridge" part yet. "Oh, really, Mr. Bridge-Know-It-All? How bout you just step over the side and walk to the 'Bridge' part. I'm gonna keep using this crazy 'elevated-over-water-but-not-a-bridge-thing' and I'll meet you there. Get going." We'll see how much you're talking about 'piers and arches' then, asshole.)
Yes, I got real steamed. But then I thought, "Reo, just do your own list, the way you damn well wanna, and if they're gonna cause trouble, let 'em." I would take them on.
But then I thought, hell, if I'm gonna go to war here, speak truth to power, why limit myself to suspension bridges? Why not just longest bridges in general?! Suspensed, arch, truss, cantilevered, cable, steel, plywood, whatever.
That's right, screw those artificial limitations. Let's just toss everything together! Longest is longest. And if they send their gang of lawyers to take me to court, screamin to their bought-and-paid-for judge how I'm comparing 'apples to oranges' well, they can try and find me. Won't be the first time I've had to high tail it from the process server. Screw 'em. Screw separate categories. As a wise man once said, 'Let's get fucking crazy.'
But then, like I was shot with a diamond
 a diamond bullet right through my forehead, it hits me. Go beyond. Think outside the box. I go, "Hold it, Symes! What's all this talk about length? Why, you're already playing their game and you don't even know it!"
And you know what? I was right! Who cares about length? What you really wanna do is rank them on coolness or some such. That's what our subconscious is really getting at! Length is the bridge fascist's left-brained, accountant-souled proxy for something they can't understand and are probably terrified of: Bridge beauty.
Why, the couldn't even start to rank them that way! And their categories? Who cares about their narrow-minded little columns. I'll make up my own categories, dammit! Why, what I'm trying to do is so far beyond what their little minds can even begin to comprehend... I'll bring their whole crooked house tumbling down around their pointy heads!
So, no futher ado. Consequences be damned. Here it is: DR REO SYMES' BEAUTIFUL BRIDGES! My categories. My winners.

Category: Wacky-Modern.
'Wacky-Modern' is a toughie. Everyone gets all excited about anything with the stink of future on it, with the fantastic shapes and angles that signal we're living in a brave new world. The problem here though, is that while that stuff makes a 'wow' impression when it first hits you, you can't tell if it's gonna last or if the 'wow-ness' will, in time, transform into cringworthy futurama-scifi-kitsch. (E.g. That Logan's Run bubble world looked like pretty far out back in the 70's. Now it looks like something that people from the 70's called 'far out.')
Anyway, here were some of the contenders in the category, stuff getting some pub.
A wacky Japanese Pedestrian overpass. I'm pretty biased against pedestrian bridges. They just don't 'bring it' like the vehicle-bearing big gals. [I'll toss in a last one here, The Gateshead Millenium in Tynesdale, England.]
Switzerland's Ganter Bridge. Huge. Something about it reminds me of A-frames and chalets. Also, maybe, a Lutheran chapel that got a renovation in the 70's. Decidedly Swiss. More here and here.
Seville's protractor looking Alamillo Bridge. Interesting, but it strikes me as a particularly 'needy' bridge. "Hey everybody, mira, mira!" (Spain also has that Bilbao museum which I hate. Spain hasn't got much right lately.) Very much like The Sundial Bridge in Redding, CA, which, I think, works better, maybe because it's a pedestrian (ok that's the last pedestrian.)
The Erasmus Bridge, Rotterdam, The Netherlands. "I'm from the future, earthlings!" ugh. In any era, a structure that's just trying way too hard.
America's entry, The Leonard Zakim, spanning the Charles in Boston. An 'asymmetric cable-stay bridge' with towers reaching up 270 feet. Part of the big dig. Can't say as I hate it like the Erasmus, but I ain't in love with her. Maybe it'll age well. More.
And really, a close runner up, and perhaps the most modern looking of all the bridges here, is the really quite lovely Seri Wawasan Bridge (scroll down to see) in Putrajaya, Malaysia.
But the coolest, the winner: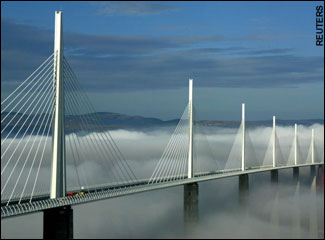 France's Millau Viaduct: "Tallest in the world, taller than the Eiffel Tower." Modern and elegantly spare, possessing an enormous scale to match her towering beauty.
The Bridgemeister's pictures here give an idea of what a colossus she is.
Also, a nice one-shot from the distance.

Next Sunday: Ornate "Fancy Pants" Old-timey bridges.

posted by Dr. Reo Symes at
09:45 PM
|
Access Comments