« Priorities: Your Department of Homeland Security Now Fighting For Environmental Justice
|
Main
|
Alec Baldwin Kicked Off Airplane (Delaying Flight For Everyone Else) Due To Refusal To Turn Off Electronic Device; Deactivates Twitter Account
Update: Baldwin's Defense? That Woman Was a Lesbian »
December 07, 2011
Blagovich Gets 14 Years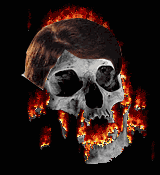 He claims he's "unbelievably sorry."
And repentance is a valuable fu**in' thing.
Blagojevich will have to surrender Feb. 15. Under federal sentencing rules, Blagojevich will have to serve 85 percent of his sentence, or just under 12 years in prison, at a minimum. The ex-governor turns 55 on Saturday.

The pronouncement of the sentence followed an emotional appeal from Blagojevich for leniency.

"I never set out to break the law," said Blagojevich, who came to court Wednesday wearing a black suit with a silver tie. "The jury decided I was guilty, I am accepting of it, I acknowledge it.

"I have nobody to blame but myself for my stupidity and actions and the things I did and I thought I could do. I'm not blaming anybody."
Cobloggers are saying this is the last time we'll see the Blago-Skull.
I say he's got more show in him.
I Missed This: Blago admitted he did the actions he's accused of, but did not know it was illegal to demand money for a Senate appointment.
While he apologized in the 19-minute speech that he delivered without paper in front of him, Blagojevich still said he did not know he was breaking the law. He told Zagel that he thought what he was doing was "permissible," but that he was mistaken, and he "never set out to break the law."

posted by Ace at
01:41 PM
|
Access Comments