« Tea Partier Arrested For Making Terroristic Threats To Burn New York City To the Ground
|
Main
|
Huh? Rick Perry Challenges Nancy Pelosi To A Debate »
November 16, 2011
Overnight Open Thread - Proposition Edition
Want To Make $200K a Year And Don't Mind Tight Places?
Then get your ass to the Australian outback where miners are so much in demand that salaries now average $100K a year. And if you're reliable and get some experience, you can eventually make over $1000 a day.
The downside: It's tough work and you live in a small dusty town with the nearest bar and brothel sometimes over ten miles away.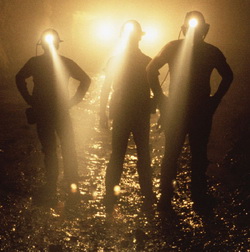 James Dinnison: the 25-year-old high-school dropout from Western Australia makes $200,000 a year running drills in underground mines to extract gold and other minerals.

The heavily tattooed Mr. Dinnison, who started in the mines seven years ago earning $100,000, owns a sky-blue 2009 Chevy Ute, which cost $55,000 before a $16,000 engine enhancement, and a $44,000 custom motorcycle. The price tag on his chihuahua, Dexter, which yaps at his feet: $1,200.
Of course he also wasted a lot of his money too.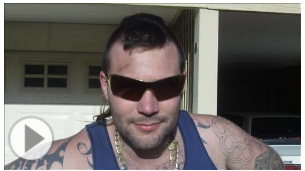 Think the Housing Bubble was all Fannie and Freddie's Fault?
Well no doubt they helped it along but looking at this chart it's clear that there was a house price bubble going on in almost every single industrialized country at the same time. Too many dollars to lend chasing too few qualified borrowers. And if you think we had it bad, just take a look at the UK and Belgium.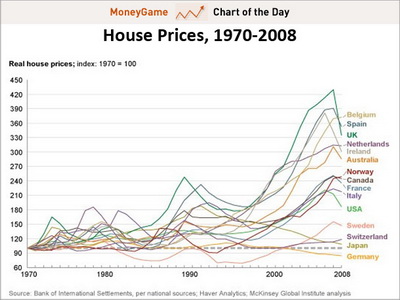 And why was there so much money to hand out? Well mostly due to the central banks and lack of price inflation thanks to cheap Chinese stuff:

Why did the Fed and other banks allow credit creation in excess of GDP for so many years in a row? Partly because nobody wants to stop a bull market before its time -- there is more or less no better way to piss people off -- but also because the usual signal for too much credit -- consumer products price inflation -- was masked by the one-time migration of the world's production to China.
Woman Watches Her House Getting Burglarized Through WebCam
And calls 911, giving a play-by-play as they walk around the house selecting items to steal. Luckily there's a happy ending.

Neoneocon: A PSA on Shingles
Don't mess around with shingles - they can get nasty. A friend of mine in graduate school got a case of shingles and went from the picture of fitness to a bed-bound invalid in constant pain. He eventually recovered, but it took him almost a year. Luckily these days they have anti-virals for treatment and a vaccine to prevent it. Well if you don't mind the tardation that is.
Want a Bigger Tool?
Well for just $999 you can get a large, girthy Wenger multi-tool. Here's just one of the positive reviews from a very satisfied customer:

I can tell you from experience, there has never been a tool half as useful as the Wenger - The Giant Knife. Let me give you a brief example from yesterday: I woke up after my amazing night's rest in the Wenger's king size murphy bed (with satin sheets). Once the women were dressed and out the door, I made coffee from the Wenger's cappuccino machine. Then I headed out the door, Wenger in hand. I came across a two old women selling crochet crosses. I pulled my Wenger out of my pants to get to my wallet. The ladies saw this and died in ecstasy just at the size of my Wenger.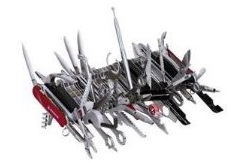 Saudi Arabia: Women Must Cover Their Sexy, Slutty Eyes

According to a report that appeared on Al Arabiyya News, Saudi Arabia's Commission for the Promotion of Virtue and Prevention of Vice has declared that it will begin "interfering with" and "ordering" women to cover their eyes, "if they provoke fitna [sedition, chaos]." The spokesman added, "Our men have every right to do so."
Hey how can you blame the men when they're helpless before a woman's come-hither-and-rape-me eye beams?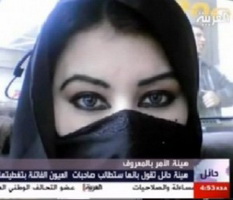 Woman Prefers Her Laundry Basket To Her Husband's Penis
Well who wouldn't since it's cleaner with that sexy plasticy smell, doesn't waste time on the internet, and loves to listen to all your lengthy complaints without ever annoying you with offered solutions. Dudes - we must snuff this out before we all get cuckolded by laundry accessories.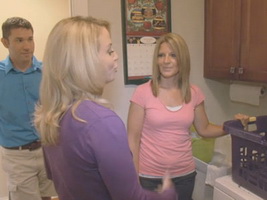 Tonight's post brought to you by the best business card ever: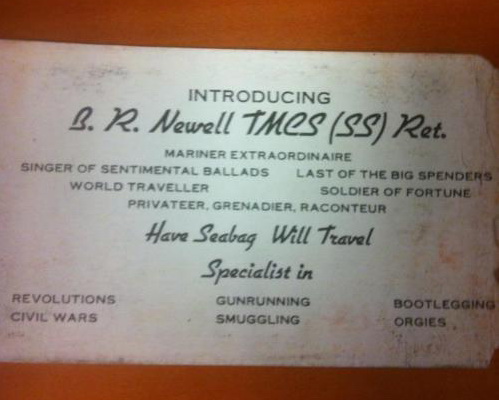 Notice: Posted by permission of AceCorp LLC. Please e-mail overnight open thread tips to maetenloch at gmail. Otherwise send tips to Ace.

posted by Maetenloch at
09:42 PM
|
Access Comments