« Liveblogging the CNBC GOP Debate
|
Main
|
Paterno Fired »
November 09, 2011
Overnight Open Thread
On November 9, 1989 Gunter Schabowski, spokesman for East Germany's ruling Socialist Unity Party, mistakenly announced to reporters that travel restrictions had been lifted from East Berlin into West Berlin immediately. They hadn't been - but it was too late and soon huge crowds of East Germans appeared at the Berlin Wall's checkpoints demanding to be let out.
By 10:45pm the guards had given up trying to stop them and allowed anyone who wished to travel to the Western side. Soon residents on both sides appeared with sledgehammers and began physically demolishing the wall, opening up new exits and taking away souvenirs.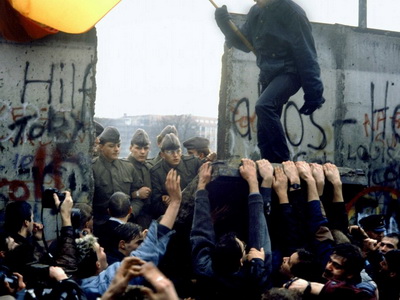 Less than a year later Ronald Reagan visited Berlin and took the opportunity to knock off more chunks from the wall not far from where he gave his famous 'Tear down this wall' speech in 1986.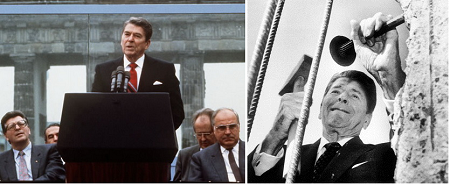 In fact I happen to have a piece of the wall that I bought back in 1991 for $5 sitting in the curio section of my entertainment center. Sure it's an ugly hunk of cheap commie concrete that I probably paid $4.99 too much for, but it's also a physical reminder of the defeat of communism and the end of the cold war. And I enjoy the delicious irony that capitalism still found a way to make money off the debris of a failed communist state.
Newt's Turn? The Votes Just Aren't There
Now that Cain's turn as the great-non-Romney Hope is fading eyes are turning to Newt but could he actually win the nomination? Seth Mandel says no:

But even if Gingrich can finally knock Cain out of the lead, there simply doesn't seem to be a path to the nomination for him. He is less likable than Romney, has less executive experience, and carries several suitcases worth of baggage. Conservative grassroots won't flock to him, even if Cain exits the race. Gingrich may be an impressive debater, and those debates may be playing a greater role in this year's contest than ever before. But for Gingrich, the votes simply aren't there.
I have to agree. Newt is a smart guy and a excellent debater, but he really doesn't have much experience actually running anything - and his last time as Speaker of the House wasn't very impressive. He's a great talker but not so great at the doing part.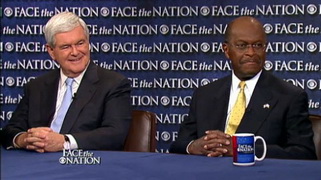 China to the Europeans: You Suck
Jin Liqun, the supervising chairman of the government's China Investment Corporation, explains why China is not going to bail out Europe:

If you look at the troubles which happened in European countries, this is purely because of the accumulated troubles of the worn out welfare society. I think the labour laws are outdated. The labour laws induce sloth, indolence, rather than hardworking. The incentive system, is totally out of whack.

Why should, for instance, within [the] eurozone some member's people have to work to 65, even longer, whereas in some other countries they are happily retiring at 55, languishing on the beach? This is unfair. The welfare system is good for any society to reduce the gap, to help those who happen to have disadvantages, to enjoy a good life, but a welfare society should not induce people not to work hard.
You know things are pretty bad when the most clear sighted economic analysis is coming from the ChiComs. Sure they're communist/crony-capitalists, but they're not stupid: The EU as currently constituted is a doomed money pit.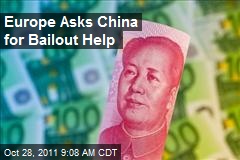 The Wonders of Free Medical Care
In the UK's NHS the death panels have been pushed down to the lowest level with hospital staff now able to add "do not resuscitate" orders to patients' charts without the knowledge of the patient or relatives.

A Mum died gasping for breath in hospital after she was WRONGLY given a "do not resuscitate" tag. The frantic husband of Immacolata Lacovara, 74, watched in horror as nurses stood by refusing to help.

The case was revealed yesterday in the latest damning report on the hellish neglect suffered by elderly patients on wards across the nation.
But hey - it's free...kinda.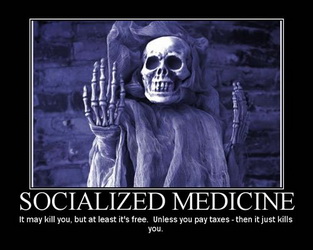 6 Classic Songs That Were Supposed to Be Jokes
On the Beastie Boys' "Fight For Your Right":

In fact, the Beasties hated the whole rocker scene, feeling it was populated by obnoxious, testosterone-laden douchebags. They wanted to poke fun at mindless party anthems like "Smoking in the Boys Room," so they cut the lyrics to "Fight for Your Right" as an in-joke before going on tour.

Their producer, Rick Rubin, added some drums and a blaring guitar riff and released the track, which soon became a big hit. Thinking the song's success was hilarious, the Beasties made what they assumed was an equally ridiculous video to go along with it.
Yet Another Japanese Vajayjay Attack
Taken from a movie with the promising title, "The Big Tits Dragon: Hot Spring Zombies Vs. Strippers".

According to the film's lone review on IMDb, Dragon is the harrowing tale of five strippers who don't have very many clients, so they make up for it by posing seductively and play fighting with each other to fill the space where plot would traditionally go. And as you're about to watch in the clip after the jump, at some point one of the strippers becomes a zombie and attacks two of her peers. However, she doesn't try to eat them as we've come to expect from traditional zombie films.
All I know after this is that if I ever encounter a Japanese ninjaess - living or undead - I'm keeping my hands and feet away from 'down there'. Sadly the video is probably a little too NSFWish to post, but you can watch it
here
. If you dare.
Tonight's post brought to you by the girl conundrum: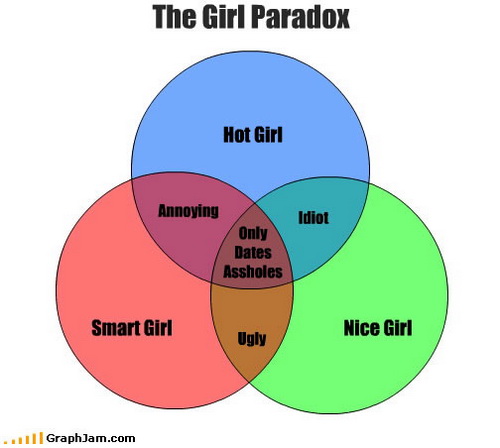 Notice: Posted by permission of AceCorp LLC. Please e-mail overnight open thread tips to maetenloch at gmail. Otherwise send tips to Ace.

posted by Maetenloch at
09:09 PM
|
Access Comments