« Liveblogging the 372nd 2012 GOP Presidential Candidates Debate
|
Main
|
Top Headline Comments 10-19-11 »
October 18, 2011
Overnight Open Thread
Are You Smarter Than a Wall Street Occupier?
Well almost certainly if you're a regular reader of this blog. It's funny how members of the 'reality-based' community seem so unfamiliar with uh, actual reality. Apparently they're all being oppressed by the tyranny of facts.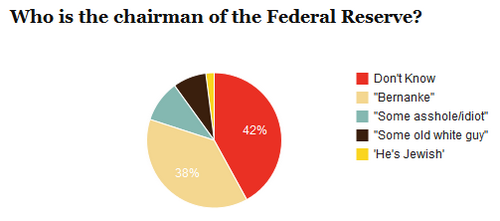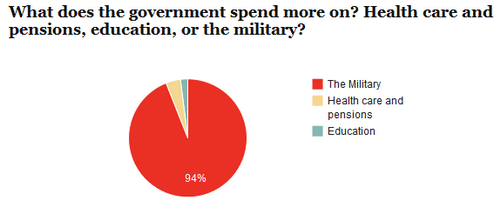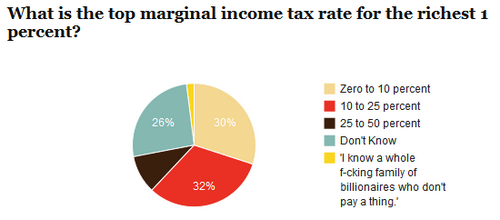 If you're going to protest in the streets and demand actions of others, shouldn't you at least have a clue about what you're shouting about?
Knowing less about the world than any small business owner pretty much disqualifies you from offering advice about running the economy. Or anything else for that matter.
Heather MacDonald: Get A Job Hippies!
When did protesting get more social cachet than actually having a job and doing stuff?

Everyone seemed to be having a lot of fun and to be confidently self-important, which is even better fun. Showing up to a job is less enjoyable. But a lot more hangs on that insurance agent's getting to his desk on time every day than on whether the residents of an encampment supported by the surplus wealth that floods through our society come up with a set of demands to present to someone TBD. Why should protest be privileged over the daily fulfillment of responsibilities that keeps society stable, especially when so many of the protesters are young people with lots of free time and few responsibilities?
Well here I mostly blame the baby boomers who glamorized their protests with endless nostalgia. Today's activists aren't so much protesters as 60's-style protest reenactors who want to relive their grandparents'/parents' glory days.
News You Can Use: How To Pick Up Chicks at #OWS

If you want to cruise women at an Occupy Wall Street style protest, you should be knowledgeable, well dressed, armored and come equipped with appropriate accessories. Suitable accessories include rocket propelled grenades, granola bars and possibly gloves, depending on how your condition is flaring up that day. Any conversations you strike up should be limited to the issues at hand, at least until a rapport is established, at which point you can proceed with more flirtatious behavior. And finally, during the later stages of flirtation, don't use any metaphors when discussing your penis, because they don't seem to enjoy those. Maybe put a little Guy Fawkes mask on it or something.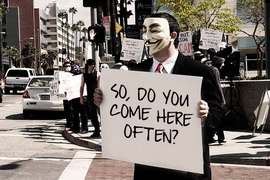 One Jihadi, One Personal Kamikaze Drone
As drones get smaller, cheaper, and deadlier why shouldn't every unit get their own hunter-killers?

A miniature "kamikaze" drone designed to quietly hover in the sky before dive-bombing and slamming into a human target will soon be part of the US Army's arsenal, officials say.

Dubbed the "Switchblade," the robotic aircraft represents the latest attempt by the United States to refine how it takes out suspected militants.

Weighing less than two kilos, the drone is small enough to fit into a soldier's backpack and is launched from a tube, with wings quickly folding out as it soars into the air, according to manufacturer AeroVironment.

..."Upon confirming the target using the live video feed, the operator then sends a command to the air vehicle to arm it and lock its trajectory onto the target," it said.

The drone then flies into the "target," detonating a small explosive.
Worst Athlete Ever?
I'd like to think that alcohol was involved somehow but it's also possible that the guy has never actually seen hurdles before.

Famous People You Didn't Know Were Mormn
That's right - just get all that Mormon hate out of your system. It's very unhealthy to let it fester during the primaries. And just to make sure you're targeting your M-hate towards all the right people, here's a list.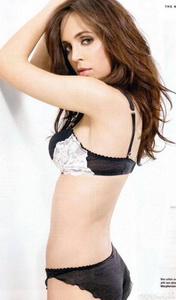 9 Little-Known Facts About Steve Jobs

He dropped out of college!

In fact, Jobs never came close to graduating college. Surprising, considering he was one of the most brilliant masterminds behind the most successful company in the world. After graduating from high school in Cupertino, Jobs enrolled in Reed College in Oregon, where he stayed for a total of one semester. He dropped out due to the financial strain the tuition placed on his parents. In 2005, Jobs gave a commencement speech at Stanford University in which he described his short-lived experience at Reed: "It wasn't all romantic. I didn't have a dorm room, so I slept on the floor in friends' rooms, I returned Coke bottles for the 5 cent deposits to buy food with and I would walk seven miles across town every Sunday night to get one good meal a week at the Hare Krishna temple."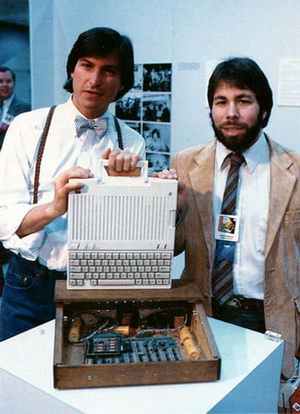 The Yahoo AoSHQ group. You know the way.
Tonight's post brought to you by make your choices ladies: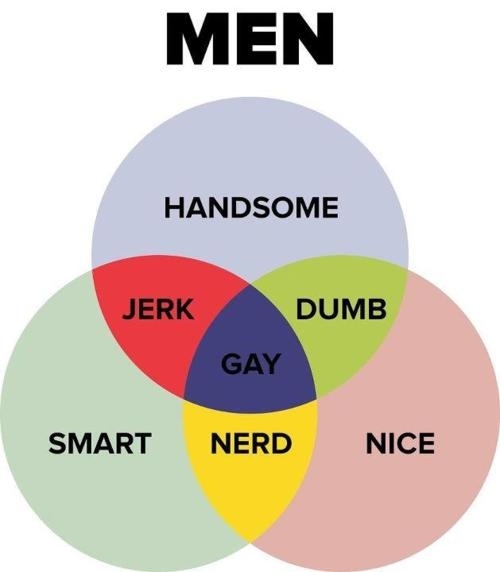 Notice: Posted by permission of AceCorp LLC. Please e-mail overnight open thread tips to maetenloch at gmail. Otherwise send tips to Ace.

posted by Maetenloch at
09:10 PM
|
Access Comments