« Open Blog/Open Thread
|
Main
|
5:10 AM »
September 10, 2011
Overnight Open Thread-I Hate The Nose Spray Flu Shot Edition [CDR M]
Evenin' everyone! I'm back for another ONT so get yer drink and get comfortable. It's time for the ONT.
During the qualification process for Mission Commander, many scenarios are covered to gauge your knowledge of the airplane, weapon systems, tactics, intelligence, etc to see how you would think and respond in different situations. I remember some scenarios asking me what do you do if you are out of weapons but you have a friendly unit in danger and the only means you have of protecting that unit is your unarmed plane. I remember thinking that if we are at that point, we're losing the friggin' war if I have to seriously ram my plane into the enemy. This story of LT Heather "Lucky" Penny brings home the point that sometimes, you just might have to pull a kamikaze.

Late in the morning of the Tuesday that changed everything, Lt. Heather "Lucky" Penney was on a runway at Andrews Air Force Base and ready to fly. She had her hand on the throttle of an F-16 and she had her orders: Bring down United Airlines Flight 93. The day's fourth hijacked airliner seemed to be hurtling toward Washington. Penney, one of the first two combat pilots in the air that morning, was told to stop it.

The one thing she didn't have as she roared into the crystalline sky was live ammunition. Or missiles. Or anything at all to throw at a hostile aircraft.
I can only imagine what one is thinking, going up into the sky knowing that you are going to ram an airliner with passengers on board but at the same time, you already know what has happened in NY and DC and will do what it takes to stop it. Outstanding story. The above picture is of her flying a jet at last years Reno Air Races.
This Is Rock & Roll?
Dear Lord I laughed my ass off watching this.


Badass Lady
I don't think I could've done this for my dog (if I had one). My kids? Hell yes, in a heartbeat. Alaskan Woman Punches Bear To Save Her Dog. Well done. Pet owner of the year!

It started out as a typical evening for 22-year-old Brooke Collins. She let her dogs out as usual but this time, she said there was a black bear outside who took hold of her dachshund Fudge. She said she feared for her pet's life and, in an instant, ran over and punched the bear right in the face to make it let go.
Bra Holster In Action

Vampire In Florida
Strange story. I wonder what drugs she was on. And she was training to be a dental assistant? Looks like she sharpened her canines in the photo. I'll be looking at my dentists teeth in the future to make sure they aren't some closet vampire or something. 22 Year Old Woman Assaults Elderly Man.

A Florida woman who claimed to be a "vampire" last night attacked an elderly man, biting him on the face and arm and tearing away chunks of his skin, according to police.

When cops arrived, they located Smith--covered in blood and half naked--near the Hooters, according to a police spokesman. During questioning, she was unable to tell officers what had transpired outside the shuttered restaurant. Nor could she explain what had happened to her pants or why her panties were at her ankles.
Maybe she was just getting ready for the ONT and was trying to bag a hobo and depants as the rules dictate!

Animals Living The AoSHQ Approved Lifestyle
Oh yes. These animals just get friggin' plastered! Do note that they don't stop. Even these animals know the best cure for a hangover is to keep on drinking. Or in this case, eating.


Credit Myths
Interesting reading on 7 Nasty Credit Myths That Won't Die.

Myth No. 2: "Checking your credit hurts your credit scores."

Fact: Checking your own credit reports and scores does not affect your scores. Period.

A credit check could hurt you if you asked a friend at a bank or car dealership to pull your credit reports. Such transactions probably would be coded as "hard" inquiries, or as applications for credit, which could ding your scores.

But checking your own credit is otherwise a non-event.
Hmmm. I still thought that this hurt you. Guess not.

Not In The Star Wars Blu-Ray...
...but really should be! Warning, somewhat NSFW as R2 does have a mouth on him it would seem. Watching the video though reminded me how much I hate Episode I but the R2 translations were pretty good.

Obligatory Caturday Videos
Standing Cat.

Cats VS Laser Pointers.
Really should be Lasers Mounted on a Shark VS some kittehs but this will have to do.

US vs Taliban in a Pot Field
Not often you see this type of battle in the middle of a pot field. Watch the sound level on your speakers. The gunfire is pretty loud.
Hollywood In The Post 9/11 World
This article sums it up nicely. Only now, with Obama in office and Bin Laden dead are they actually trying to make a war movie that is positive in coverage but it is a disgrace as it really is just a political piece that wants to paint Obama in a positive light and not something they really wanted to do solely on its merits. We've had some Medal of Honor recipients. Where the fuck are their movies???

But the fact that film depictions of the military may change somewhat now that a Democratic president has taken over and expanded on the war policies put in place by his Republican predecessor provides no excuse for what happened. When America really needed them, our filmmakers betrayed her. And because their unpatriotic products were made while our troops were under fire in the field, they constitute, when considered together, an unprecedentedly wicked action by an industry that rose to success and power through celebrating the nation and values that it now mindlessly attacks.
Someday, Hollywood might man up and actually make a movie that depicts Islamic Terrorists as they really are instead of making the terrorists some neo-Nazi group or Aliens or something that nobody would actually believe.
Tonight's ONT brought to you by: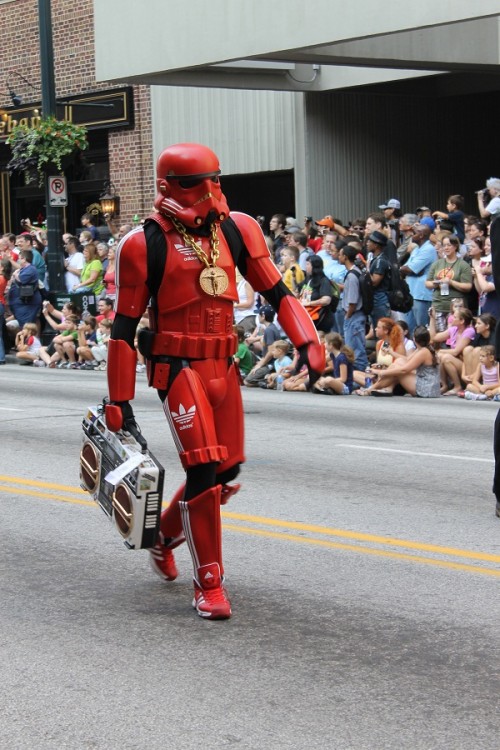 Notice: Posted by permission of AceCorp LLC. Please e-mail overnight open thread tips to maet. Otherwise send tips to Ace.


posted by Open Blogger at
09:38 PM
|
Access Comments