« CAC's Election Projection- September 2011 Edition
|
Main
|
Obama: I Pulled Our Country Back From The Brink
PS, Sidenote, I Also Put The Country Back On The Brink »
September 05, 2011
Late Summer Wildfires Raging in Central Texas
Damn. This got bad and it got bad fast.
Five fires around the Austin area, none of them are contained right now. 350 homes destroyed in an afternoon, and thousands of people evacuated.
Most of Texas is dry as a tinderbox right now, and yesterday the winds were blowing 40 to 45. Worst possible conditions. My youngest kid drove past one yesterday on her way home for a visit, that highway is completely shut down now.
There is no rain in the forecast, but the winds aren't as bad today. There are a lot of tired firefighters working hard today, trying to get this stuff under control.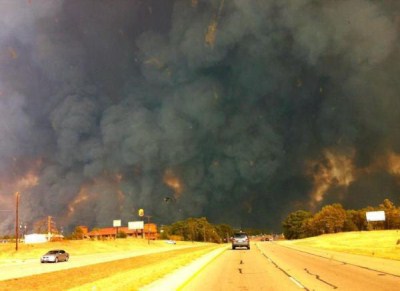 Also, ain't lettin my kid go back home this afternoon. That's the deal.

link and photo via melissaintexas
UPDATE: Rick Perry pulls out of DeMint event in SC to come back and deal with the emergency [via rdbrewer]
UPDATE2: Fire in the sky, video from Miss80sbaby, the Bastrop fire.
UPDATE3: Livestreams from KXAN (Miss80sBaby) and KVUE (Journolist)

posted by Dave In Texas at
12:17 PM
|
Access Comments