« Obama Has Been Hurt by the Media's Leniency
|
Main
|
Obama Finally Makes Good on a Promise: The Sea Levels Are Dropping »
August 28, 2011
Reposting: Why Is Pamela Geller Faking Quotes?
Perhaps the rebuttal piece is too long to read.
Let me quickly restate the facts of this nontroversy, and then explain why Pam Geller and Robert Spencer are pretty much now teenagers in Salem, Mass., throwing out allegations of Witchcraft and Devil-Consorting just because it's fun and dramatic and gets them attention and power.
In 2002, the Aga Khan, apparently a moderate Muslim, met with Perry to discuss setting up a seminar for teachers -- who were already teaching about Islam in World History class -- to learn more about Islam.
The seminars were paid for by the Aga Khan's foundation (and maybe the University of Texas at Austin -- not sure on this last one). The seminar information was provided by Harvard University, with additional input from UT/Austin.
In 2005-2006, 80 teachers got these academic briefings on Islam. The briefings were what you'd expect coming from Harvard and UT/Austin -- standard college crap, meaning a little PC and accentuating the positive as regards Islam's bloody history.
But it was the standard crap being taught at every college and most high schools.
Based on this, Pam Geller, seconded by Robert Spencer, has called Rick Perry "The 5th Columnist Candidate" and accused him of "serial sedition."
Her case consists as follows:
1. What teachers were taught was a dahwah, which is Islamic for "invitation to prayer." That is, she alleges the seminar was actually designed for purposes of religious conversion to Islam.
Here is her evidence for this. From the project's online website, explaining the general purpose of it, she quotes:
[Quoting the abstract:] Prophet Muhammad has become the paradigm, or role model, who is worthy of being emulated. As God's chosen prophet and messenger, he best embodied how to live a life in accordance with God's will. In this sense, he and the prophets before him, including Abraham, Moses, Joseph, Jacob and Jesus, are perceived as exemplary muslims

[Gellar now, commenting:] The real question is, should our children be taught this steaming pile of propaganda? I would not want that dawah taught to my children in public school. I want a candidate who is up to snuff on this. Ahead of the curve would be ideal, but at least cognizant of it.
So, the project endeavored to teach what Muslims believe, and Geller took this not as flatly saying "Here is what Muslims believe," but as a dahwah, an instruction into what teachers should believe (that is, they should believe Mohammad was a prophet, and Abraham and Jesus were lesser prophets). Presumably then these converts would train their schoolchildren to be Muslims too.
Rather than taking this as what it is -- a simple factual statement about Muslim believe -- Geller insists it is an attempt to convert the dhimmis.
This is obviously wrong -- and obviously stupid -- on its face. Every world history course tells you about the religion of participants in a religious conflict -- if you're reading about French history, you will be told the beliefs of the French Huguenots (Protestants) and the nation they rebelled against (Catholic France).
Such an introduction would not be an attempt to convert the reader to either Huguenotism or Catholicism. But Geller insists this is so when someone mentions the main beliefs of Islam.
In case you think what she quoted actually could read as religious instruction, rather than a factual statement about what Muslims believe -- well, that's because she doctored the quote. She cut out the beginning, in which it made it clear it was simply explaining what millions of Muslims believed.
Here is the actual quote, which she did not indicate had been altered to suit her purposes:
For millions of Muslims around the world, the Prophet Muhammad has become the paradigm, or role model, who is worthy of being emulated. As God's chosen prophet and messenger, he best embodied how to live a life in accordance with God's will. In this sense, he and the prophets before him, including Abraham, Moses, Joseph, Jacob and Jesus, are perceived as exemplary muslims,
If this material is so transparently Fifth Columnist, why does Ms. Geller need to doctor quotes to discover "dahwahs"? Shouldn't the dahwahs be present in the material without her helpful modifications?
2. Now, one "troubling" association doesn't make a trend. For that, you need at least two -- rule of hack writers, two incidents make a trend, and thus a column.
She finds her second example in... Grover Norquist.
Grover Norquist is head of the Americans for Tax Reform -- when you hear about candidates signing a pledge to not raise taxes, that is Grover Norquist's ATR pledge they mean.
Norquist is a fixture in DC and a major player that everyone in the GOP meets with. Now, he is pro-Muslim (though not Muslim himself) and wants the GOP to play for Muslim votes; he was also appointed by President Bush as head of his Muslim outreach efforts, after 9/11.
You can say that that makes you uncomfortable or whatever, but you can't claim that he is Perry's "troubling" friend just because they gave a speech at the same place. He is a guy who everyone meets with in DC. Securing Norquist's blessing as Kosher on Taxes is a ritual every presidential candidate on the right goes through. He is constantly holding political events with big-name Republican speakers.
Now, who are the other "dhimmis" who associate with Norquist? Why, it's a Who's Who of the Tea Party and 2012 presidential field.
"I talk with [Mitt] Romney directly," Norquist said. He mentioned that Rep. Michele Bachmann (Minn.) will be attending his Wednesday meeting this week and that Gingrich recently sent him an unsolicited statement strongly opposing backing down in the debt talks. For Norquist, any other position would be unacceptable.
Dhimmis? Well how about some more dhimmis?
...Earlier this year, Norquist spoke at the Faith and Freedom Coalition Conference, along with Michele Bachmann, Allen West, Thad McCotter, Tim Pawlenty, Mitt Romney, Marco Rubio, Herman Cain, Paul Ryan, and Newt Gingrich.
That's a lot of dhimmis. Ah well, we still have Sarah Palin. She would never go dhimmi and join the dhimmi-promoter Grover Norquist, surely.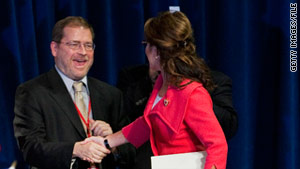 Sarah Palin shakes the hand of
dhimmi recruitment officer Grover Norquist
at a 2010 low-tax rally sponsored by Norquist's ATR
Damn! Her too! The jihadis got them all!
Well, not all of them. Only one brave True Conservative rejected the jihadi enabler Grover Norquist and said, "I shall not associate myself with you and your terrorist-sympathizing ways!"
Only one man bravely shunted these jihadist blandishments aside. Only one man stood true and firm in the face of terrorist aggression.
I know what you're thinking: Ron Paul. But alas, Ron Paul is a dhimmi too; here is a video of Ron Paul being introduced by the dhimmi-commandant Grover Norquist, at Grover Norquist's Quisling Rally.
No, only one candidate has told the Jihadi-in-Brooks-Brothers Grover Norquist to go hang.
That man, my friends-- that shining exemplar of true-blue Conviction Conservatism -- is the Only Man Who Can Save America, former Obama Ambassador to China Jon Huntsman.
Jon Huntsman Says 'No' to Grover Norquist Pledge While Pawlenty Says 'Maybe'
There you go, friends. There is your Proven Non-Dhimmi Candidate, who I'm sure Ms. Geller will be endorsing momentarily.
3. They also claim that the man who contacted Perry about setting these seminars up, the Aga Khan, is now "troubling." Robert Spencer now (as in, this week) now pronounces the Aga Khan a representative for "stealthy jihad."
But Aga Khan hasn't been accused of bad behavior by anyone, except Pam Geller, and now Robert Spencer. And he was only accused last week.
The evidence against him is ludicrously weak: A Pakistan bank had been accused of having an Al Qaeda account. Nothing ever came of this accusation; the lawsuit (pressed by the widow of Daniel Pearl), was dropped, with no settlement.
Years later, Pakistan sold the bank to raise money, and it was purchased by Aga Khan as a money-making investment. In case you think the Aga Khan intended to front for world terrorism -- no, he had the bank sign a contract with the US Federal Reserve, which would patrol it for money laundering or any other sort of sketchy behavior.
If the Aga Khan was a terrorist buying a terrorist bank, why did he then put that bank under monitoring by the US Federal Reserve? Seems... dangerous, no?
Not only is this evidence ludicrously weak, but it comes extremely late anyway. Like, this past week. How can Pam Geller's guilt-by-the-thinnest-of-association evidence be chargeable to Rick Perry? Geller made these devastating findings (that a law-abiding man bought a bank, and put it under US Federal Reserve monitoring, to make sure it was law-abiding) this past week; how could Rick Perry have even known about these "allegations"?
Robert Spencer, as I said, now seems pretty sure that the Aga Khan is up to no damn good. But if Rick Perry had any doubts about the Aga Khan's status as a true moderate Muslim and a progressive good guy, he would have been reassured by... Robert Spencer, who vouched for him in 2010.
Furnish: I find myself in the curious (and somewhat uncomfortable) position of disagreeing with my friend Robert Spencer, for whom I have the utmost respect and with whom I almost always totally agree. However, on this issue of whether moderate Islam exists, I think Robert may be missing something....

[prefatory statement about the threat of Wahabism and Sulfism omitted]

However, perhaps because Robert is so well-versed in the theology of Islam, as opposed to the historical record of how that religious theory has been acted out on the stage of history, he seems to overlook the key fact on the ground that certain minorities within Islam have developed a non-literalist, even allegorical, approach to reading the Qur'an. Foremost among these moderates are the Isma`ilis, the Sevener Shi`is, whose global head is the philanthropical Aga Khan. Isma'ilis may number only in the tens of millions (out of the total Muslim community of some 1.3 billion, second only to Christianity's 2+ billion), but they do exist and they define, for example, jihad not as killing or conquering unbelievers, but as economic development and charity work.

[Further discussion of some other moderate Muslim sects.]

Robert Spencer: In all this my friend Timothy Furnish, whose work I admire, is entirely correct.
So there you go: As late as 2010, Robert Spencer, whose specialty and expertise is in identifying threatening Muslim extremists, expressly states the Aga Khan and his whole sect are actually truly moderate Muslims.
Of course, this was before Pam Geller blew the lid off the conspiracy with her dynamite discoveries.
Now asked why Perry should be condemned for believing Aga Khan to be a moderate in 2009, whereas Robert Spencer thought he was a moderate a year later in 2010, Spencer just says that since Perry was "partnering" with him (that is, doing two brief seminars in Texas), Perry should have "vetted" him.
Did Spencer feel the need to "vet" the Aga Khan before misleading the world by pronouncing upon his peaceableness and moderation?
And if Perry had vetted Khan, what would he have found? Why, that whole not-suspicious-at-all bank purchasing affair.
And then what? What do you do when you've successfully put together the pieces of the Routinely Purchased Bank Mystery?
I guess you denounce him or something.
But Robert Spencer wants to denounce Perry for not knowing the details of the Lawfully Purchased US Fed-Monitored Bank Affair; he is much more modest about denouncing himself for his own lack of suspicion and research.
I mean, that's Rick Perry's job. It's not Robert Spencer's job to watch the jihad or anything.
BTW, sidenote, Robert Spencer can be read at his website, JihadWatch.com.

posted by Ace at
02:21 PM
|
Access Comments