« Win the Culture. [ArthurK]
|
Main
|
R.O.U.S.'s Open Thread. [krakatoa] »
August 27, 2011
10 AM EDT Irene Update (tmi3rd)
Good morning, Morons and Moronettes, and our vigil continues...

There isn't much new to report... Irene went ashore near Cape Lookout, NC, this morning. Irene made landfall officially as a Category 1 storm this morning, which is fairly typical. Partially as a function of physics (friction, in particular), tropical cyclones lose some of their punch as they interact with land in any way. To give you some idea, just prior to Katrina interacting with shore, the winds were up around Category 4. By the time the storm was on shore, it was down to a Category 3 storm.

More below the fold...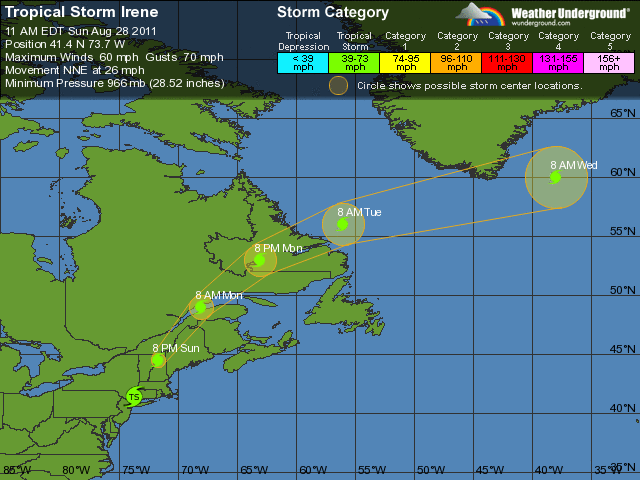 Once again, this map comes to us via wunderground.com.

Irene has weakened significantly- good news- but is not expected to weaken much further- not good news- until going ashore again, presumably somewhere along Long Island. This puts New York City slightly to the west of the center of circulation- good news- but you still have to contend with being near the center, which is where you get your highest winds.

For the moment, there isn't a clearly-defined eye, which is another example of the storm weakening. Given its interaction with land, I'm not anticipating that we'll see an eye re-form. For the moment, assume that the worst weather will be on the north and northeast sides of the storm, with the thunderstorms nearest the center also being rather ugly.

Give or take further adjustments to its course, Irene is largely behaving pretty well, in terms of doing what we expect... movement is to the north-northeast (020 if you want to find it on the compass) at 12 knots, and expect a gentle bend to the east as things progress. Folks in DC can expect their conditions to keep deteriorating this afternoon, and Wilmington and Philadelphia may have another couple of hours before things go downhill there.

New York, you'll see things get going this evening, and the anticipation is that Irene will get to you as a Category 1 hurricane. So, for the next 48 hours or so, welcome to life on the Gulf Coast.

I'm going to be running around the rest of the day, but I'll put up another update around 10 PM EDT. If you need updates throughout the day, the National Weather Service will be updating the progress of the storm at nhc.noaa.gov. Because we don't have a good-looking eye, the NWS/NHC will be doing three-hour updates.

Finally, let's do the Dad part- this is still a dangerous storm. A Tornado Watch is in effect for coastal North Carolina, Maryland, and Virginia until 11 AM EDT, and that will be extended in terms of time and location as the storm passes. Flood watches and warnings will continue throughout the day in all affected areas.

Stay safe, and don't go sightseeing after the storm passes- let the emergency management crews get out and do their surveys. Assume, particularly if you're not in regular hurricane country, that the local PD is going to stop anyone on the street.

Back later! If any of the other co-bloggers or regular bloggers are around, if you would, can you update particularly tornado watches in the sidebar!

Thanks!

-tmi3rd


posted by Open Blogger at
10:33 AM
|
Access Comments