« Overnight Open Thread - Friday [Ben]
|
Main
|
Schadenboner: Liberals Finally Begin To Realize That Maybe Obama's Not So Hot, Huh? »
August 26, 2011
Nightside Hurricane Irene Update (tmi3rd)
Good evening, Morons and Moronettes, and hello from the Moron Central Weather Desk. It looks like we may have some good news for once, but there is still danger for the Eastern Seaboard... here are the quick hits.

1) The expected strengthening of Irene did not happen this afternoon, and the storm currently has maximum sustained winds of 100 mph, making it a strong Category 2 storm. We had anticipated it strengthening to a Category 3 storm, so this is a good development. With that said...

2) The track seems to be firming up, having the center of circulation crossing the eastern point of North Carolina and hugging the coasts of Maryland, Delaware, and New Jersey before entering New England somewhere fairly close to New York City, most likely as a Category 1 hurricane.

Details below the fold...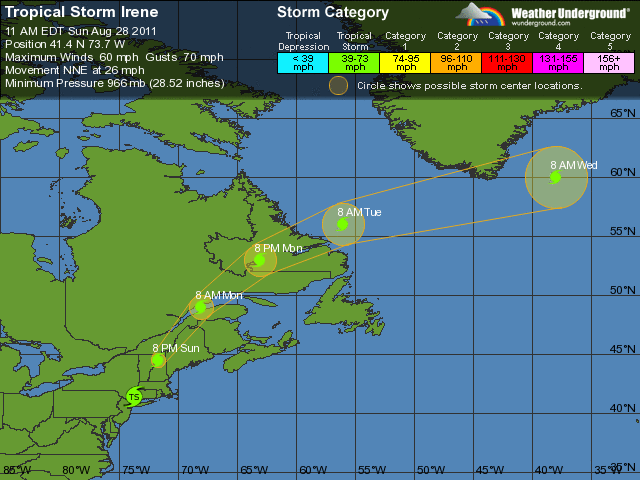 Thanks, as ever, to wunderground.com.

As the above graphic indicates, tomorrow is going to be a rough ride for North Carolina, Virginia, Maryland, and Delaware. The thing I'd like to point out is that this system is 600-700 miles in diameter, so it's going to affect a large area.

Near Norfolk, the Portsmouth Naval Facility on the Elizabeth River is anticipating a high tide at 8:20 AM... and then again around 8:03 or so that night, which is when the center of circulation is anticipated to make its closest approach to Norfolk. That's not horrible, but we are talking about seas of 10-13 feet until after midnight. So let's stay away from the water... again, most people are killed by flooding or by being stupid enough to stand too close to the seas while the waves are rocking. Don't naturally select yourself.

I don't anticipate that this storm is going to behave perfectly (it hasn't so far, so why should it start now?), but if you're near DC, Wilmington, or Philadelphia, you should have a fairly rainy and windy time starting Saturday and into Sunday. You can expect higher seas on the coast, but you should be on the comparatively safer west side of the storm.

Finally, let's talk about the impacts in and around New York City. If it continues on the forecast track, the center of circulation may cross directly over NYC. I don't anticipate that it's going to behave, however, so take that with a grain of salt.

Now let's take the cautionary part- even if it slips down below hurricane strength (75 mph sustained winds), it's still going to be driving a ton of water with it. Even though Katrina, for example, only came ashore with winds of a strong Category 3 storm, she was pushing water consistent with that of a Category 5 storm. It's a question of inertia- once you suck up a bunch of water, it has to go somewhere, and it's going to keep moving in the direction it was going in the first place. Take this seriously- don't let your guard down in Boston, Providence, or ANYWHERE near Long Island Sound.

The northeast side of the storm is traditionally where the really weird stuff happens, like embedded tornadoes... if you're in the path of this storm, you need to pay close attention to any tornado watches that go up. The really scary thing about hurricane-embedded tornadoes is that, while they're not usually very strong, they're usually rain-wrapped, and therefore really hard to see. So, that means that if you're in CT, RI, MA, NH, or ME, you're going to need to stay informed as the storm transits your area.

So let's talk, finally, about impacts... I doubt this thing is going to be the cataclysm we thought it was going to be if it had undergone its major strengthening today. It's going to be a serious flooding problem for low-lying and coastal areas, and there will be some wind damage, probably in NC and VA, and in the path of the center of circulation, but it is extremely unlikely to resemble the coming Zombie Apocalypse or the Rampaging Hobo Stampede.

Drew put it perfectly on Twitter earlier today- because this thing isn't going to utterly wipe out NYC, one would have to figure that New Yorkers will now cheerfully ignore any future weather warnings. Because of the lack of frequency of hurricane encounters in NY, that's not entirely unfounded. I would just point out that in New Orleans, it was all fun and games from 1969 until 2005. Then... oh yeah, hurricanes are still dangerous.

If you've moved out of the way of the storm, please stay there- again, power will likely still go out, emergency services will be spotty at best, and businesses will likely not be open through the weekend. It's an expensive pain in the ass, but one of the other things that happens in hurricanes is that the lack of people on the street makes it easier for the local PD to pick out the bad guys. It's easier on the emergency management people if there are fewer people around until after the storm has passed.

Okay, that's it for tonight... we'll keep you posted on developments here as they happen. Be safe!

-tmi3rd

posted by Open Blogger at
11:45 PM
|
Access Comments