« I inherited a mess from Bush, just like Reagan from Carter [ArthurK]
|
Main
|
Top Headline Comments 8-3-11 »
August 02, 2011
Overnight Open Thread
Evenin' all. Time to fix a drink, unfasten your pants, and grab a red pill from the hopper. Oh and word on the street is that a certain moron qualifies for a free Denny's platter tonight.
Credit Ratings Across The World
While we've been stressing over keeping our coveted AAA rating - which we still have...for now - it's always interesting to see how we compare against the world.
And based on this chart of Moody's ratings by country we (undeservedly) look pretty good. Well good until we show the first signs of weakness and then the downgrade knives will quickly come out.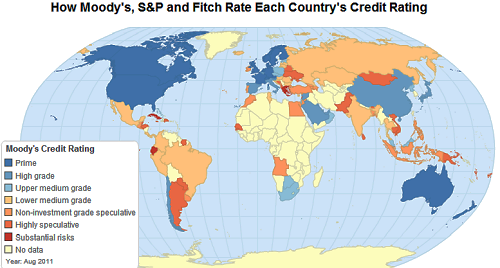 (Click on the image to go to the full interactive map)
Don't Trust The Greeks: A Eurocrat Speaks The Truth
A quote from former EU Commissioner Frits Bolkestein, interviewed by Dutch newspaper De Telegraaf, 30 July 2011:

We're stuck with the Greek misery. I predict that nothing will come of all those beautiful plans for privatizations. The Greek state is weak, a large part of the population is lazy. I also tried to keep the Italians from the euro zone. I didn't succeed.
Why it's as if the Europeans never read the sequel to Aesop's fable of the ant and the grasshopper in which the ants are convinced by the grasshoppers to create a common economic union with them only to see their colonies bankrupted a few years later.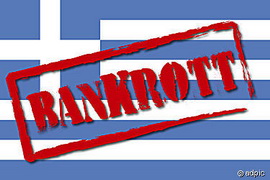 Lighter, More Lethal .50 Cal On The Way
Ma Deuce has been going strong for over 90 years but there's finally a worthy successor, the XM806, which attempts to outdo the M2 in all respects but particularly weight.

The XM806 cuts the weight of the 128-pound M2 by half and reduces recoil by 60 percent. It also boasts an effective range of 2,000 meters, 170 better than the M2. The machine gun, which has a manual safety, allows for quick barrel changes that do not require adjustments for head space and timing.

Relief also is on the way for the A-gunner tapped to carry the tripod. The XM205 weighs 13 pounds less than the 44-pound M3 now being carried. The XM205 collapses to less than 50 percent of deployed height.

Open-Minded Conservatives vs Intolerant Liberals
According to Match.com's data that's exactly how it is in dating.

Conservatives are far more open to reaching out to someone with a different point of view than a liberal is." That is, when it comes to looking for love, conservatives are more open-minded than liberals.
Of course people generally are more open to dating someone kinda naive and dumb than someone evil and depraved, certain ONT moronettes excepted. Also note that Match.com's algorithms put a lot of weight on what someone actually looks at as opposed to what they say they want.
"Houston, We've Had A Problem"
Just over 41 years ago this happened.

Only in Japan: Robot Seals Comfort Tsunami Survivors
But where are the robots to comfort the lonely male survivors?

How The Mayor of Vilnius, Lithuania Handles Illegal Parking
Ok it's a stunt but I do like to see APCs used to enforce parking rules.

Fried Chicken - Elvis Style
By way of Google's CEO comes this recipe for fried chicken how Elvis liked it.

Buttermilk Fried Chicken Elvis Loved
*Google-sized portions; read all the way through to get the total amounts needed*

1/2 c thyme
1/4 c oregano
1/4 c basil
1/2 c onion powder
1/2 c garlic powder
1/2 c dry mustard
1/2 c paprika
1/4 c chili powder
1/2 c celery seed
2 Tbsp salt
1/2 c coriander
1/2 c cumin
1/3 c kosher salt
1/4 c cayenne pepper
1/2 c ground black pepper
1/4 c ground white pepper

3 gals. buttermilk
3 cases organic free range chicken (roughly 30 chickens, divided into 1.5- to 2-lb. sections)

Mix these amounts of the dry ingredients together in a large bowl, then whisk in the buttermilk until it's thoroughly mixed.

Pour the batter over the chickens and marinate for up to five days - keep refrigerated, of course.

For frying
Now mix another 4x the above dry ingredients, and add:
2 lbs. cornstarch
8 qts. all-purpose organic whole wheat flour

Dredge the marinated chicken pieces in the dry herbs/flour/cornstarch mixture mix.
Fry the dredged chicken in a large skillet with hot peanut oil @ 375 degrees. Once chicken has reached a golden brown color, finish cooking it in the oven.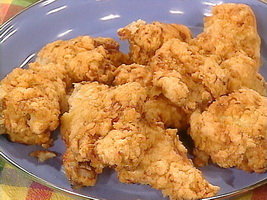 The Yahoo AoSHQ group. You know the way.
Tonight's post brought to you by kitteh chemistry: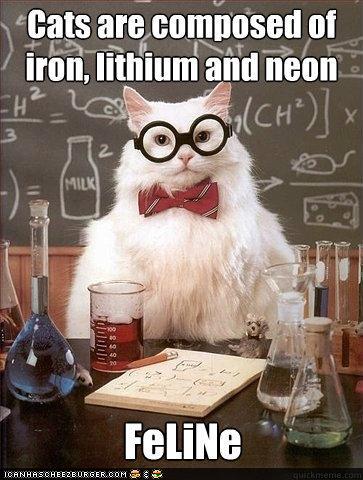 Notice: Posted by permission of AceCorp LLC. Please e-mail overnight open thread tips to maetenloch at gmail. Otherwise send tips to Ace.

posted by Maetenloch at
09:23 PM
|
Access Comments