« Boehner's a Liar. Ditch the Plan. [Truman North]
|
Main
|
House Calls Off Vote On Boehner Bill For The Night »
July 28, 2011
Overnight Open Thread
Could The US Simply Mint Its Way Past The Debt Limit?
So what happens if Congress fails to raise the debt ceiling by the August 2nd deadline?
Well Yale law professor Jack Balkin says that Obama could just order the US Treasury to mint $2 trillion worth of platinum coins and then have the government write checks against them:

Sovereign governments such as the United States can print new money. However, there's a statutory limit to the amount of paper currency that can be in circulation at any one time.

Ironically, there's no similar limit on the amount of coinage. A little-known statute gives the secretary of the Treasury the authority to issue platinum coins in any denomination. So some commentators have suggested that the Treasury create two $1 trillion coins, deposit them in its account in the Federal Reserve and write checks on the proceeds.
This sounds crazy but Matthew Yglesias points out that this is explicitly allowed under the law:

It's right here in 31 USC § 5112 "Denominations, specifications, and design of coins." It's super-prescriptive about all kinds of things until you get to section (k):

(k) The Secretary may mint and issue platinum bullion coins and proof platinum coins in accordance with such specifications, designs, varieties, quantities, denominations, and inscriptions as the Secretary, in the Secretary's discretion, may prescribe from time to time.
So barring a last minute agreement it's entirely possible the US may start issuing Zimbabwe-esque denominations of platinum coins.
Was The Whole Polar Bears Being Killed By AGW Thing a Hoax?
Well given that the reports mainly came from one scientist - who's now being investigated for scientific misconduct over the article - yes it's quite probable.

A federal wildlife biologist whose observation in 2004 of presumably drowned polar bears in the Arctic helped to galvanize the global warming movement has been placed on administrative leave and is being investigated for scientific misconduct, possibly over the veracity of that article.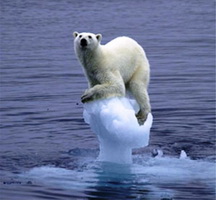 Ballistic Effects of Different Small Arms
Die water-barrel die. People like to put the 9mm round down but I'm pretty sure a single shot from one would ruin your whole weekend.

Plus if you're into big calibers, here's evrything you need to know to shoot a 16" gun:

Obedient Wives Club
You already know the first two rules. And the third rule is to be a good whore to your husband.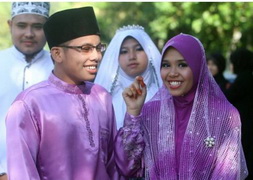 How To Make An Easy $5K
1. Fly Air Canada
2. Ask for a 7Up in French, but get served Sprite by an English-speaking flight attendant.
3. Sue in a Quebec court
4. Profit!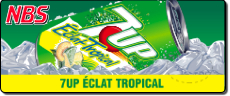 Guess Where The Talmud Is a Best Seller?
In South Korea of all places.

"Almost every house in South Korea has a translated Talmud. But unlike Israel, even Korean mothers study it and read from it to their young children. Yes, in a country of almost 49 million people, many of whom believe in Buddhism and Christianity, there are more people who read the Talmud - or at least have a copy of it at home - than in the Jewish state."
Why? To learn the secret of the Joos' craftiness of course.
"We were very curious about the Jews' outstanding academic achievements," explains South Korean Ambassador to Israel Young Sam Ma, who was a guest on Channel 1's "Culture Today" show.... We tried to understand the secret of the Jewish people. How do they - more than other nations - manage to reach such impressive achievements?... Jews read the Talmud from an early age, and we believe it helps them develop great abilities.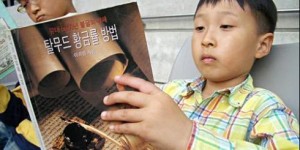 Beneath The Planets of the Apes!
Well if they took Nova away from me, I'd destroy the world too. Supposedly Charlton Heston only agreed to appear in this movie on the condition that his character dies. Well they sure saw to that. Also Planet of the Apes Party Fun Time.

10 Things You Didn't Know About National Lampoon's Vacation
It's hard to believe that it's been 28 years(!) since the original Vacation movie came out.
And Harold Ramis may now think the East St. Louis scene is too politically incorrect, but based on my family's experience getting detoured into there circa 1981 it's only a slight exaggeration. And bonus points if you can name Clark Griswold's middle name without checking.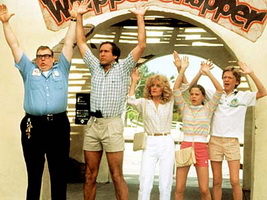 If Life Gives You a Kitteh That Sheds
Then get crafty.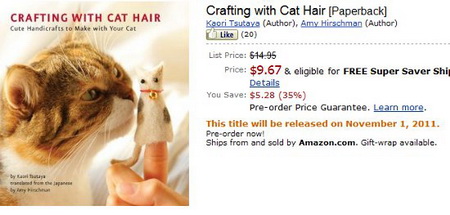 Yahoo group. That is all.
Tonight's post brought to you by guests:

Notice: Posted by permission of AceCorp LLC. Please e-mail overnight open thread tips to maetenloch at gmail. Otherwise send tips to Ace.

posted by Maetenloch at
09:25 PM
|
Access Comments