« RINO-fighting Open Thread
|
Main
|
Top Headline Comments 3-18-11 »
March 17, 2011
Overnight Open Thread
Why Do Despots Hate Teh Boobehs?
There just seems to be something about ladies' bosoms that drives authoritarians to distraction.
Pakistani Council of Islamic Ideology Declares Padded Bras To Be The "Devil's Cushions"

The Council also invited shop owners who were in the business of importing and selling female underwear. The Council advised the shop owners to bring lingerie samples, so that the council could see about what the protesters were angry about."[sure, sure..ed]

"Last month the protesters gathered outside an outlet inside Park Towers and occupied the entire floor and chanted slogans against padded bras. They asked the government to put a ban on the import and sale of padded, vibrant, colorful bras and demanded legislation that would outlaw the purchase of any underwear that is not white or beige colored.

"Padded bras are evil as they make the breasts look bigger and perky", said one of the protesters. "Only devil women show off private parts. Muslim women should be as humble about them as they can. In fact they should be ashamed of their breasts, both of them[glad he cleared that up 'both of them'..ed]."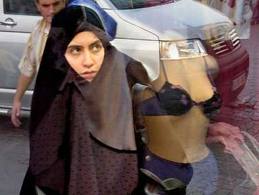 And then you have this:
Venezuelan President Takes A Hard Stance Against Fake Boobs

President Hugo Chavez is firmly anti-breast implants. Speaking on a United Nations summit on great racks a state-run television station, Chavez railed against plastic surgeons who "convince some women that if they don't have some big bosoms they should feel bad." Chavez added that some women in Venezuela, where the breast implant business is booming, will get plastic surgery even if they're struggling to make ends meet, which he called a "monstrous thing."

Those who would rule over the world always start with the boobies.
A Helicopter Flyover of the Fukushima Nuclear Plant
The closest view that I've seen so far.

Also
How Worried Should We Be About Radiation From Japan's Nuclear Plant?
Five Things That Used To Be Normal On The Internet
How quickly things like AIM and Lycos become archaic and then retro on the web.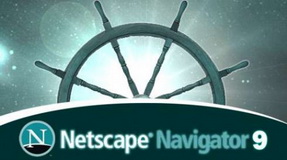 The Link Between Samurai Swords and The Fukushima Nuclear Reactors
It turns out that the steel used in both comes from the same company, Japan Steel Works.

Although Japan Steel Works is a major corporation with 5,000 employees, it also maintains a samurai sword blacksmith, in a small shack on a hill above the factory in Muroran, where a single craftsman still hammers steel into broadswords, as the company has done since 1917.

The expertly crafted swords, which sell for about 1 million yen when finished, are forged from a single 2.2-lb. lump of Tamahagane steel, the traditional material that's rarely used today.

"Samurai swords contain the essence of steelmaking technology,'' Japan Steel Works CEO Masahisa Nagata told Bloomberg in 2008.
Their katanas may not quite be Hanzo Hattori steel but they're still excellent.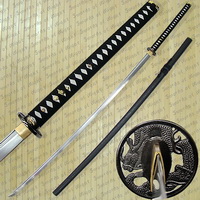 Uncovered Ireland
A rare cloud-free satellite photo of the emerald isle.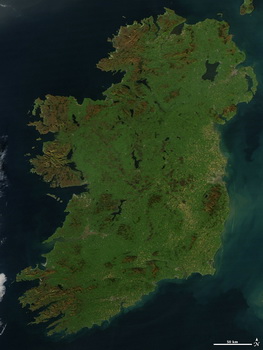 The Japanese Have No Word For Looting?
But Andrew Sullivan's readers point out that the Japanese language does indeed have a word for looting since it does and has occurred there.

There is a word for this, and it's 火事場泥棒 (kajibadorobou). It literally means "thief at a fire," but it extends more broadly in a metaphorical sense to people who take advantage of a crisis to commit a crime.
More On The Real-Life Batman Project
So far Jonathon Last has determined that it's virtually impossible for someone to actually become a real-life Batman. However other, lesser superheros are within the reach of mere mortals:

I don't think it's possible to become a real-life Batman (yet). However, that shouldn't be what would-be super heroes aspire to become, at least not that this stage. The question should be: could someone become Rorschach, The Comedian, or perhaps even The Night Owl (Dreiberg, not Mason)? Could your average individual, with the aid of some level of physical strength and skill better than average, and with some weapons, fight crime? I think the answer to that is yes.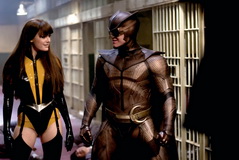 A Century of Meat Eating
Apparently beef consumption peaked in 1975 and chicken has been growing since the 50s.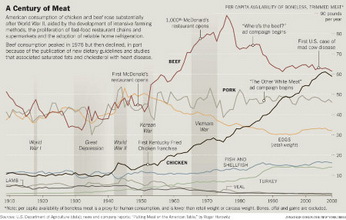 Are You Beat Deaf?
Well scientists have found a new kind of deafness:

It's like face blindness, but for music. Researchers at the University of Montreal say that a 23-year-old man they call "Mathieu" is functionally unable to move in time to music, or follow a beat that is part of a song.
Actually I'm fairly beat deaf myself which is why I always sucked at poetry whenever we covered it in English class. Am I still bitter over this? Yes, yes I am.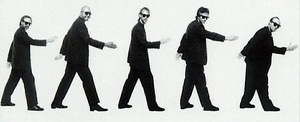 Bands That Will Not Die
Over the years the band Asia has had over 23 different members and through some kind of mitosis has split into two different 'Asia' bands now. Guns 'N Roses comes in second place with 22 different members since 1985. And Lynyrd Skynryd comes in first with a total of 25 members over the years.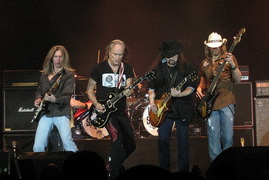 Yahoo group. That is all.
Tonight's post brought to you by 1979: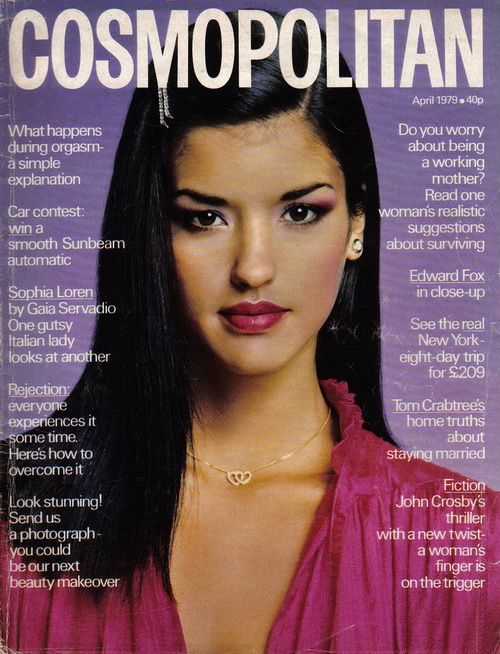 Notice: Posted by permission of AceCorp LLC. Please e-mail overnight open thread tips to maetenloch at gmail. Otherwise send tips to Ace.

posted by Maetenloch at
09:46 PM
|
Access Comments