« NCAA Tourney Pickem Group ALSO Comments Seem to be Fixed
|
Main
|
Top Headline Comments 3-15-11 »
March 14, 2011
Overnight Open Thread
Some Amazing and Sad Video of the Tsunami
I saw this video last night on NHK and it's one of the more astonishing ones where you can truly see the full scale and force of the wave. And it's also one of the few where you can actually see people trying to escape from the incoming wave. I remember reading years ago that due to the speed tidal waves travel at by the time you even see one coming, it's pretty much too late to escape. And this video seems to confirm that.
If you look towards the bottom of the hill around 0:40, you can see people running towards higher ground. Most made it but based on the higher-res version I saw I don't think they all did.

And in one piece of good news a 4-month old baby was found alive today amid the tsunami wreckage and reunited with her parents.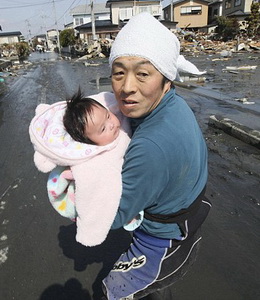 National Labor Relations Board ruled Friday that threats of physical violence by union organizers 'aren't coercive'
Given that the union vote in question was won by only two votes (14 to 12) amid threats it makes you wonder what they union organizers would have had to do in order to be 'coercive'.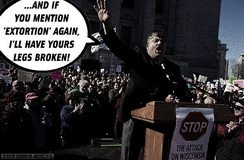 Radiation, USN Helicopters, and Experts
How do you tell an expert from an 'expert':

The New York Times article goes on to say this:

The plume issue has arisen before. In 1986, radiation spewing from the Chernobyl disaster in Ukraine was spread around the globe on winds and reached the West Coast in 10 days. It was judged more of a curiosity than a threat.

The comparison to Chernobyl remains popular, but is also good way to identify if someone talking about Fukushima knows what they hell they are talking about. If someone suggests any comparison between the two based on the current data, they are an idiot - not an expert.

Here is how to put Fukushima in the context of Chernobyl. The radiation levels at Chernobyl were of the order of 30,000 roentgens per hour near the plant.

30,000 roentgens is 3,579 sieverts. One million micro sieverts to one sievert. Doing a little quick math, if we are comparing the magnitude of radiation levels coming from 'meltdown' at the Fukushima power plant to the 'meltdown' at Chernobyl we get 1 / 3,579,000

Again, doing the math, a relative comparison suggests Fukushima is 0.00002% of the Chernobyl levels of radiation. These 'meltdowns' have nothing in common, unless you believe .000002% - below the mSv of a CT scan - is a public health threat.
And here is a
backgrounder
from the American Nuclear Society with a succinct but good summary of what happened.
The EU's Lightbulb Ban-er Leaves His On
You see you may care, but Andris Piebalgs really, really cares about the Earth. So he gets certain privileges:

He is the man behind the European Union's ban on the traditional lightbulb that has caused anger and confusion in the UK's shops and households.

But it appears that for Latvian Andris Piebalgs energy saving doesn't start at home.

For Mr Piebalgs, the former European Commissioner for Energy, has left the outside lights burning day and night on his £1.25 million luxury home despite neighbours claiming he has not been seen there for weeks.
EU Commissioner for Development Andris Piebalgs house in Jurmala

The lights are on but no body is home: Neighbours say no one has been living at Mr Piebalg's 1.25million home near Riga for several weeks

Now former communist Mr Piebalgs has been accused of double standards. In 2005 he told this newspaper in an interview that 'we can all do our bit' to save electricity.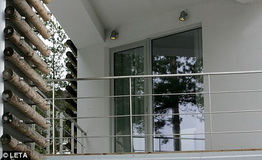 Microsoft Euthanizes the Zune
It was for the best really. But I'm guessing the guy who got the Zune tattoo is feeling kinda obsolete now.

After years of mediocrity and weak sales, Microsoft is finally killing off its Zune media player, Bloomberg reports.

This is the right move. Microsoft should be focusing all of its portable-gadget efforts on Windows Phone 7, to try and compete with Apple and Google there.
These days Microsoft seems kind of snake-bit. They have some very smart people working for them and clever ideas, but somehow their corporate process only seems able to produce products that are uninspiring and merely meh.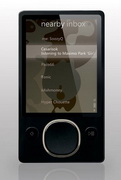 Japanese Sinks Are Kinda Complicated
Luckily not quite as complicated as Japanese toilets so I've got a chance of operating one without assistance.

The Reverse Spurlock: Marathon Runner Trains By Only Eating McDonalds

Palatine dad Joe D'Amico plans to run the Los Angeles Marathon on March 20 after training for 30 days on a diet of McDonald's fast food alone.

It may sound more like a recipe for getting the runs than running fast. But ultra-lean D'Amico aims to beat his personal best time of two hours and 36 minutes — a six-minute-mile pace that should put him among the top 50 finishers.

"My wife told me I was crazy," D'Amico, 36, said. "But I love McDonald's and I love running, and this was a great way to combine the two."
"I'm not trying to prove anyone wrong or make any kind of political statement," he added. "But I've been eating McDonald's since I was a kid. In a way I've been practicing for this my whole life."
Haven't we all.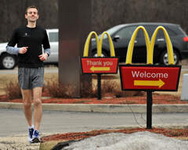 Men and Their Crazy Shoe Habits
Apparently the men in the Mexican town of Matehuala are crazy about shoes and go to extreme lengths to outdo each other in outlandishness. It's like some kind of evolutionary arms race gone awry. But as long as the chicas respond, the boots will keep growing.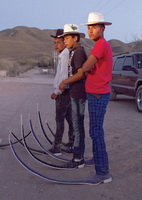 The Yahoo AoSHQ group. Bla bla bla. And don't forget about the Job Bank.
Tonight's post brought to you by Charlie and Johnny, 1993: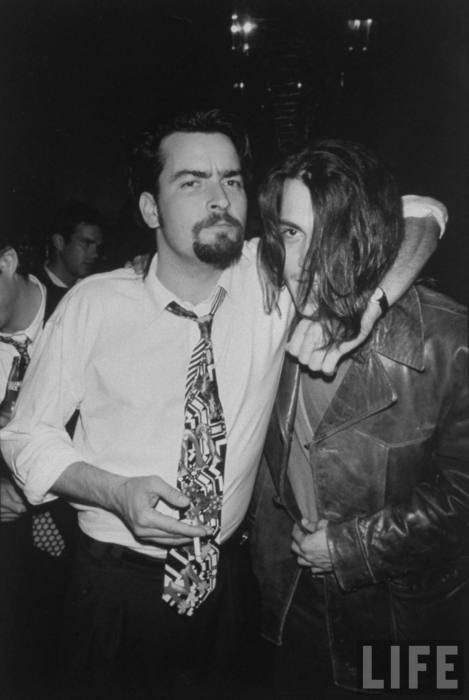 Notice: Posted by permission of AceCorp LLC. Please e-mail overnight open thread tips to maetenloch at gmail. Otherwise send tips to Ace.

posted by Maetenloch at
09:52 PM
|
Access Comments