« AFC Championship Thread(Ben)
|
Main
|
Top Headline Comments 1-24-11 »
January 23, 2011
Overnight Open Thread
It is the Sunday. Only a few hours of freedom left for you. Might as well enjoy what's left of the weekend by hanging out with your pretend internet friends here at the HQ. And also pack up and/or pre-mix your secret alcoholic beverages that you'll stash in your desk drawers in order to make it through the day. Here's some Muppets to help you along...
[genghis is having the pus drained indisposed so I added a few items and posted this for him - M]
Mahna Mahna from Heaven:
Take the plunge below the fold...if you dare. Or are bored.
It didn't have to be this way but Cahles decided at some point that he just didn't want his existing commenters and so he methodically drove them away. And he's still trying to rewrite history - this time about Rachel 'St. Pancake' Corrie.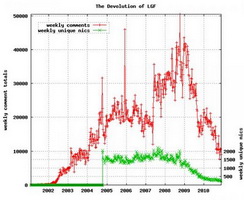 Very Handy This Is: A Gun Rack for Your Rack:
Rumored to be in R & D: A nightstand-mounted RPG launcher/eco-friendly LED reading lamp/alarm clock. Just make sure you toggle the correct switch for "snooze."
Thanks to LauraW, bless her dark, shriveled and evil heart. And her hump too…mustn't leave that one out. Because it roams the land at night, feasting upon souls. And acorns too…it really likes those. But mostly souls.
What Happens When You Track Down Hate-Tweeters?
Sports writers are used to getting lots of hate emails and tweets but after getting pr0n along with hate tweets Jeff Pearlman decided to track down the senders and see what their deal was.

So, going deep, deep, deep undercover, I tracked him down and, shortly after our exchange, gave him a call.

Quite frankly, I wanted to hate him. I wanted to bash him. I wanted to plaster his name, address and personal information atop a column on CNN.com, so that when someone Googled his name for future employment, they'd find the words "Sent me a link to pornographic material."

Then we spoke. And I (dammit) liked him. Without invisibility or the support of his 54 Twitter followers or the superhuman powers supplied by a warm keyboard, Matt was meek and apologetic.

This Week's "How It Should've Ended" Update:
Just like "The People of Wal-Mart" site, this thing's hard to keep up with given the new content streaming in on a daily basis.
Tornado Oopsies:
So one day you find yourself toodling along a turnpike in Kansas (which gained statehood in 1977 and was named after the tedious, semi-prog rock group "Kansas.") and looking in your rear-view mirror you see a tornado chasing you down at a terrifying 30 mph. Unfortunately your car can only go 90 mph+/- at top speed and there's nothing but straight Kansas turnpike ahead of you for many miles. So you take the only available course of action left to you and hide under a freeway overpass.
And what do you get for your troubles? A lecture from the Kansas Highway Patrol via loudspeaker, that's what. (I think this vid is incorrectly labeled as the '91 tornado when it should be labeled as the 2003 tornado. I could just as easily be wrong though and the "overpass" video was taken on the same highway, but further down the road.

Kansas overpass tornado 1991

Buddha's Light | Myspace Video
I don't think this is the infamous '91 Andover Kansas tornado, the video of which has indirectly caused some deaths because it reinforced the fallacy that an overpass will protect you, that tornados are like big vacuum cleaners from the sky and will suck you straight up. They won't. Reality is they'll sweep you sideways at anywhere from 75 to 318 mph. You'll go airborne and maybe even get swept around for a rotation or two, but in the end you still end up being a red splotch on the ground when it's finished with you.
Put me some knowledge in the thread if you were there or have better information than I do.
Here's the Andover tornado video (the underpass one):
A small but nasty tornado on the turnpike, it then grew in strength, eventually rating an F-5. But it also decided to pay a visit to McConnell AFB. I've been through a couple of small tornadoes and I can promise you that this is your worst nightmare come true. The way it comes on as an irresistable force of nature is freaky. Usually you don't see tornado videos where the damned thing is actually headed straight for you.
I have to credit the airmen for having a pair/being mind-numbingly stupid. If the core of the tornado had shifted 200-300 feet to the left of their POV they might be pushing up daisies. You don't have to be IN the circulation for a wiper blade or whatever to driven through your skull.
Celebrities With Physical Defects:
But what say we cheer things up now? No more scary tornadoes. Scarier things await you.
CDR M passes along the following article about celebrity freakishness.
Not quite sure I'd go along with the title here. Halle Berry has 6 toes? Lilly Allen(who?) has 3 nipples? Julia Roberts has a huge mouth? In my world these aren't defects…they're enhancements.
But I live in a very small and odd world, much like the rest of you. And then I see this: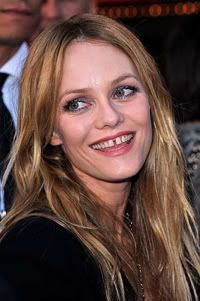 "NO!!!! DO NOT WANT!!!"
Van Heusen Ties, The Ties That Bind.
(Van Heusen leather straps and ball gags sold seperately in the Men's Accessory Department)
It's a man's world. A really strange one where men dressed in ties and dress shirts are served meals in bed by their serving wenches/wives on their knees. And are almost never poisoned or given cups of coffee filled with shards of glass by said serving wench/wife.
It's part of Thirteen Vintage Ads That Would Be Banned Today
These ties. They are special. Special!
Happy Raturday!
Because I didn't put up a critter-related thingy last night. There were complaints registered at AoSHQ Customer Disservice. Can't have that now, can we? Isn't this how Willard started out? It's all fun & games until they turn into a ravenous, bloodthirsty and vengeful pack. Commenters that is. The rats aren't nearly as bitey.
So wrong in so many ways. Most of all for ruining a perfectly good "The Clash" tune. If such a thing existed.
Adam & The Ants:
By popular (kbdabear) demand from last night's ONT. Hear yoo go…
Hey, at least the bands share the same first letter.
Weekly Commenter Stats:
Top 10 commenters:
1 [410 comments] 'toby928▒' [57.55 posts/day]
2 [336 comments] 'garrett'
3 [314 comments] 'Kratos (Ghost of Sparta)'
4 [304 comments] 'Y-not'
5 [270 comments] 'Oldcat'
6 [257 comments] 'curious'
7 [253 comments] 'CoolCzech'
8 [252 comments] 'logprof'
9 [243 comments] 'Ben'
10 [236 comments] 'AllenG (Dedicated Tenther)'
Top 10 sockpuppeteers:
1 [102 names] 'kbdabear' [14.32 unique names/day]
2 [79 names] 'toby928▒'
3 [47 names] '18-1'
4 [45 names] 'logprof'
5 [41 names] 't-bird'
6 [35 names] 'andycanuck'
7 [32 names] 's☺mej☼e'
8 [32 names] 'fluffy'
9 [30 names] 'Cicero'
10 [30 names] 'THE Clenis'
Notice: Posted by permission of AceCorp LLC. Please e-mail overnight open thread tips to xgenghisx@gmail.com. Otherwise send haikus professing your undying love to Ace.

posted by Genghis at
09:00 PM
|
Access Comments