« Jonathan Alter Is Pretty Excited About How Obama Can Profit From AZ Shooting
|
Main
|
Hillary Clinton: Loughner Is "An Extremist;" Blames Shootings on "Crazy Voices" That "Get On TV" »
January 10, 2011
Major Richard Winters Of Band Of Brothers Fame Passes Away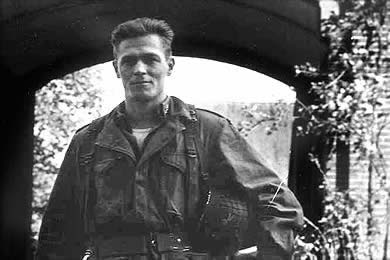 I know Maet covered this in the ONT last night but it's worth noting again.
In an interview shortly before the miniseries debuted, Winters said the war wasn't about individual heroics. The men were able to do what they did because they became closer than brothers when faced with overwhelming hardships.

They weren't out to save the world. They hated the blood, carnage, exhaustion and filth of war. But they were horrified at the thought of letting down their buddies.

On D-Day, June 6, 1944, Winters and his troops from Easy Company, 506th regiment of the 101st Airborne Division, parachuted behind enemy lines to take on a German artillery nest on Utah Beach. Winters made himself a promise then that if he lived through the war, all he wanted was peace and quiet.

His company fought through the Battle of the Bulge, the liberation of a death camp at Dachau and to Hitler's Eagle's Nest at Berchtesgaden.

The war described in "Band of Brothers" is ugly, but the young men developed character under fire, Winters said. He was glad the miniseries showed war realistically, not either glorified or demonized as in so many movies.

He wanted people to understand that success in war depends not on heroics but on bonding, character, getting the job done and "hanging tough," his lifelong motto. In combat, he wrote 50 years after the war, "your reward for a good job done is that you get the next tough mission."
More here.
Throughout his late in life fame, Major Winters always remained humble and maintained that despite all the attention he received, he was not a hero.
With all due respect to the Major, I disagree, he was a hero.
While Major Winters has gone to his well deserved rest, we should remember their are millions of men and women in uniform carrying on his proud legacy of quiet and dedicated service. Thank God for them all.
Thanks to Slu for the video.

posted by DrewM. at
12:46 PM
|
Access Comments