« Poll closing times for 2010
|
Main
|
Republicans Cruising To Senate And Gubernatorial Victories in Wisconsin. So Says Kos' Pollster, PPP »
October 28, 2010
Overnight Open Thread
Happy Thursday all.
The Gawker Christine O'Donnell Sex Smear
This hasn't been covered much in the blogosphere mostly because it's kinda sordid and seems so much like a transparent last minute smear. But it's on Drudge and you can go search Gawker to find the original article if you want. Basically a young dude (not Will Folks!) from Philadelphia claims that three years ago he hooked up with a drunken O'Donnell on Halloween and had a one night stand with her.
His proof: he has pictures of her in a ladybug costume at a party.
He also says that she started dating his roommate and that she 'didn't have sex' with his roommate either. Which makes you wonder what kind of one night stand this really was. And where it would fall on the Clintonian Axis.
As Ace has pointed out before the new rule seems to be that when it comes to Republican women well, there are no rules and anything goes. So in turnabout I was going to do a whole Penthouse Letters post about my encounter with a very tipsy and randy Barbra Boxer a few St. Paddy's days ago. But after a paragraph or two I realized that my sacred honor wasn't as strong as I had imagined and that thanks to Google this is just the kind of personal admission that will haunt you for a lifetime. So my new slogan is - what happens in the alley, stays in the alley. Consider yourselves all spared.
Update: Has the cad been identified? Seems like it. Or maybe not - according to the TSG it may have been the other roommate. (thanks to RDBrewer for the link)
'Stranger Danger' and the Decline of Halloween
Sadly there's so much parental anxiety tied up in Halloween these days taht kids are hardly allowed to do anything on their own. But the reality is that no child has ever been killed by poisoned candy from a stranger. Ever.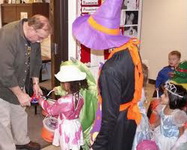 "Star Trek II: The Wrath of Khan" Now Part of Texas Law
Finally.

Appropriately weighty principles guide our course. First, we recognize that police power draws from the credo that "the needs of the many outweigh the needs of the few." Second, while this maxim rings utilitarian and Dickensian (not to mention Vulcan21), it is cabined by something contrarian and Texan: distrust of intrusive government and a belief that police power is justified only by urgency, not expediency.
Was A Time Traveler Caught on Film?
In a Charlie Chaplin film from 1928. If you watch the video, the woman definitely looks like she talking into a mobile phone. Of course as Jonah points out there weren't any cellular networks back then so it must be some kind of time-traveler tech that doesn't need cell towers. And doesn't work with bluetooth apparently.

Got Too Much Free Time? Well Now There's Scrabb.ly
A giant multi-player game of scrabble but its rules are a little different:

It's always your turn. After the first word you play, you can only play off the tiles you've already played. Other people's tiles appear grayed out. The only way to play their tiles is to bridge your word to their word — and then, you only free up the one tile you touch.

In other words, if you get surrounded, it's a stone cold booger to break free.
The Spiderman Theme!
As performed by the Ramones. Also shamelessly stolen from Jonah G.
And if you like that, here's another one of their hits that I think just cries out for an acoustic version.

The Julian Assange - Daniel Ellsberg Connection
They're both leakers of government secrets and they're also friends. And it turns out that the Pentagon Papers didn't quite say what the NY Times claimed they did. One side benefit of the docs being on the internet is that it's now possible for people to go read the original document and verify that it says what they MSM claims it does.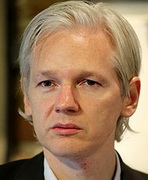 Naked Hooker in the Closet, Cocaine on the Nightstand, and Froth on Your Chin
Or what Charlie Sheen calls Monday night.

Yahoo group. That is all.
Tonight's post brought to you by Hush Hush on the QT:

Notice: Posted by permission of AceCorp LLC. Please e-mail overnight open thread tips to maetenloch at gmail. Otherwise send tips to Ace.

posted by Maetenloch at
09:22 PM
|
Access Comments