« Harry Reid's Aide Submitted False Documents To Feds To Hide His Her Marriage to Subject of Terrorism Investigation
|
Main
|
Top Headline Comments 10-26-10 »
October 25, 2010
Overnight Open Thread
Welcome to the Monday.
So What Did Shakespeare's Plays Really Sound Like?
When people think of Shakespeare's plays, they tend to think of it in the voices of say Kenneth Branagh or Laurence Olivier but that's almost certainly not how theater-goers of the time would have heard it. English pronunciation has changed a lot in the intervening 400 years and in particular British English went through the Great Vowel Shift in the 18th century while American English mostly missed out on it. And generally languages tend to be more conservative in colonies than they are in the Mother country.


So University of Kansas theatre professor Paul Meier has teamed up with David Crystal, an expert on English historical pronunciation, to stage Shakespeare's "A Midsummer Night's Dream" entirely in the original pronunciation (OP). And how does it sound? Well a lot more Irish/cockney and American than what we're used to hearing.
"American audiences will hear an accent and style surprisingly like their own in its informality and strong r-colored vowels," Meier said. "The original pronunciation performance strongly contrasts with the notions of precise and polished delivery created by John Gielgud, Laurence Olivier and their colleagues from the 20th century British theater."

Meier said audiences will hear word play and rhymes that "haven't worked for several hundred years (love/prove, eyes/qualities, etc.) magically restored, as Bottom, Puck and company wind the language clock back to 1595."
And some background here:

Dead Pundit Walking: Mara Liasson
The current over/under is 18 days. NPR political correctness: Minorities, women hardest hit.


Most Damaging US Politician Ever?
Well other than James Earl Carter who's damn near retired the title.

Which modern, living American public figure has consistently taken wrongheaded positions and, in doing so caused serious harm, over the longest period of time? The question is too easy, so let me rephrase it. Which modern American public figure other than Jimmy Carter has consistently taken wrongheaded positions and, in doing so caused serious harm, over the longest period of time?
Well there may be a contender for the non-Jimmy Carter category.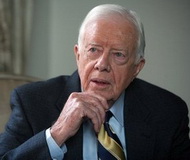 French Striking Over Their Retire-at-60 Birthright
But as Meep points out this 'birthright' wasn't established until 1982 when Socialist President Francois Mitterrand enacted it. Which makes it younger than many of the protesters in the streets. Looks like the French 30-year timeout from fiscal reality is coming to an end and they'll have to return to the 'new' old normal. Also - Why do the French strike so much?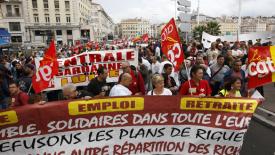 Randy And Evi Quaid Seek Asylum in Canada
Claiming that a group of Hollywood 'STAR WHACKERS' is out to kill them. Meanwhile they leave behind outstanding debts and warrants in the US and their doggeh may be the one who pays. People wonder if it was meth or crack that brought them down. But the most likely answer seems to be Evi's schizophrenia. And she's managed to pass on teh crazy to Randy. Which apparently is possible.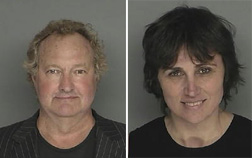 The 1982 Magnum PI Comic Book
Apparently it was published in the UK, beyond the Comics Code Authority. And it shows.

"And that's how it ended... just like it had begun... with violence, hatred, and death...I needed a long, cool swim."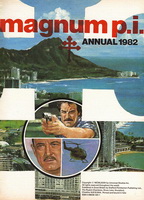 Learn How To Pick Locks For Fun And Pleasure
But please use your new-found powers for good. And really good evil.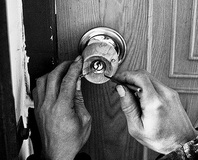 Study: Skinny Men Make Less Than Husky Ones
But only up to a point - the high point for men's salaries was at 207lbs. For women it's the opposite:

The study also found that the cost of obesity was higher on women than on men; thin women earned $15,572 more than average-weighted gals while obese women earned $13,847 less than the women of average weight. Point: Skinny chicks.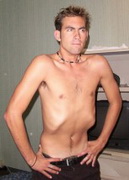 The Pumpple Cake: The World's Most Perfect Dessert?
It's an apple pie and a pumpkin pie baked inside a vanilla and chocolate cake "fused together and surrounded by buttercream frosting." Wel add in some ice cream and chocolate syrup and you very well might have perfection.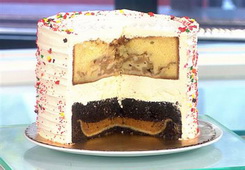 The group thingy. You can figure out the rest.
Tonight's post brought to you by Ava: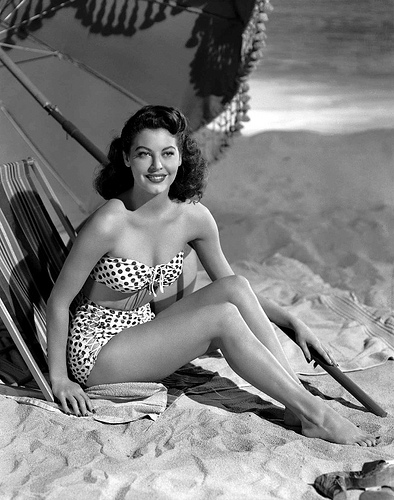 Notice: Posted by permission of AceCorp LLC. Please e-mail overnight open thread tips to maetenloch at gmail. Otherwise send tips to Ace.

posted by Maetenloch at
09:50 PM
|
Access Comments