« The Coming Wave UPDATED
|
Main
|
Overnight Open Thread »
September 12, 2010
Senate Could to Vote on Partial ObamaCare Repeal This Week
Well, at least the anti-business 1099 mandate expected to hurt the economy more than it raises revenue. Republican Senators, along with several now-panicky Dems, are trying to add a repeal amendment to the small business bill under consideration this week.
Most Republicans want a full repeal. In a recent speech, the House Republican leader, Representative John A. Boehner of Ohio, said the "1099 mandate" showed how the health care law could "wreak havoc on employers and entrepreneurs."

Republicans also see the new requirement as an example of the intrusive role they say the I.R.S. will play in enforcing the health care law, including its requirement for most Americans to carry insurance.

Senate Democratic leaders prefer a proposal by Senator Bill Nelson, Democrat of Florida, that would reduce the scope of the reporting requirement. Under Mr. Nelson's plan, businesses with 25 or fewer employees would be exempt from the new requirement, and the reporting threshold for larger businesses would be set at $5,000, rather than $600.
Meanwhile, the White House is nervously opposing either repeal effort because of fear it may create momentum to cancel other unpopular provisions in ObamaCare.
Oh, and this little gem was buried in the article:
The reporting requirement was in the health care overhaul bill unveiled in mid-November by the Senate Democratic leader, Harry Reid of Nevada. But it drew little attention at the time — it was one of more than 15 revenue-raising measures in the bill — and many lawmakers were apparently unaware of it when they voted for final passage of the legislation.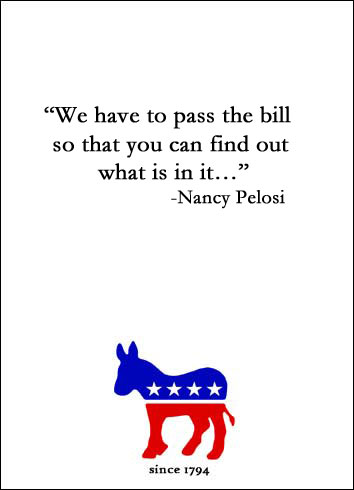 Yeah.

posted by Gabriel Malor at
08:41 PM
|
Access Comments