« Obama: Hey, You Know What Might Be a Good Idea To Boost The Economy? A Payroll Tax Holiday
|
Main
|
Overnight Open Thread »
September 02, 2010
Football Is Back
So is Pro Football, but that's Sunday (lots of preseason stuff tonight but preseason just ain't all that interesting unless you're follow a particular player or you're done sorting all your socks).
College games tonight are just the usual so so, with a couple of big teams working over a couple of little teams, Miami Florida is kicking the crap out of Florida A&M right now, Ohio State playing Marshall, Pitt against Utah and way out in the Pacific at 11 eastern, USC and Hawaii.
Couple of ranked matchups this weekend, LSU and UNC, and Oregon State against TCU.
Speaking of TCU...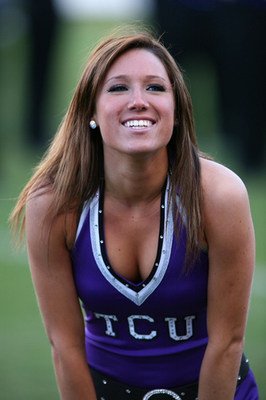 Yes. Yes you can haz cheerleader.
OH. I forgot Iowa State, but in my defense a lot of people do that. Buncha 1AA schools at it tonight too. Thursday night, it's like high school JV.

posted by Dave In Texas at
08:45 PM
|
Access Comments