ę Heads Up: I'm Told Chris Matthews Loses His Spit More Than Usual Tonight
|
Main
|
Cavuto: Hey, Maybe Obama Won't Seek A Second Term Ľ
August 23, 2010
Americans Donít Like Islam So Much
Well thatís the takeaway from this Gallup poll that found that a majority of Americans (53%) have an unfavorable view of Islam.
(I donít quite get the Buddhism hate - can Richard Gere do that much harm?)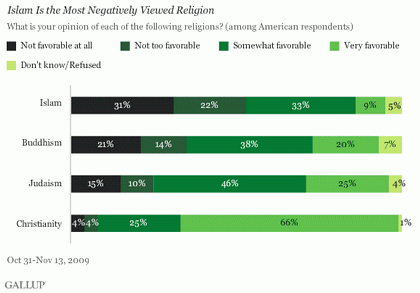 Of course this is enough to make all the
bien pensants
wring their hands over this supposed American Islamophobia and leads to lectures and covers like this.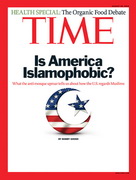 The current narrative in the MSM is that after the 9/11 attacks Americans were so angry that they tarred all Muslims as terrorists and so the opposition to the Ground Zero mosque is merely another manifestation of this bigotry. But is this really true? I think not.
Thanks to Spengler hereís a chart tracking how many people say Islam is very different from their own religion: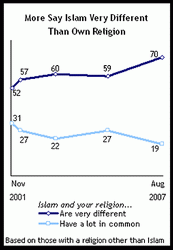 Note that it has steadily grown from a narrow gap of 20% right after 9/11 to nearly 50% to 2007. So if Americans were really as Islamophobic as the elite believe, youíd have expected to see this view peak right after 9/11. But thatís not what happened.
After 9/11 I believe most Americans wanted to be fair and were willing to hold any judgment of Muslims in abeyance expecting that they would be the first to condemn and root out the terrorists and the radical interpretations of Islam driving them. But sadly in the 10 years since then the actions of Muslims have been rather underwhelming.
I can think of at most maybe one or two times that Iíve heard an Muslim in the media denounce terrorism without the inevitable Ďbutí appearing somewhere. And while surveys of Muslims show a majority oppose terrorism, the fact that 20%+ are okay with suicide bombing is not exactly reassuring.
And thereís now a pattern of Islamic figures held up as moderate role models turning out to be quite radical when examined closely - the Ground Zero Mosqueís Imam Rauf is just the latest example of this. Frankly the American people have shown remarkable sensitivity and tolerance towards Muslims despite 9/11. A tolerance seldom reciprocated by Muslim groups here or abroad.
Plus since 9/11 Americans have become much more knowledgeable about Islam in general. As Spengler points out over a million American soldiers and civilians have had first hand experience with sharia and Islam as itís actually practiced in the middle east. All of this has contributed I think to a general souring of Americans towards Muslims in America and Islam in general.
The MSM likes to portray this all as uninformed hate and fear of the other. But maybe Americans took good long look at Islam and decided they didnít like what they saw.

posted by Maetenloch at
06:16 PM
|
Access Comments