« Bush More Popular Than Obama In Potential Swing House Districts?
|
Main
|
You Know Who Is Pretty Popular In NJ? That Chris Christie Fellow »
August 19, 2010
New Official Kos Pollster: Obama Needs To Stay Away From Midterms, Even In Illinois
I was going to add this to the last post but it's too much fun not to spotlight.
Obama's Not Even Playing Well In Peoria. Literally.
Illinois voters say they would be negatively influenced if a candidate was endorsed by Barack Obama. And if his support isn't an asset in his home state it's hard to imagine where it is.

40% of voters in the state say they'd be less likely to support an Obama endorsed candidate to only 26% who say it would be an asset. The reality at this point is that Obama turns Republican voters off to a much greater extent than he excites Democrats. That's reflected in the fact that 83% of Republicans say an Obama endorsement would be a negative with them while only 49% of Democrats say it would be a positive. Independents also respond negatively by a 38/19 margin.

...It's becoming increasingly clear that Obama is not much of an asset for Democratic candidates on the campaign trail and that for most of them it would be better if he just stayed away.
If you've lost your own heavily Democratic home state, what exactly do you have left? I guess the editorial page of the New York Times and Andrew Sullivan.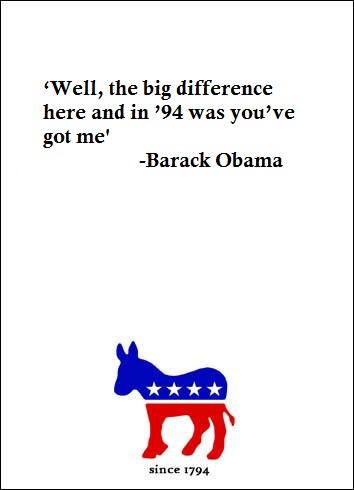 More: Ace posted this late last night but in case you missed it....

posted by DrewM. at
10:54 AM
|
Access Comments