« Overnight Open Thread
|
Main
|
Holy Frick: NRSC Ad Is Extremely Effective »
August 18, 2010
Breaking: Blago Holdout Retired State Employee Who Once Handed Out Campaign Literature For Relative Seeking Office;
NPR and Liberal Talk Radio Listener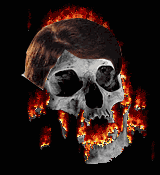 * MUST CREDIT ACE OF SPADES HQ *

Here's what Fox local news in Chicago reports:
Jurors who have been interviewed so far will not identify the juror, other than to say the juror was a female.

FOX Chicago News reported that speculation is centering on juror Jo Ann Chiakulas of Willowbrook, after a second-hand acquaintance said that she has been saying for weeks that she would find Blagojevich not guilty.

Chiakulas is a retired director from the Illinois Department of Public Health.

Contacted Tuesday night, she told FOX Chicago News she would call on Wednesday if she wished to talk about the case.

On one count at least, Chiakulas voted with her fellow jurors, agreeing to convict Blagojevich of lying to federal agents.
Note that that is not yet confirmed. It is now confirmed by CBS local news Chicago.
They actually could have reported more -- because pre-trial, they had this to say about a female "retired public health director" on the jury panel:

Juror # 106, a black female believed to be in her 60s, is a retired state public health director who has ties to the Chicago Urban League. She has handed out campaign literature for a relative who ran for public office. She listens to National Public Radio and liberal talk radio shows.
Media accounts mention the campaign literature, but they don't mention NPR and liberal talk radio. Why?
We know they read this description -- why do they end their repetition of it at that point?
The media is quick to stereotype conservative-tilting Americans and attribute to them bad motives.
Think they'll do the same here?
What were her motives for so egregiously ignoring the law to set a guilty man free that her fellow jurors had to confront her with her own oath to render a true verdict?
Ties to the Chicago Urban League?
The Chicago Urban League supports and advocates for economic, educational and social progress for African Americans through our agenda focused exclusively on economic empowerment as the key driver for social change.

The Chicago Urban League provides African Americans with the tools, the programs and the experiences to help them reach their full economic potential. We are committed to growing Chicago's African-American workforce and business community with well-informed pursuit of the following four strategies....

So she's sort of hooked up with... community organizers?
I am pretty accustomed by now to having my motivations questioned by the media, and having unethical or vile motives assigned to me.
How about for this cog in the Chicago machine?
You know, to date, the Tea Party has done zero damage to anyone, and yet it is castigated daily by our hectoring press.
This woman, this ward-heeler's moll, just sprung a guilty man free and cost the taxpayers millions.
Where did she get her ideas from?
I know FoxNews gets blamed a lot for all the "poison" it's putting into the body politic -- what poison did she ingest from NPR and liberal talk radio?
From where did she get the idea that it was right to spring a guilty man in the interest of some political gamesmanship?
Think it's just an oversight that they left this out there for a blogger to find?
I know this is already known to reporters from my source.
More: What was she doing in the jury pool?
Coincidentally, the Chicago Urban League was once headed by Cheryle Jackson, a former Blagojevich press secretary, although it appears Chiakulas left the Urban League several years before Jackson became the league's president.
Coincidentally.
I don't think that there's some direct thing going on here -- but this is obviously a highly political woman, steeped in dirty Chicago machine politics. And she knows who gets hurt and who gets helped based on her verdict.
What. Was. She. Doing. In. The. Jury. Pool.
If You're Wondering About Her Last Name... She married a Cypriot. He was a family and employment lawyer... who represented unionized workers, like Chicago bridgeworkers.
Again, I'm not alleging payoff. I'm alleging that this woman had no business being anywhere near a jury.