« Morning Headlines Thread
|
Main
|
Man Arrested For Being Awesome »
August 09, 2010
More On Ratso Rizzo: Voter Fraud May Have Gotten Him His Salary
More on Robert Rizzo, the $1.5 million/year city manager (total compensation) with 20 weeks paid vacation/sick days.
In 2005, fewer than 400 voters cast ballots in a special election that cleared the way for City Council members to dramatically boost their own salaries. In that election, more than half the votes cast were absentee ballots, the method of voting most susceptible to fraud.

Four voters told the Los Angeles Times that city officials walked door-to-door urging them to vote absentee. One later was counted as voting absentee even though she said she never filled out a ballot. Two other voters said local council members had personally collected their ballots for delivery, a violation of state law. In addition, a retired Bell police officer has identified at least 19 people he says voted in Bell but were either dead or living outside the country at the time.

One Bell resident, who insisted on anonymity, told the Times he was assigned the job of collecting absentee votes. "Our objective was to retrieve [absentee ballots], and if they were not filled out, instruct them how to fill it out, and if not, fill it out for them," he said. The man has provided a statement to Los Angeles prosecutors, who have opened an investigation.
Oh, and the reason his picture looks like a mugshot, meep informs me, is that it is a mugshot -- he got arrested DUI recently.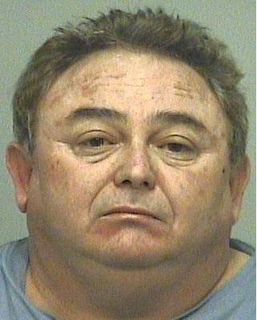 Robert Rizzo, the highest paid
part-time employee on Earth in Huttspace.

Corrected: I said voter fraud may have gotten him his job, but the article doesn't speak to that; it speaks to a vote on the office holders' getting to set their own pay. I corrected to reflect this.

posted by Ace at
10:02 AM
|
Access Comments