« Obama Admin Sitting on Investigation Report that Favors Toyota
|
Main
|
Overnight Open Thread »
July 31, 2010
Miguel Batista, Full Time Pitcher For Washington Nationals, Part Time Super Genius
Phenom pitcher Stephen Strasburg is the only reason people still have a vague sense the Washington Nationals are actually a major league team. The games he starts routinely triple or quadruple the Nats regular attendance. So when he was replaced on Tuesday without any warning because of shoulder stiffness his replacement Miguel Batista was booed by his home team 'fans' before he even threw a single pitch.
Batista wound up pitching the well and the Nats won the game but afterward he said he understood the reaction of the fans.
"Imagine if you go to see Miss Universe, then you end up having Miss Iowa, you might get those kind of boos," Batista said.
And apt comparison and kind of funny. Until Batista started getting questions about it and realized he may have insulted her. That's where the super genius part comes in.
The Washington Post's Nationals beat reporter Adam Kilgore caught up with Batista on Wednesday and asked him if he'd ever seen a picture of Miss Iowa.

"You mean Katherine Connors?" Batista told Kilgore. "Yeah, she's gorgeous. Gorgeous.

"People started booing me, and they hadn't seen me throw a pitch yet. It's like you hear Miss Iowa, and you say, 'Iowa?' And then you see her up close and you say, 'Wow, she's gorgeous.' "

To make sure he earns Miss Connors' forgiveness, Batista also sent her flowers and said he hopes they arrive on Wednesday.
See that? Insult a beauty queen and use that as an in to meet her.
The Nats had Connors come to DC last night to throw out the first pitch and Batista has been invited to be a judge at the next Miss Iowa pageant.
Super genius.
Let me just say, I know a lot of you realized there was a new post here at the HQ and expected it to be from Ace (don't laugh (yet), I'm doing a bit here). When you found out it was me, you were no doubt disappointed. It's like winning a contest where you're told you'll meet Megyn Kelly (wearing the hot librarian glasses) and it turns out they subbed in Judy Greer.
Wait, that's insulting to Judy Greer. Can someone get me an address so I can send her flowers and a phone number so I can call an apologize?
Oh and the obligatory Miss Iowa photo....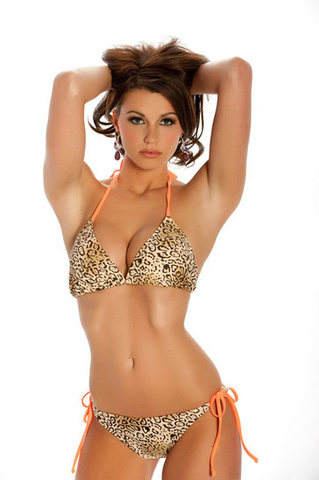 Miguel Batista...Real Man of Genius.

posted by DrewM. at
12:50 PM
|
Access Comments