« Sunday Afternoon Open Thread
|
Main
|
Overnight Open Thread »
June 20, 2010
Happy Fathers Day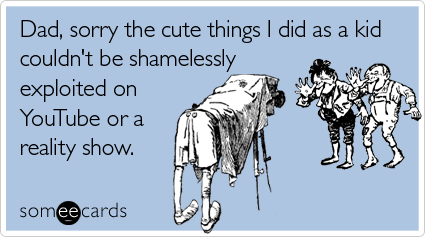 Honey, it's only cause I couldn't manage a video camera worth a damn. I'm the guy who forgot to put film in the Yashica the day you were born. Yeah. I'm that guy. Just as well I think. Some things should be remembered in the heart, but not on 35mm film.
Just kiddin. As a dad who could not be gladder to be one, a guy with two wonderful daughters who love on me (regardless of their finances even), I'd just like to offer my good Fathers Day wishes to you morons who are fathers.
I called my dad today, who is still with us, 79 years old this week and still kicking and doing well, to pass along my regards. He's still shaking his head that he has a son as old as me.
Me too, in a way. Yeah.
Anyway my kindest regards to you dads. One of the more amazing things about my life is being a father of a couple of adult girls who still hug my neck and make me feel, I dunno, pretty darn good.
Hope you dads are feeling that too.
UPDATE: PA Cat makes a very relevant post. Not all dads can be with their kids today. God bless em.
Happy Father's Day to all dads who can't be with their kids today because they're serving in uniform overseas, or because they're on duty today as cops, fire fighters, or emergency medical workers. These guys deserve a "well done!" too.
Yep.


posted by Dave In Texas at
06:24 PM
|
Access Comments