« Happy Fathers Day
|
Main
|
Texas democrats have a problem. Her name is Kesha Rogers »
June 20, 2010
Overnight Open Thread
Happy Father's Day all.
Getting Older Sucks - Or Does it?
What It's Like to Be 40 - By a Formerly Hot 20-something
Here 43 year old Stephanie Dolgoff puts some knowledge to young 20-something ladies about the pros and cons of getting older. And there actually are a lot of pros about being older but Hollywood and TV never talk about these in their obsession with youth.

But here's a secret truth that few people will ever tell you: It's actually kind of cool over here on the other side of young. In fact, the things I thought were essential to a happy life, now that they're gone, turn out not to have been so central after all.
Of course being young is great but often that doesn't exactly translate to being happy or having a satisfying life.
Now things feel more consistently good, as opposed to the bi-polar extremes that add up to youthful fabulousness. For all the things you lose when you hit midlife -- and there is definitely some stuff that sucks about it, those monkey lines on either side of your mouth chief among them -- there are waves of wonderful that you only find out about when you get here.

I could tell you, say, what a rush it is knowing I'm good at my work, rather than working for that pat on the head or that promotion, as I used to. I could also tell you that your friendships -- intense though they can be now -- will become even more satisfying in a few years, because we need less, and so can appreciate what people have to offer, even if it's not perfect. I could tell you that while you will be further from the physical ideal (lemme guess -- you think you're fat, even though you're gorgeous) you will give less of a crap about it, and you will have better sex, to boot.
And then there's the fact that by the time you're in your 30's and 40's, you're usually making decent money, actually own stuff, and generally have an overall better quality of life. Plus you're much more in control of your life and no longer as beholden to the coulds and shoulds of society and peers.
Happiness Starts At 50?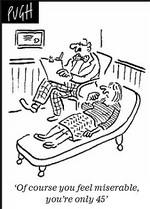 And it's not like your contentment even peaks at 40 - people actually
get happier as they get older with a sharp uptick after 50
.
Levels of stress and anger dip from our early 20s and continue to decline throughout life. Worry, however, continues to be a problem until our 50s, when it begins tail off.
Happiness and enjoyment begin to rise at a similar age and are still on the up at 85 - the oldest age studied.
So be of good cheer - because no matter how old you are, you still have a lot of joy ahead. And with modern medical advances and some healthy living odds are that you'll be around to enjoy it.
US Drone Attack Kills Lebanese Terrorist Who Was Part of 1985 TWA 847 Hijacking
A drone attack in the tribal area of Pakistan yesterday killed Mohammed Ali Hamadi. He was part of the 1985 hijacking of TWA 847 where US Navy diver Robert Stethem was tortured and killed. He was imprisoned in Germany for 19 years but was released in 2005 as part of a rumored prisoner-swap. Apparently he quickly returned to his old ways and was working with al- Qaeda in Pakistan.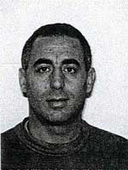 World Beard and Mustache Competition
Here's some footage from the 2003 World Beard and Mustache Competition held in Reno. Yeah it's old but where else are you going to see such a collection of epic facial hair. And you just don't see the Fu Manchus around like you used to.

Relationship Break-ups 'Hit Men Hardest'
Wait - getting drunk, fighting, and sleeping with skanks aren't the proper way to handle a break-up? When the hell did this get decided?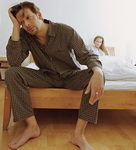 Iceland Dance Party
This an Iceland tourism promotional video that tries to make up for all the bad PR from the Eyjafjallajokull volcano spew. And well their general scandiness. Note - there is partial nudity here. You have been warned.

7 dishes every guy should know how to cook


10 Blogs With Book Deals
But sadly not this one. Nowadays it seems like you can slap together a few good blog posts, add pictures and you've got a book. Hell Ace could just take his top 10 posts each year for the last 6 years, throw in some of the best comments and photoshops and pretty much have an instant book. Could it really be any worse than this one?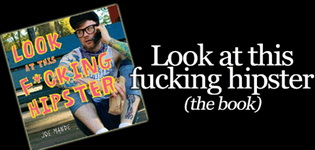 Che Discovers The Power of Capitalism
Revolutionary FAIL.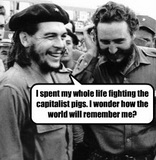 Weekly AoSHQ Commenter Standings
Top 10 commenters:
1 [620 comments] 'Kratos (missing from the side of Mt Olympus)' [87.03 posts/day]
2 [489 comments] 'curious'
3 [344 comments] 'progressoverpeace'
4 [338 comments] 'Miss'80sBaby'
5 [327 comments] 'buzzion'
6 [311 comments] 'kbdabear'
7 [309 comments] 'a sign post up ahead'
8 [305 comments] 'The War Between the Undead States'
9 [295 comments] 'Vic'
10 [295 comments] 'ace'
Top 10 sockpuppeteers:
1 [90 names] 'kbdabear' [12.63 unique names/day]
2 [68 names] 'Delta Smelt'
3 [52 names] 'The War Between the Undead States'
4 [48 names] 'Blue Hen'
5 [45 names] 'A Balrog of Morgoth'
6 [45 names] 'Committee To Elect Alvin (Al-vin???)'
7 [44 names] 'Blazer'
8 [44 names] 'George Orwell'
9 [42 names] 'Bugler'
10 [39 names] 'runningrn'
10 [35 names] 'Fish'
The group. Yeah.
Tonight's post brought to you by Father's Day: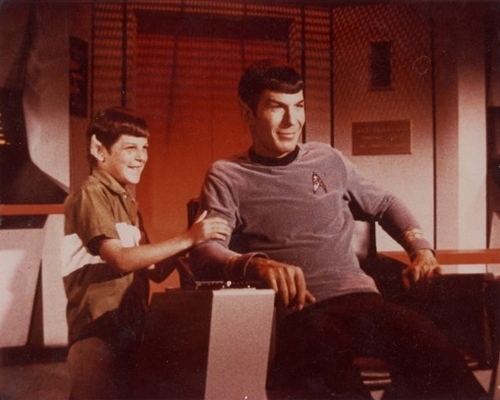 Notice: Posted by permission of AceCorp LLC. Please e-mail overnight open thread tips to maetenloch at gmail. Otherwise send tips to Ace.

posted by Maetenloch at
09:00 PM
|
Access Comments