« Obama, Then, When He Thought Top Kill Worked: I Own This
Obama, Now, When Top Kill Has Failed: BP Owns This
|
Main
|
Duke Men's Lacrosse Takes National Championship In Sudden Death Overtime »
June 01, 2010
Good News, Ladies: Al Gore Announces Himself 1) Single, and 2) Ready To Mingle
Update: Divorce Not "Green," 2007 "Study" Finds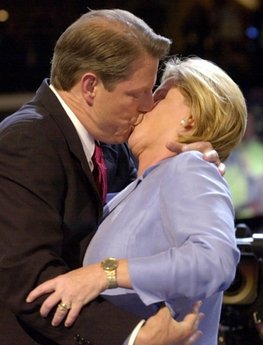 I must prepare your brain-stem for egg implantation.
Do Androids Dream of Electric Sheep? There's a robotic quality to his email about this, as you might expect.
Former Vice President Al Gore and his wife, Tipper, are separating after 40 years of marriage.

According to an e-mailed statement obtained by The Associated Press on Tuesday, the Gores said it was "a mutual and mutually supportive decision that we have made together following a process of long and careful consideration."
That statement has just as much of the drama of human emotion that, uh, well, that the infamous DNC kiss/Romulan Smothering Clinch did.
Friends say there's no affair responsible for the end of the Love Story, and I almost kind of believe them.
Former Vice President Al Gore and his wife, Tipper, are telling friends they "grew apart" after 40 years of marriage and there was no affair involved.
Or at least I can believe Al Gore hasn't had an affair. Not with a human being.
Al Gore can now marry longtime paramour Gaia.
40 years of marriage is a long time. After 40 years, I guess it's fair to say you're really not the person that got married so long ago -- unless you're boring and emotionally retarded, like, say, Al Gore -- and sometimes, the new person you are isn't compatible with the new person your spouse is. I guess they did pretty well. Not the gold, but an okay silver.

Hah! HeatherRadish nails the right take on this.
Marriage: Eco-friendlier than divorce?

Divorce isn't green, according to a new study ["new" in 2007 -- ed.].

The research, led by ecologist Jianguo "Jack" Liu, a Michigan State University professor of fisheries and wildlife, looked at international data comparing utility consumption and housing space per capita in married and divorced households. He found that divorce creates more households with fewer people, using more energy and water and taking up more space.

The analysis, published in the Proceedings of the National Academy of Sciences, does not look at the environmental impact of singles who have never been married, but Liu says he plans to look at singles in a subsequent study.

"If you have more households as a result of divorce, then you would need more housing units, and if you need to build more houses or apartments, that means you need more land, and that will contribute to urban sprawl," he says.
It's not just truculence here -- there's a real point. Al Gore and his acolytes continue agitating for people to live not according to their wants and needs but strictly according to the claimed needs of a non-existent life form/God they call "The Earth."
And yet whenever these shackles become inconvenient for them -- like, say, when they'd like to jet off to Copenhagen on a private Gulfstream (and, seriously? Who wouldn't? Someone offers to fly me on a private jet anywhere and I say yes), they make all sorts of excuses and rationalizations.
Like the rest of us do, or would.
But... that's the point. What is the point of this endless hectoring? Al Gore does not live his life this way. We all know that. What is the point of the hypocrisy and false piety, then?

Flashback: Erotic Poetry With Al Gore: Here he is, reading his Ode to Gaia to a CNN reporter. It's verse like this that really heats up and raises the sea-level of the ladies, if you know what I mean, and I think you do.

posted by Ace at
02:45 PM
|
Access Comments