« Top Headline Comments 4-28-10
|
Main
|
Fox News: Crist to run as independent »
April 28, 2010
Noted Ag School Alum Keith Olbermann Responded To My Twitter With A Livestock Reference
It started out innocently enough. I made what I thought was a fairly obvious statement on Twitter….
Just a reminder...@keitholbermann is a shameless, dishonest hack. It simply can't be said enough.
Seriously, what could be less controversial than that? Well, it turns out that aside from being a shameless, dishonest hack, Mr. Olbermann is also a thin skinned girly man who seems to sit at home furiously reading all the Twitter messages about him. How do I know this? Well a few minutes after posting my observation I received this message via Twitter:


Yep if u dont keep saying it your sheep might see you're lying
Yes, the most important man in journalism MSNBC's lily white line up his bathtub, was so offended that he simply had to respond. And he did so with his usual wit and intelligence. Wait, that's not right. How exactly will my 'sheep' see I'm lying if I don't talk about him? I don't know either.
I don't know if someguy is still around but if so, you really need to have a talk with Keith about this whole punching down thing. For comparison, Keith has 50k+ followers, when this little dust up started my herd was 486 strong (it's now close to 500, thanks Keith!).
But that wasn't the end of it…I couldn't let this chance to interact with the Edward R. Murrow of our time go by without at least one more shot.
It's fun that @KeithOlbermann responded to me. I just wish it had been Larry O'Donnell, then 3x as many people would have seen it
This of course set the finger that types the Special Comments back to work…
hilarious! Tho it makes u look like u flunked 4th gr
It took me a bit to figure out what his point was here. Then I realized he thought I was saying O'Donnell pulled 3x his ratings while subbing for him. I wasn't. I knew O'Donnell did better but I was just taking a swipe at Olby and 3x was a handy number. But Mr. Pedantic got all huffy and decided to defend his low ratings by attacking me.
In the interest of accuracy here are the ratings from the month O'Donnell hosted vs. Olby's. Now I'm sure that after his 'flunked 4th gr" swipe at me, when I didn't actually make a math error, he can point me to the tape of him mocking Obama for clamming health insurance premiums would fall by "3,000%". See there is no tape of that because he would never expose Captain Wonderful to that kind of derision, nor would his dwindling number of viewers want to be exposed to such unkind things. Which kind of brings me back to the whole "shameless, dishonest hack" thing.

Of course Olby's responses brought out his genius followers who called me names. This is ironic since Olbermann called people following me on Twitter 'sheep' but it was his followers who attacked me despite knowing nothing more about me than the fact that Olbermann was pitching a hissy.
I don't want to get in to much of what they said because they are just mindless fools but there was one I have to share. I'm leaving out the guys name and a link because I really don't want to sic Moron Nation on someone this goofy (though you can find it on my Twitter page since I retweeted it).
@DrewMTips you need to ween yourself from Vitriol, as it appears to be advancing your impotence.
An Olbermann fan decrying an excess of vitriol? This guy owes me an irony meter because my old one is now broken beyond any hope of repair.
From there it was on, Ace got involved as did Dave and Slu.
Seriously, much fun was had by all and I want to take this moment to thank Keith for being the silly pantywaist that he is. Think about it, if MSNBC actually put someone serious in his slot more people might watch and their propaganda would be more effective.
If you're not already on Twitter or getting extra AoSHQ content that way be sure to follow: @AceofSpadesHQ, @slublog, @daveintexas, @gabrielmalor, @laurww, @jackmcoldcuts and of course me @drewmtips. If you do follow me, you can be part of the herd and Obeeeeeeyyyyyyy Meeeeeee....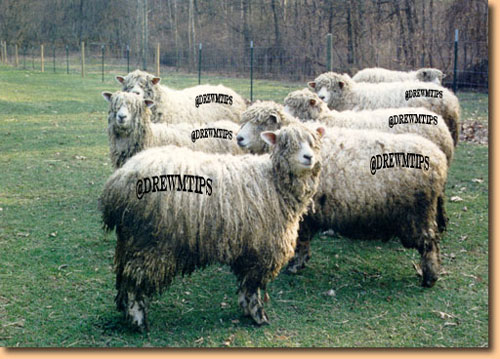 Thanks to Slu for that.
Oh by the way...Brave Sir Keith seems to have blocked all of us from following him. Not that I was going to but when I click on the links of his tweets, I get screen saying I can't access them.
Courage!
I Got Into It Too [ace]: Spent like three hours on twitter busting Keith Olbermann's chops.
Here are some of my better ones. Starting with the farm-school he went to.
But @KeithOlbermann went to Hootenany U. because of the *costs*, not because, say, he just was flat-rejected from the actual school.

At Hootenany U. ("The Fightin' Amish"), @KeithOlbermann learned that hog-chiggers are Nazis, and chicken-rickets are the Khmer Rouge.

Oh I'm sorry -- @KeithOlbermann went to the very prestigious School of Communications of Hootenany U. He learned turkey-calls.

@KeithOlbermann graduated with a degree in Advanced Corn-Shucking, with a minor in Lettuce-Wranglin'.

#KeithOlbermann only hates two things: Nazis, and mange.

"Knock Knock."

-- "Who's there?"

"Keith Olbermann."

---"Keith Olbermann who?"

-- Open this door, Sir! If you still cling to a tatter of honor, sir, you will open this door, or forthwith damn yourself as a FASCIST."
I started calling him "Weepy McThorazine" for his well-known crying jags and nervous disorder.
@WeepyMcThorazine cries every night with a gun in his mouth, just like Mel Gibson in Lethal Weapon, except much, much gayer.

@KeithOlbermann, when you have your inevitable psychotic break and get fired again, do you think MSNBC will finally hire a black guy?

In a way, @KeithOlbermann, your crippling neuroses might be critical in de-segregating MSNBC.

@KeithOlbermann, do you think that, 40 years from now, your debilitating nervous disorder might have a civil rights holiday in its honor?
He wrote me back once, to claim he had the highest ratings of any show not on Fox. I figured that wasn't true (assuming he meant a cable news show) and of course the first Google return I got was a an item about Maddow's ratings being higher than his.

posted by DrewM. at
12:07 PM
|
Access Comments