« Noted Ag School Alum Keith Olbermann Responded To My Twitter With A Livestock Reference
|
Main
|
ObergrupenFhurerMcPollster: AZ Governor Significantly More Popular Since Signing Immigration Law »
April 28, 2010
Fox News: Crist to run as independent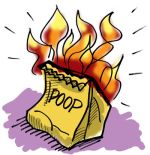 Crist is unworthy of the skull.
Fox News has learned that Charlie Crist has decided and plans to announce that he is running as an Independent for the U.S. Senate. The official announcement is scheduled at 5pm in St. Petersburg, Florida tomorrow.

Crist has said that under no circumstance would he drop out of the race, saying he will do what is best for the voters of Florida. Crist says Republicans in Washington want him to stay in the Republican party but voters in Florida have told him they want him to run as an Independent.
Remember...this is the type of Republican David Frum says we should support.
Oh, and great work John Cornyn. You're a real savvy talent scout.
Update - This is as good a chance as any to show Rubio some love: Flip the Switch. (via Hot Air)
Update II - "The word is out."
Crist is telling key financial backers that he's running for senate with no party affiliation. The announcement is scheduled for 5 p.m. in Straub Park in downtown St Petersburg.
I hope some of those financial backers ask for their money back.
Only one problem with that, though...

posted by Slublog at
12:42 PM
|
Access Comments