« NCAA Tournament Update
|
Main
|
Earthquake »
April 04, 2010
Administration Braces Unemployed for More Unemployment UPDATE
Are you braced? Does that feel better?
I know. It's a friggin throwaway from the AP on the dismal jobs outlook, peppered with some hopey feely crap, sorta. In this absurd lede:
Buoyed by good news on the jobs front, the White House claimed credit Sunday for reversing the downward economic spiral while bracing out-of-work Americans for a slow recovery.
Is this the most convoluted opener you have seen in a while? Good news! Get ready for more not good news! The only pathetic positive in this story is that people are being hired but they're temporary census workers. But this story doesn't even pretend there's any real good news here, it's just claimed in the first paragraph (that there's anything resembling good news on the employment front) and then goes on to explain to you, the reader, why there's nothing at all to be happy about.
Uncle Jonathan's corncob pipe!

I'm at a loss, I do not get the thinking behind Obama-lovin that tries to turn terrible news into something special. Or rather, that does it in such a lame fashion that absolutely no one who would read this would say "YAY!"
UPDATED WITH SUNDAY NIGHT STUPID: Create your own AP fantasy happy headlines. Commenter Cicero offered this one,
DONNER PASS -- (AP) Creative settlers cooperate to devise unexpected culinary creations.
You've got to break a few eggs, I'm told...
UPDATE, Purp
Check out this BLS chart. Pay particular attention to the trends in duration of unemployment. People are staying unemployed longer and longer as time goes on. To a non-zombie layman such as myself, this doesn't sound good. It doesn't sound like "recovery".
UPDATE [Maetenloch]
Well since everyone is jumping in, let me add my own update to the funemployment news. Here's a chart stolen from TigerHawk showing the duration of employment recovery during post-WWII recessions.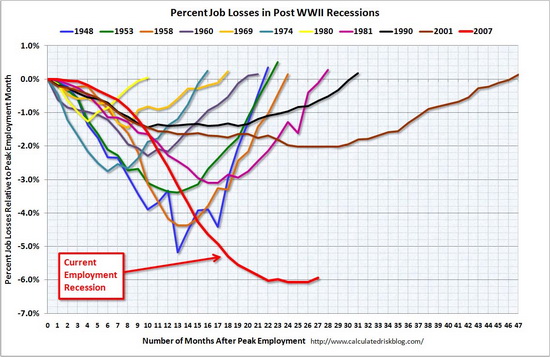 Assuming the dips are roughly symmetrical, it looks like at a minimum we've got another 2 years of high unemployment to go. Of course that's assuming this is just like the previous recessions. This time however may be quite different.

posted by Dave In Texas at
05:43 PM
|
Access Comments