« Census Reminder: You're An American
|
Main
|
Moron March Madness »
March 16, 2010
Overnight Open Thread
Good evening all M&Ms.
The Battlestar Galactica/Sabotage Mashup
Just frakin awesome. And some damn fine editing on the author's part.

Penis and Vagina Power
Thanks to public access TV we can find out all about 'penis intensity', 'cold vajayjays', and 'jackrabbitin'. And for godsakes dudes, buy your woman the damn Long John Silver shrimp plate - it's only $2.99! I wonder if Alexyss K. Tylor will be the next Dr. Ruth because behind all her colorful phrases I see some hard-learned wisdom.
Tom Hanks given chance to revise and extend his comments, gives lame-o excuses instead
Here a reporter from CNSNews politely asks Hanks about his recent remarks and gives him a perfect opportunity to start filling in the hole he's dug for himself. Instead he offers a mishmash of excuses, blather, obligatory CYA statements, and a weasily attempt to claim that his "a war of racism" statement really meant that racism was a part of the war.
Despite his weak denials it seems pretty clear to me that Hanks really does see the Pacific war as being fundamentally caused by and about racism. Yet somehow his pretty little theory fails to explain the Japanese invasion of Manchuria in the 30's, the Rape of Nanking in 1937, and why Japan attacked Hong Kong, the Philippines, Thailand, and Malaya the day after Pearl Harbor. This sure seems a lot more like the actions of an aggressive, brutal regime determined to expand its border by force. And not so much like racism on the Americans' part which is what I suspect Hanks really means when he talks about "a war of racism". I guess this is just reason #4581 why actors are called 'actors' and not 'thinkers'.

Burglary now de facto legal in Britain
According to new government guidelines burglars will no longer be sent to jail unless they harm someone or cause damage. At worst they would face fines or community service which puts burglary on par with speeding tickets. The UK just gets sadder and sadder.
The 90 Types of Bitches
According to a 3rd grader. I see a rap song in his future.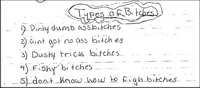 The 10 Things Most Women hate About Men
Okay some of these are valid criticisms like the sock holes and pit stains and gratuitous farting. But some of the others are really just roundabout ways of asking men to become women with penises.
The Yahoo AoSHQ group. You know the way.
Tonight's post brought to you by Big Trouble:

Notice: Posted by permission of AceCorp LLC. Please e-mail overnight open thread tips to maetenloch at gmail. Otherwise send tips to Ace.

posted by Maetenloch at
10:00 PM
|
Access Comments