« Overnight Open Thread
|
Main
|
Dissension Among The Hope And Change Gang Over NY Terror Trials? »
February 05, 2010
Tea For Two, and Two for Teabagging Yahoo News
Occasionally, a story comes along that has everything a blogger could want. Take, for example, this profile of the Tea Party movement that appeared on Yahoo News yesterday afternoon.
I mean, just look at it: it was written by a man named "Patrik Jonsson", so you know that the Dirty Scandis are involved; it has a hilariously deragatory take on the Tea Party Movement that has to be read to be believed; and it features a quote from the Mary Tyler Moore of the Blogosphere, Mary Katharine Ham. (EDIT: That's not a shot at MKH! That was meant to be a compliment! Who doesn't love Mary Richards? Lou Grant or Ted Baxter...now that would have been a shot.)
Again I ask, what more could a blogger want? It's a veritable cornucopia of bloggy goodness. And what do we do with cornucopias of bloggy goodness? We Fisk them. Deeply and repeatedly. Which I do, after the jump.
Let's start with the title of this article:
'Tea party' movement: Who are they and what do they want?
THEY ARE STARVING CANNIBAL MARTIANS WHO HAVE COME FOR YOUR CHILDREN AND PETS!!!!
I mean, could the question make members of the Tea Party movement seem any more foreign or threatening? Aren't these the kind of questions you expect Jack Bauer to ask Chloe in the part of 24 when he learns the terrorists are plotting to release toxic nerve agents in the subway and he is trying to decide whether he should just torture the suspect for information or to kill them outright?
Then again, I suppose if the question was answered sensibly with "Your neighbors and reduced government spending" Mr. Jonsson wouldn't have had anything to write in the next 35 odd paragraphs. He probably gets paid by the word.
OK..so we've set the scene with a scary title. What should we do now? Oh yeah, define our antagonists for the reader:
Of all the protest signs at all the rallies and town-hall meetings where people gathered last year to object to Washington's plans to save the US economy and reform healthcare, this hand-lettered one is memorable: "You can't fix stupid, but you can vote it out."

That's the "tea party" movement in a nutshell.
THEY ARE AGAINST EFFORTS TO SAVE THE ECONOMY!!11!!11! Oh noes!
You know, call me silly, but I would've thought that the "Taxed Enough Already" signs pretty much encapsulated the Tea Party Movement "in a nutshell". See, the letters that start each word not only spell out the word TEA, but they also harken to the ideological component of the movement in a way that the "you can't fix stupid but you can vote it out" sign doesn't.
I mean, the sign our Scandi friend chose (if it even existed) could be held up by anybody at any rally for any cause. Heck, it's so broadly applicable it even sounds like the punch line to one of Larry the Cable Guys jokes. And I rather doubt that a significant American political movement is coalescing around the need for universal access to the blue collar comedy tour.
The left paints the movement as a largely white and middle-class mob – and as including kooks who equate President Obama with Joseph Stalin.

There's some truth to that view.
Hey you know what movement is largely white and represents an upper-class mob?
MSNBC's broadcast lineup. I await your Yahoo News story on this group.
And it's not so much that we equate President Obama with Stalin. After all, Stalin could get his signature legislation enacted. It's more like Obama is a failing Mussolini: all jutting chin and Roman columned pomposity and government subsidized trains that he can't even get to run on time.
Then again, I guess Amtrak was inherited from preceding Presidents. So maybe that bit about the trains wasn't really fair. I'll just chalk it up as "fake but accurate", and that should get me a gig with Yahoo News.
But where some see a bunch of white people standing in the way of progress, others see a growing expression of dissatisfaction with what former Massachusetts Gov. Mitt Romney (R) calls the "neomonarchists."
You know who I think of when I think of the "go to guy" for Tea Parties? Mitt Romney. You know who that benefits? Pretty much nobody.
Skipping a paragraph brings us to this:
When – and why – was the tea party movement born?

CNBC editor Rick Santelli's on-air "rant" last February about a proposed mortgage bailout is widely considered to be the "big bang" moment for the birth of the movement.

A few days later, a couple of conservative foot soldiers – John O'Hara of the Heartland Institute and J.P. Freire, then of The American Spectator – wondered if there were a way to harness Mr. Santelli's frustration.
Silly Scandi, metaphors are for kids! See, here is the deal. You are using the phrase "big bang" to refer to an event with creators you specifically identify a couple of words later.
See, I'm no cosmologist, but even I know that the "big bang" is a theory offered to explain the existence of the universe absent a guiding creator. I think you would have been better served had you referenced something like a "eureka" moment.
You know about "eureka" don't you? That's what Archimedes supposedly said when he dropped gold into his bathtub and figured out how buoyancy worked. See, it's a human having an idea and acting on it.
Look, I'd really like to help you out here, but I still have a lot more of your story to fisk. If you have additional questions, maybe you should pose them to Keith Olbermann. I hear he spends a lot of time in the bathtub.
(A quick aside- I did not include the Big Bang stuff just to traffic bait certain bloggers who are always Losing the God Fight. And I didn't include the gratuitious shot at Olbermann because I want to win "Worst Person in the World". So far as you know.)
OK, I'm going to skip the next several paragraphs of this story. Fair use and all that. But you should read them anyway, because not only do they contain a quote from that most reputable of "media watchdog groups", Media Matters, but they also contain the conspiracy theory that "the archconservative Scaife family" is pulling the Tea Party Movement's Strings.
Ahh...Richard Mellon Scaife! That's a name that brings back some fond memories. The Clinton's were in the White House, Hillary was hiding billing records, Bill was hiding cigars (if you know what I mean and I think you do) and Richard Mellon Scaife was single handedly orchesting the Vast Right Wing Conspiracy to impeach the President through the pages of R. Emmitt Tyrell's American Spectator. Good times. Good times.
Have I told you how much I missed the 1990's?
What do tea partyers want?

The movement, in its essence, is about safeguarding individual liberty, cutting taxes, and ending bailouts for business while the American taxpayer gets burdened with more public debt. It is fueled by concern that the United States under Mr. Obama is becoming a European-style social democracy where individual initiative is sapped by the needs of the collective.

"The issue is no longer tea tariffs and imperial rule, but bailouts and handouts, stimulus in the face of deficits, cap and trade [on carbon emissions], universal healthcare … dictated against the will and interest of the people, and at the peril of … the nation as a whole" leading to "an inevitable blow-back in a battle over America's constitutional principles," writes O'Hara in "A New American Tea Party," which hit bookstores this month.
But in the opening paragraphs you told me it was only evil economy haters who wanted to vote stupid people out of office!
You mean, it's a movement with a clear, substantive, ideological premise behind it?
And it only took you roughly 17 paragraphs to let me know that?
Boy, I'm glad I stuck it out through your lame story. Especially that awful middle section I didn't even bother to fisk. I might have been left with the impression that these people were just aggrieved kooks with no legitimate or specific beefs.
Would be a shame if lots of people got that impression, wouldn't it, Mr. Jonsson?
I'm going to do us both a favor and skip some more of your article. Let's see reading on brings us to this passage:
In some ways, the tea party movement poses less of a challenge to Democrats than to Republicans, who must weigh the potential gains and pitfalls of courting far-right tea partyers against those of courting middle America. To what extent the tea party movement is middle America is the big question – one that coming elections will help answer.
which I have trouble reconciling with these passages a couple paragraphs later:
Moreover, decisions by Democratic Sens. Christopher Dodd and Byron Dorgan not to run for reelection this year is an acknowledgment that they probably would have faced a tea-party-inspired populist backlash at the polls, say tea party watchers.

In Massachusetts, tea party organizers helped to funnel money and manpower to state Sen. Scott Brown's successful bid for the late Ted Kennedy's seat in the US Senate. The upset victory, wrote conservative columnist Mary Katharine Ham, shows that "Democrats fooled themselves into believing the town-hall/tea party caricature and ignored the feelings of real Americans."
So let me get this straight. The tea-parties pose a "challenge" more to Republicans than Democrats because they are so far to the right that they are out of touch with middle America.
And yet, 2 Democratic Senators are being forced to retire because the tea partiers were going to join with the GOP to vote them out of office.
And that noted far-right idealogue, Scott Brown, was able to win a Senate seat in that arch-conservative state of Massachusetts.
And Republicans have won governorships in Virginia and New Jersey since the Tea Party movement started gaining steam.
And a 3rd Party congressional candidate in New York nearly won a House seat on the Conservative ticket, which would have yielded yet another Republican vote.
This word "challenge" that you are using. I do not think it means what you think it means. You might be better off substituting "benefit".
Oh, and M-Kat's quote is great too. It could even apply to the author of this news article! That's M-Kat for you...taking an abstract thought and bringing it's essence into sharp, crystallized relief. It's why she's the best she is at what she does.
No wait. That's Wolverine. Mary Katharine is a good policy analyst too, though.
In any event, I think it's time that I stopped dipping my balls in this Yahoo News article. It's enjoying it way more than I am.
I think it's because of the pudding.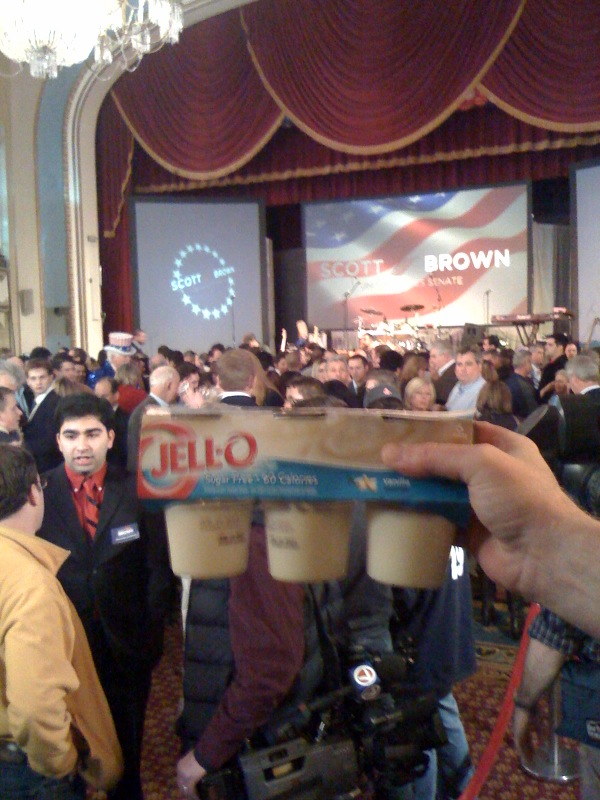 posted by Jack M. at
09:55 AM
|
Access Comments