« Obama: Mirror, Mirror On The Wall. Who's Teh Most Awesomest Of Them All?
|
Main
|
Overnight Open Thread (Mætenloch) »
January 25, 2010
Obama: Hey, Now That I've Jacked Up Spending To Crazy Levels How About We Freeze A Very Small Percentage Of Spending? UPDATE: Obama Was Against A Spending Freeze Before He Was For It
Ah, State of the Union time, when a President on the ropes turns to any gimmick he can to make you forget he's spending money the grandchildren of your still to be born kids have yet to earn.
Now that he's run up trillions in spending, Obama is really, really interested in cutting a whopping 2 dozen billion a year.
President Barack Obama intends to propose a three-year freeze on spending that accounts for one-sixth of the federal budget—a move meant to quell rising voter concern over the deficit but whose practical impact will be muted.

To attack the $1.4 trillion deficit, whose size is becoming an increasing issue for voters, the White House will propose a three-year freeze on discretionary spending unrelated to the military, veterans, homeland security and international affairs, according to senior administration officials. Also untouched are big programs such as Social Security and Medicare.

The freeze would affect $447 billion in spending, or 17% of the total federal budget, and would likely be overtaken by growth in the untouched areas of discretionary spending. It's designed to save $250 billion over the coming decade, compared to what would have been spent had this area been allowed to rise along with inflation.

The administration officials said the cap won't be imposed across the board. Some areas would see cuts while others, including education and investments related to job creation, would realize increases.
This is like when Obama ordered his cabinet secretaries to find $243 million in savings after signing the $700+BILLION 'stimulus' package.
Look, I'm all for freezing spending (hell, I'm all for actually CUTTING spending) but this is a drop in the bucket. Call me when you are serious about cutting real programs, amounting to real money (you know like Medicare, Medicaid and Social Security). Until then, it's pretty much just all show.
Like most State of the Union proposals, this one will quickly be forgotten but Obama will get his fawning news coverage for a day and that's what this is all about.
For a little fun, just consider what would happen if a Republican suggested this. Oh wait, John McCain did during the 2008 campaign.
Who do you think said this?
"The problem with them and the problem with Limbaugh in terms of intellectual philosophy is they are stuck with Reagan," Brooks said during an appearance on "This Week with George Stephanopoulos." "They are stuck with the idea that government is always the problem. A lot of Republicans up in Capitol Hill right now are calling for a spending freeze in a middle of a recession/depression. That is insane. But they are thinking the way they thought in 1982, if we can only think that way again, that is just insane. And there are a lot of Republicans like David Frum ... who are trying to say Reagan was right for his era, but it is time to move on. And there are just not a lot of them on Capitol Hill right now, and I think the party is looking for that kind of Republican."
Barack Obama? Nope but close...David "Trousers" Brooks. Heart. Ache!
Here's what Obama said in 2008 when McCain proposed a freeze in an 08 debate:
MCCAIN: How about a spending freeze on everything but defense, veteran affairs and entitlement programs.

LEHRER: Spending freeze?

MCCAIN: I think we ought to seriously consider with the exceptions the caring of veterans national defense and several other vital issues.

LEHRER: Would you go for that?

OBAMA: The problem with a spending freeze is you're using a hostaet where you need a scalpel. There are some programs that are very important that are under funded. I went to increase early childhood education and the notion that we should freeze that when there may be, for example, this Medicare subsidy doesn't make sense.

Let me tell you another place to look for some savings. We are currently spending $10 billion a month in Iraq when they have a $79 billion surplus. It seems to me that if we're going to be strong at home as well as strong abroad, that we have to look at bringing that war to a close.
Well no doubt Obama's spending freeze will be much smarter than McCain's would have. Or something.
Just a reminder of the real Obama economic legacy, faux spending freeze aside.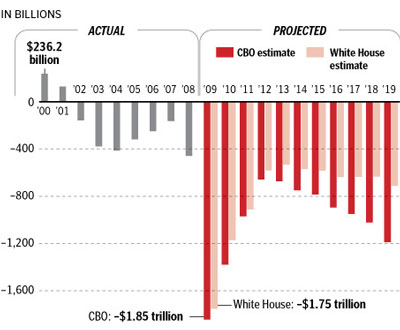 posted by DrewM. at
08:19 PM
|
Access Comments