« Politico blames "conservatives" for slamming Baucus drunken speech video...which was faked provided by a notorious but little known rabid "ReichWing" outfit known as "ThinkProgress"
|
Main
|
Napolitano: You Know, The More I Think About It, Maybe Letting an Al Qaeda Terrorist Aboard a Plane With Powerful Explosives That Only Failed Due to a Balky Detonator Represents Some Kind of Failure in the System After All »
December 28, 2009
Legitimate, Duly-Elected Regime of "Islamic Republic of Iran" Once Again Moves to Settle "Debate" With Citizens Which They Have Every Right to Do and We Shouldn't Say Anything Because That Would Be "Meddling"
At least four people were reported dead today after Iranian security forces opened fire on opposition protesters who took to the streets in Tehran for a religious ceremony.

The shootings took place as tens of thousands of demonstrators gathered in the capital for the Shia Ashura ceremonies and to voice anger at the government.

The reformist website Rah-e Sabz reported that an elderly man was among the dead after being shot in the forehead at a crossroads in Tehran city centre. Three others were said to have been shot nearby at Kalej bridge, in Enghelab Street. Rah-e Sabz, citing witnesses, said crowds held up the elderly man and started chanting slogans against Iran's supreme leader, Ayatollah Ali Khamenei.
Videos at My Pet Jawa, including graphic ones. Let me steal one of them, from Gateway Pundit, that seems pretty important to me.
This is sort of tough to watch, but it seems to me pretty major -- and it has a happy ending. Apparently two men were being hanged by the regime. Protesters stormed the makeshift gallows and rescued them.
Seems so amazing it could almost be a faked propaganda video. It's like a Robin Hood rallying cry. Nothing emboldens the opposition like tales of the opposition kicking the oppressors' asses.
The toll of the dead is now up to 15.
At least 15 people were killed during massive anti-government protests in Tehran when opposition supporters clashed with security forces in the streets, Iranian state television reported Monday.

The report said 10 people killed during Sunday's fierce clashes in the Iranian capital were members of "anti-revolutionary terrorist" groups, apparently referring to opposition supporters.

The other five who died were killed by "terrorist groups" in a "suspicious act," the report said, without elaborating.

Iranian security forces stormed a series of opposition offices on Monday, rounding up at least seven prominent anti-government activists in a new crackdown against the country's reformist movement, opposition Web sites and activists reported.
Ed adds a great bit at the end, noting Obama's meaningless promise about supporting democracy and human rights, and also noting the BBC's twisted priorities. For the BBC, the big question is...
"What will bring calm to the violence in Iran?"
Well, for one thing, the regime could stop murdering people in the streets, eh?
The BBC just seems the regime to want to continue, doesn't it? It just wants "calm." Like the two parties are squabbling lovers, both equally at fault, and the only thing that's really important is that they put aside their petty sniping and just kiss and make up.
My Pet Jawa has another good find -- the regime is now simply stealing the bodies of those it murders from hospital morgues, to insure, I guess, they get no martyr's funeral, and maybe to keep the verified numbers of their victims as low as possible.
The regime sure seems to be cracking down harder. Which is not necessarily a good thing, as far as their personal interests go.
Update: The two men rescued from the gallows were later recaptured and then hanged.
I think that only takes away from the power of this video a bit.
Thanks to Herr Morgenholtz for that.
Partial Retraction... President Obama finally condemned Iran, as the current lead post notes. So I'm hiding this Slushop under the fold, to give him some credit.
But What About Golf?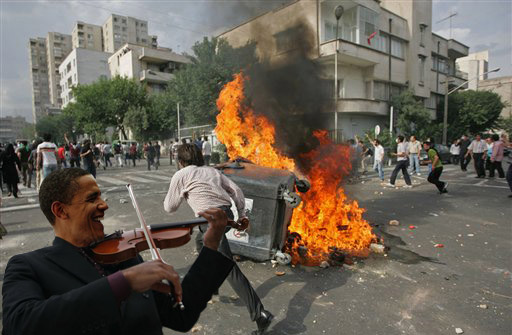 By Slublog.

posted by Ace at
02:35 PM
|
Access Comments