« Ping Pong: Dems to Avoid Conference in Favor of (Please Sit Down) Shady Back-Room Deal
|
Main
|
Whoa: Chris Matthews' Ratings Fall Below Level of Largest Bloggers »
December 23, 2009
U-238 Atomic Energy Lab: Oddest Christmas Gift Ever? [dri]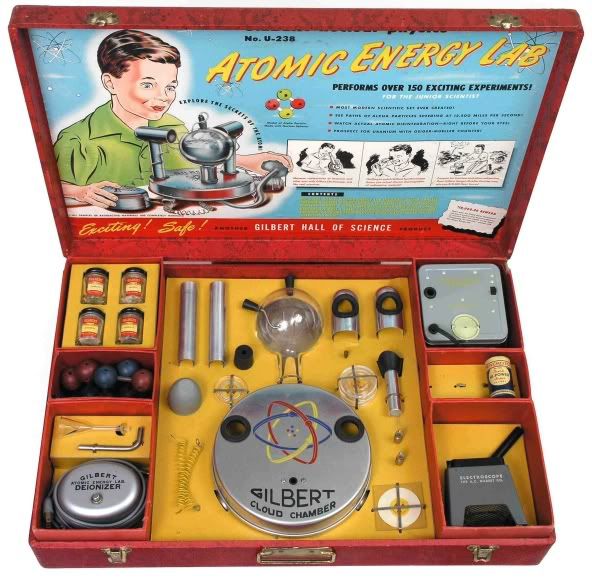 The Gilbert U-238 Atomic Energy Lab is possibly the oddest Christmas gift Santa has ever brought down the chimney. Available only from 1951 through 1952, the complex set cost a steep $50.00.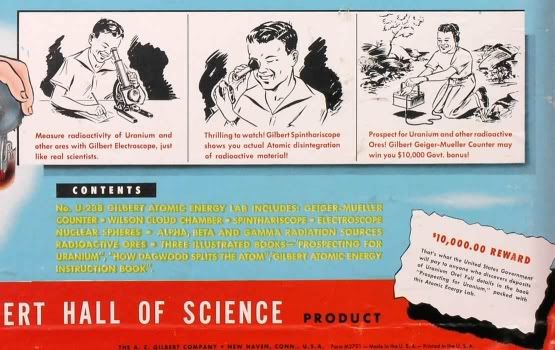 The set came with four types of uranium ore, a beta-alpha source (Pb-210), a pure beta source (Ru-106), a gamma source (Zn-65?), a spinthariscope, a cloud chamber with its own short-lived alpha source (Po-210), an electroscope, a geiger counter, a manual, a comic book (Dagwood Splits the Atom) and a government manual "Prospecting for Uranium."
See! If Dagwood could split atoms in his kitchen right next to his triple decker sandwiches, how dangerous could it be?
Need to order more Uranium? Not without this coupon you won't.
This Geiger counter will make sure mom's dish towels stay free of those nasty isotopes.

posted by xgenghisx at
05:06 PM
|
Access Comments