« Max Baucus: Hey, You Know Who'd Make an Outstanding US Attorney? My Special Friend. She Knows All About Oral Arguments, Legal Briefs, and Penal Colonies, If You Know What I Mean.

I'm Banging the Stuffings Out of Her, Is What I Mean.
|
Main
|
Open Blog? »
December 05, 2009
College Football Championship Games, BCS Projections, Etc.
Awfully nice of Alabama and Florida to hold their position this year so one of them can knock the other out of the way and give Texas a shot at the National Championship.
Thank you fellas.
Matchups today (no game for TCU, but they're in a BCS Bowl):
Cincinnati (5) vs. Pittsburgh (14), 12pm EST. This looks like a good game, even if not needed since Pitt played great this year. With Tony Pike back, and Cincy's aggressive offense, I say they take Pitt by 16 and own the Big East championship outright.
Florida (1) vs. Alabama (2), 4pm EST. The SEC Championship will be called (again) the National title game, to which I reply hahahaha tough shit. Florida should have dominated Tennessee, LSU, Arkansas, Mississippi State, and South Carolina. They didn't. Alabama had a close one with Tennessee, and another with Auburn last week. I don't know who comes out in this one but I'm gonna say Tide by 9. Winner owns their destiny. Loser dates Helen Thomas.
Texas (3) vs. Nebraska (21), 8pm EST. The Big 12 Championship is pretty lame again this year, mostly because all the North Division teams suck and Nebraska is no exception. Texas takes this one by 18.
BCS STUFF. If everybody who's supposed to win actually does, the only coin toss is who winds up in the Sugar Bowl to play Cincy, either the Gators or the Tide. Other than that it's fairly set:
Allstate Sugar Bowl: Cincinnati will meet up with Florida, and take em by a touchdown. Which will suck, beating the team ranked one all season long, and placing 3rd.
Tostitos Fiesta Bowl: Iowa vs. Boise State. Don't miss the halftime knitting extravaganza. Either Iowa or BS wins by 3, who cares cause you won't be watching it.
Fedex Orange: Ga. Tech vs. TCU. I gotta say about TCU, wow, for a school with "Christian" in the name, whose mascot is a lizard that fire ants damn near killed off in Texas, ok I forget where I was going, but helluva season for the Horned Frogs. This is the one team I really didn't want Texas to play, no glory in whippin them (per se), but hella shame to lose to em. Horny Frogs by 12 over the Wreck.
Rose Bowl: Oregon vs. Ohio State. Ducks by 11.
Citi BCS: Alabama vs. Texas for the National Championship. True story, couple of years after we moved to Texas (from Alabama) my dad (Auburn grad) took me to the Cotton Bowl to watch Texas beat Alabama 17-13. I was the only kid on our side of the field with pimples and an Alabama pennant. Not this year. Texas by 13.
I promise to be annoying and insufferable about it, especially to Sooners and Aggies.
ALSO: Yes, you can haz cheerleader. A repeat, cause she's a cutie patootie.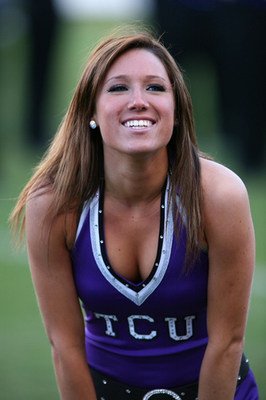 posted by Dave In Texas at
09:27 AM
|
Access Comments