« Obama: I'll Be Photographed With Hate-Preacher Wright, But Damnit, I Will Not Be Seen In the Company of that Damanble F-22
|
Main
|
Scandi News: Man Fails in Lifelong Dream of Lactating »
December 03, 2009
Chinese Media Unlocks Special Easter-Egg Course in Tiger Woods Golf 10
Par 3. Watch the fire hydrant on the far side of the green and the angry blonde on the short side.
steve_in_hb writes: "he's lucky it was early in the game and she only had the
melee weapon - imagine if she had gotten the shotgun or rocket launcher."
Not really part of the game, of course. The media craves pictures to go with stories, and while this seems pretty damn silly, I'm betting it will become common for American tabloid media to offer us these sorts of simulations.
Blacksheep sent me his own simulation, entitled "Woods Family Photo."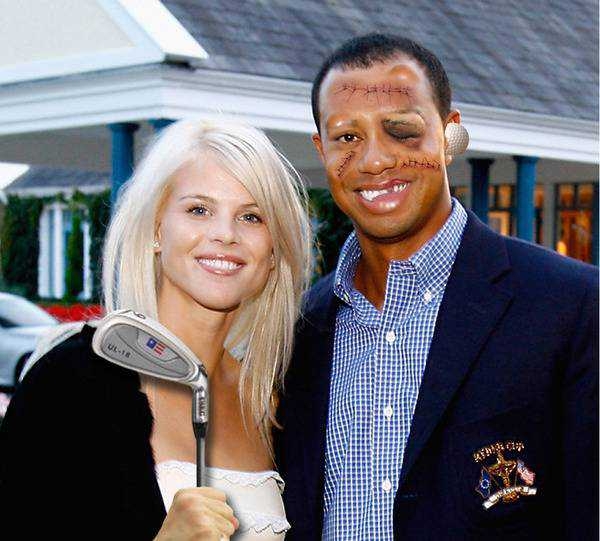 Thanks to not_steve_in_hb for the video tip.
Joy Behar: Joy Behar announces that Tiger Woods cannot be a hypocrite in any way because he's not a "right wing" kind of guy. And also because... um, he's not publicly against gay marriage. What that has to do with cheating is unclear, but it's very clear to Joy.
"Let me say this about Tiger on his behalf. He has never held himself up as one of these pro-marriage, right-wing kind of guys who is anti-gay."
Never held himself up as pro-marriage? How about when he was at the altar getting married? Was he "pro-marriage" then?
When this is pointed out to her, Joy immediately contrives a difference between "personal hypocrisy" and "societal hypocrisy."
Note to all women: According to no lesser authority than Joy Behar, only right-wing men are capable of meaningfully entering the bonds of marriage. The vows don't count for anyone else.
As they say: You can't spell "genius" without "Joy Behar."
Wait, just got a correction from Merriam Webster: Turns out "Joy Behar" is one of the words it's most easy to spell "genius" without. Only lose the e, and they're as common as beach-sand.
Thanks to... um, I think Radish the Great. Who is HeatherRadish.

posted by Ace at
02:30 PM
|
Access Comments