« Iran To World...Have We Got A Deal For You!
|
Main
|
Obama's Rhetorical Dodge? »
November 18, 2009
Andrew Sullivan's Mixture of Weed, X, and Steroids Results in Super-Mutation Rendering Him Immune to Irony
Like the Flash. Lightning smashed through his window and mixed his various drugs just so.
This is only the second time in its nearly ten-year history that the Dish has gone silent. The reason now is the same as the reason then. When dealing with a delusional fantasist like Sarah Palin, it takes time to absorb and make sense of the various competing narratives that she tells about her life. There are so many fabrications and delusions in the book, mixed in with facts, that just making sense of it - and comparing it with objective reality as we know it, and the subjective reality she has previously provided - is a bewildering task. She is a deeply disturbed person which makes this work of fiction and fact all the more challenging to read. And the fact that she is now the leader of the Republican party and a potential presidential candidate, makes this process of deconstruction an important civil responsibility. We take this seriously as we always have. We want to be fair to her, and to her family, and to the innocent people she has brought into the spotlight. And we are not reporters. We are merely analysts trying to make sense of evidence already in the public domain, evidence that points in all sorts of directions, only one of which can be true.

Since the Dish has tried to be rigorous and careful in analyzing Palin's unhinged grip on reality from the very beginning - specifically her fantastic story of her fifth pregnancy - we feel it's vital that we grapple with this new data as fairly and as rigorously as possible. That takes time to get right. And it is so complicated we simply cannot focus on anything else.

There are only three of us.
I suppose I can't do any better than he has done himself. Sarah Palin, with her tenuous grip on reality and tendency towards delusion, telling us about her "fantastical" fifth pregnancy.
It is amusing that the self-proclaimed purveyor of the "most popular one-man blog on the internet" finishes by announcing "There are only three of us."
Indeed.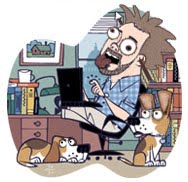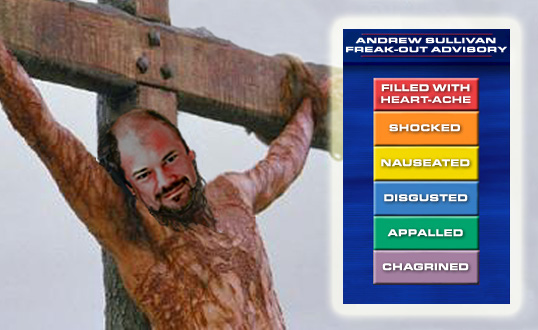 Pics from McGurk and AllahPundit.

Incidentally... The other time "the Dish" went dark it was because The Atlantic's editors had told him to chill out on his nuttery about a faked pregnancy, and he got himself into a little snit about it and protested by taking a few days off. Either that or his editors told him to take a few days off and get his head on straight.
This is only the second time in its nearly ten-year history that the Dish has gone silent. The reason now is the same as the reason then. When dealing with a delusional fantasist like Sarah Palin, it takes time to absorb and make sense of the various competing narratives that she tells about her life.
... seems to be a bit misleading about the cause for "the Dish" going dark. Seems to not really get across the point "I was told to cool it and take a few days off to reconsider my lunatic mindthoughts and soulpatterns."
Dial M for Maternity: I originally passed on linking this funny Iowahawk piece because I thought it was a little too mean and edgy.
Something Else Odd: Andrew Sullivan is the only blogger I'm aware of who has had guest-bloggers post about his own lunacy, engaging in apologism for that lunacy, basically saying something like "Well, you have to admit, he's a brave and candid man to reveal his psychological defects in such a public forum," and then the only blogger who then thanked that guest-blogger for handling his obvious madness in such a kind-hearted manner.
Anyone else know of a blogger whose guest bloggers come in to say "Please excuse the insanity demonstrated by my host, he means well enough and he is, as far as we can tell, not a threat to himself or others"? Gotta be a first, right?
And yet here s/he is squawking about Palin's "unhinged grip on reality" (nice wordsmithing there, by the way: Don't you hate it when your grip becomes unhinged? I hate when my grip comes off its hinges).
And of course also engaging in extraordinarily tasteless, oblivious self-revelations about his/her twisted psychology. I have never in my life heard a man/woman rant so angrily about a woman's vagina.
Palin's vagina, in Andrew Sullivan's telling, is a member of the Bavarian Illuminati. They're all there -- the Bildergsbergers, the Medicis, the Pope and the Jesuits, the Ghost of Richard Milhouse Nixon, and, of course, Sarah Palin's genitalia.
You would just think that a professional homosexual like himself would have the good sense to refrain from unhinged-grip (whatever) pronouncements like "it's the worst form of torture for interrogators to pretend to smear a suspect with fake menstrual blood" and "Sarah Palin's vagina is the font of all evil in the galaxy."
Just, like, whoa, dude. Maybe better to keep that mask on, eh? Maybe better to be a little more self-aware, and self-protective, than to keep on with this too-much-information jihad against female genitalia.
We get it. Girl parts are icky and apparently capable of well-nigh-superhuman levels of fecundity. They're just sort of low-brow and workin' class. Crude and boorish and devious things, these female genitals.
We get it. Please stop. Please stop.
Flashback: "I never stated anything about Palin's pregnancy and took her at her word." So claims Sullivan now in an email.
But here is Dr. Sullivan, founder of Gynecologists Without Boundaries, on the suspected Tribble Sarah Palin.
Let's add up three bits of data:
1. It is widely suggested that an element of sexual jealousy creeps in when liberal (and "conservative") women rip into Sarah Palin.
2. Liberals became enraged at Sarah Palin not due to any policy position (she is claimed to be an "extremist" based on... nothing) but because she dared to not merely criticize the left's messiah, but to openly ridicule him, doing, to liberals, the absolute unthinkable: Committing blasphemy without consequence. They never got over her ridicule of Obama, reminding him a mayor was like "a community organizer, but with actual responsibilities" or for snarking that Obama's "voyage of personal discovery went through the Oval Office."
3. Christopher Hitchens' uncontradicted assertion that Andrew Sullivan wants to "have Barack Obama's baby." If I remember right, he went on to emphasize: "I mean it, he wants to have Barack Obama's baby."
Add those three data-points up and what we seem to have here is a man having a delusional love-affair with Barack Obama who perceives Sarah Palin as both a threat to his pretend "husband" as well as a source of painful sexual jealousy that she, unlike he, is the right gender to actually convert this pretend husband to real one.
This isn't a Freudian slip -- this is the whole damn Freudian marina.

posted by Ace at
04:30 PM
|
Access Comments