ę Top Headline Comments 11-06-09
|
Main
|
Fed Quietly put 4.3 Trillion at risk. [krakatoa] Ľ
November 06, 2009
Funemployment Now At 10.2%
Several commenters below reminded me the new number is out, and it's totally awesome.
U.S. stock futures fell, indicating the Standard & Poorís 500 Index will end a four-day advance, after the nationís unemployment rate jumped to a 26-year high of 10.2 percent in October. Oil declined, while gold climbed to a record high and Treasuries gained.
Which means the real number is like 16 or 17+, adjusted for awesomeness.
In related awesomeness, having done such an awesome job with the economy so far, Nancy Pelosi cracks heads so the government to steal more of it.
If things get any more awesomer I will let you know..
The Chart, via Geoff, official chronicler of Awesome: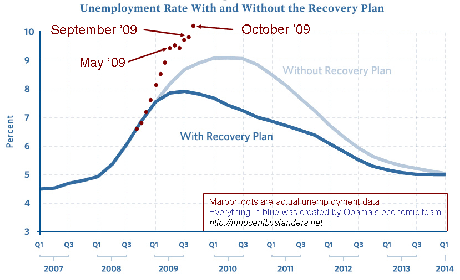 I believe we're off the chart now.

posted by Dave In Texas at
08:49 AM
|
Access Comments